Humans of Harker: Your daily dose of compassion
Ankita Kundu illuminates her surroundings with positive energy
Fingers twirling around a black pen, Ankita Kundu (12) hums lightly as she scribbles down the next sentences to decorate her letter. The words come quick as she remembers who she's writing to, words full of care and the distinct longing for reassurance. Ankita thinks it's just common courtesy, but her messages comfort everyone she speaks with. She's always ready to help, no matter when, where or who, and she always finds a way to create a positive, energetic atmosphere wherever she goes.
Ankita's history as a girl scout and an avid participant of beach cleanups during her lower and middle school years have pushed her towards the Alzheimer's Center, where she's been volunteering at since her freshman year. When quarantine started and she could no longer visit the center, her love for community service and her position as the co-president of Key Club led her to start a program where she and other students write letters to seniors that can no longer stay in the senior home.
"These events where we're bonding, working together, sitting on Zoom and making these letters help people know that community service is fun and engaging. We're trying to make community service more enjoyable so that more people will do it, not just for the requirement or anything, but for the satisfaction of knowing that you're directly impacting someone's life and bringing joy to them," Ankita said.
Ankita's bubbly and kind personality naturally led several seniors to respond to her, sending pictures of the places they've visited or even cooking recipes, and she talks fondly about how she's become pen pals with them now.
Close friend Anna Vazhaeparambil (12) appreciates Ankita's presence and her profuse love for her friends, noting that her high school experience wouldn't be the same without her. Anna admires Ankita's dedication to not only the organizations she supports, but towards her friends, too.
"I see her as a mother figure in some regards because she's always so on top of what she does; she's so passionate, and she's always there and doing more," Anna said.
A memory that especially stuck with Anna was when Ankita took the time to bake her red velvet cupcakes by hand for her birthday and drove to her house to deliver them.
"Obviously she couldn't stay long because it was back in May when we couldn't go out, but just the fact that she took the time and she does this with so many people was so heartwarming. She's made so many treats, and she's always asking people if they want her to drive by and give them some, or she even plans surprise birthday parties on Zoom," Anna said.
Sara Yen (12) has known Ankita for three years, and in that time they've grown from mere classmates to close friends. Ankita's outgoing, lively and humorous personality made studying chemistry together in tenth grade easy and effective. Sara mentions that in junior year, while everyone around her panicked over college applications and the SAT, Ankita encouraged her to play table tennis during lunch. Ankita's positive attitude helped Sara enjoy high school despite many stressful classes and an immense workload.
"My best memories from high school have been with Ankita," Sara said. "It's the little things that make her special."
Ankita's affinity with her community led her to try out Harker Robotics in her sophomore year, in the mechanical subteam. Although she started on wobbly feet, confused at what her place was, her innate charisma and cooperation pulled her closer to the team. In her senior year, she was elected as a mechanical director, a position she's proud of not only for the leadership role, but also for the opportunity to help younger robotics students that are starting the same way she did—lost yet excited.
"I haven't really gotten to fully be a mechanical director because of our current situation, but what I would have done is be in charge of all the training for the new members, lead them through the machines and the mechanical parts of the robot," Ankita said. "Later, I would have been in charge of actually physically getting the robot built."
Along with helping new students and building robots, Ankita is especially drawn to robotics due to the team-building aspect. Whether it is during an extracurricular activity or community service, Ankita enjoys any opportunity to create genuine bonds with others.
"I like that whole feeling of being together with my team and having all these new friends that I had made from different grade levels. I don't want to be cheesy about it, but we all spend so much time together, so many hours a week, especially during the build season almost every single day, and that made us so close," Ankita said.
Upper school computer science teacher Susan King is grateful that she had the opportunity to teach Ankita in her junior year. Her positive attitude and lighthearted humor made the class enjoyable for everyone.
"She has the ability to be optimistic and to draw people into sharing that optimism," King said. "Other people go 'Well, if she can do it, and she's my peer, I can do it too!' They feel that she has their back, that she won't sabotage their efforts, that she wants everybody to succeed, and I think that's powerful in a classroom."
Ankita merged her love for helping those in need with computer science and personally touched King's heart by creating a web page that found the nearest blood drives to the user.
"For her final project, she chose to do a web page for blood drives. She tried to make it easier for people to figure out what blood drive would be easiest to go to by distance … I was actually donating blood, and I have continued to donate blood, and every time I go for an appointment I think of her," King said.
Ankita's people skills and passion for community service don't exclude her from academic success; in fact, her teachers recognize her as a talented, clever student.
"Another trait that's definitely in her favor is her intelligence … She's taken advantage of being in a place that has good teachers, that has good courses," King said.
Ankita has always loved to serve her community, whether that be through volunteering or through supporting her friends and teachers with kindness, laughter and thoughtful gestures. She hopes to continue to do so in college and into her adult life.
"I want to become a doctor, and it's one thing about the whole passion for science, but it's also the fact that as a doctor I can directly help people, I can feel useful in helping people, and I'll have the skills to help people," Ankita said.
Whether it's delivering her friends cupcakes on their birthdays or producing 300 letters a month through her organization, Ankita's eagerness to help people encapsulates not only Harker's community, but the world as a whole. Her experiences going to rural areas and communicating with the people there have shaped her as a person and fueled her desire to do more for everyone around her, as she believes everyone is capable of helping others.
"I want to be remembered for being a person who's always there for people to talk to, and I want to be that person who people can come to whenever they have a problem or if they want to talk or if they have good news or bad news, and they want to share it," Ankita said.
About the Contributors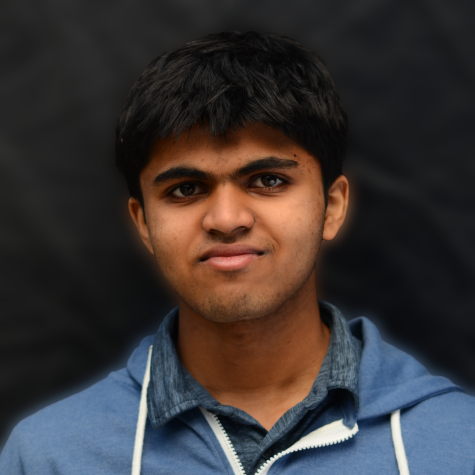 Arjun Barrett, Aquila and Winged Post Managing Editor
Arjun Barrett (12) is the managing editor of Harker Aquila and the Winged Post. In his third year on staff, he plans to dive deep into various topics and...