Humans of Harker: Energy and love
Emma Andrews experiences serendipity in her academic and athletic pursuits
Passionate. Ambitious. Outspoken. These are words that nearly everyone uses to describe Emma Andrews (12). Whether she's running on the lacrosse field or drawing cost-curves in economics class, Emma carries these values into everything she does. While dedication has helped her excel in both of these fields, her tenacious spirit helped shape her into both an adventurous learner and a kind friend.
Although many of her interests started by chance, her hard work paved the way for further accomplishments. She recalls that although lacrosse may be a large part of her life now, she originally participated to fulfill her high school physical education credits. Unexpectedly, she ended up loving the sport and now coaches at the very club that she started playing at.
"From that first day, I was really hooked and enamored by how much energy [you need] and how aggressive you have to be," Emma said. "I never thought I would be doing a running sport, but little did I know. Now, having the opportunity to coach has been an amazing experience and being able to coach these kids who were 'me' … and being with them in their journey has been really valuable."
Asides from helping her fulfill P.E. credits, lacrosse has also taught Emma valuable life lessons that she has used both on and off the field.
"It's a very strategic game, especially since I play defense," Emma said. "You have to know all aspects of the game, and it's very cerebral with a lot of athletic ability needed."
Her love for economics followed a similar pattern. Emma took her first economics class in sophomore year because it was the only elective that could fit into her schedule, and it has been one of her main interests ever since.
"I actually met two of my best friends in that class, which was hilarious because I wasn't expecting to love it, but I did," Emma said. "That's pretty much how a lot of things work and turn out in my life — whim decisions and being really spontaneous — and I'm glad it worked out that way."
Emma's open personality has been a helpful asset in her economics journey, constantly looking through new perspectives. Upper school economics teacher Dean Lizardo, who has taught several of Emma's classes, recalls how her eagerness and participation brought a unique energy to the class.
"One of the things that has always been consistent is that she's always sort of been willing to participate in the class and is really not afraid to get anything wrong," Lizardo said. "She brings this very unique energy to the classroom in how she attacks everything that she does. I hope that she brings that sort of same energy in everything that she does."
Like lacrosse, Emma has learned lessons from economics that she can apply to real-world situations for the rest of her life, such as decision making and the psychology behind it.
"It's really valuable to analyze how people make choices, and it's interesting to have that knowledge and apply it to yourself and then apply it to the world," Emma said. "The vastness of [economics] and its many applications have been really enthralling, and I've just become addicted to it."
While she commits time and effort towards personal goals, Emma also makes sure to form connections with those around her. She attributes her ambitious personality to the Harker community, whose environment has left an impact on her since sixth grade.
"I was pushed into this environment where everyone was trying to do their best and just really pushing the limits of what I thought people could do," Emma said. "It's slightly overwhelming, but it's been incredibly inspiring to be in an environment where people are striving to do their best and pushing themselves so hard."
Although Emma has many personal aspirations, she also cares about those around her and supports their goals as much as she is passionate about her own.
"She has this balance where she's a really compassionate and kindhearted friend … but she also has this other side where she's very intellectually driven and very ambitious," close friend Ellis Goldman (12) said. "When she sets her mind on something, there's nothing that really deters her from achieving that."
Despite her competitive side, Emma is widely known among her peers for her empathy and reliability as a friend. She thrives from interaction with others and uplifts them with her positive mindset.
"I'm pretty sure I can name everyone in our grade," Emma said. "Reaching out to anyone, that's something I really love about the Harker community as well. I really like our environment because it's really conducive to not only intellectual conversations, but also to friendships, and I've found some really good friends here."
Many of her peers agree that her warm personality and outspokenness make her stand out as a reliable and easygoing friend.
"Emma is pretty individualistic," close friend Sophie Durn (12) said. "She doesn't conform to what everyone else is doing. She does her own thing. She's also very kind and always there for you, and she's always willing to help you and give you advice."
While reflecting upon her high school experience, Emma acknowledges the support she has received from her peers and teachers and how the Harker community has shaped her into who she is today.
"I'm amazed by some of the people I go to school with, and I'm really excited to have known them and see where all of our journeys end up," Emma said.
About the Contributors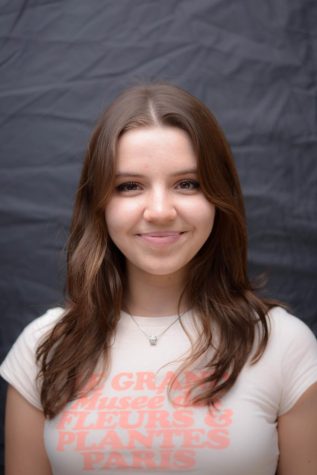 Ariana Goetting, Co-A&E and Lifestyle Editor
Ariana Goetting (11) is the co-arts & entertainment and lifestyle editor for Harker Aquila and the Winged Post, and this is her third year on staff....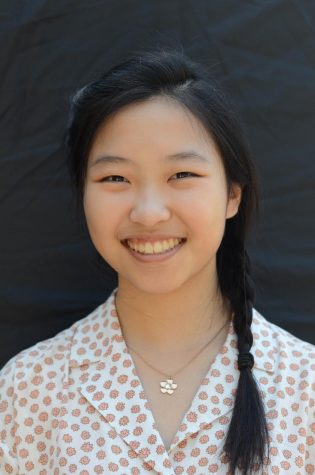 Desiree Luo, Co-Features Editor
Desiree Luo (11) is the co-features editor for Harker Aquila and the Winged Post, and this is her third year on staff. This year, Desiree hopes to tell...