Humans of Harker: Beyond the data
Julia Biswas fights for justice
Julia Biswas (12) sets her Shake Shack drink down on a nearby table, grabs the shirt that caught her eye and holds it up to her friend. The smiling avocados printed on it mirror Julia's own grin as she leads her friends through the thrift store in search of some more fun clothing.
Julia's bright, open personality is evident even during more serious moments of her day-to-day life. She devotes much of her time and efforts to activism, but doesn't hesitate to drop everything for a friend in need. Not only does she care about people, she's also genuinely motivated to see her beliefs come into fruition and become reality. One way she achieves this goal is as the president of Fem Club.
"Being able to speak up in front of people who you normally interact in the context of classes is something that is hard, so I worked to cultivate a space on campus where people are free to talk about their experiences and to really get their opinions and ideas for change out there," Julia said. "Most of our meetings will have both teachers and students there, which is great because I think that feminism isn't only for students to engage with."
Other activist work Julia does includes the analysis and research of data related to the opposition for congressional candidates. Even more than just crunching numbers or building machine learning models, close friend Maya Franz (12) notices that Julia goes beyond the data and into the human sides of issues for a better understanding of what really happens to marginalized groups.
"She'll take whatever comes her way, and a lot of the times that means going out on her own to find opportunities," Maya said. "So she'll fight for what she believes in, she'll go out and phone bank, spend several hours talking to strangers or call her congressional representatives … I think it's really admirable."
Julia treats many of her academic interests as disciplines that are dependent on their connections to other activities. For her, computer science, graphic design and calligraphy became remarkable assets to further her outreach in activism.
"When you find those connections and you're able to use them to do meaningful things, it's a lot more powerful than just consuming more and more information because at some point, you're going to have to do something with it," Julia said. "I like to put the things that I'm learning in the context of what I'm able to create based off of those things."
As someone who is more of a project-based learner, Julia dives headfirst into activities and figures out how to do things on the way. This spontaneity is a quality of Julia's that Maya admires in their friendship.
"She brings a lot of fun into our friend group, inviting us to do something goofy or try on crazy clothes at the thrift store," Maya said. "There's a very fun side of [Julia] that doesn't always come out when people are interacting with her in professional settings."
Julia's energy and enthusiasm for what she does also applies to her relationships with other people, something close friend Betsy Tian (12) is appreciative of.
"I'm really grateful for Julia especially during the pandemic because she's always the first person to keep in touch with you even if we aren't able to see each other in person," Betsy said. "She's definitely someone who commits and is genuinely dedicated to the plans that she makes for herself and the visions that she wants to come true."
Upper school speech and debate teacher Scott Odekirk has coached Julia for almost three years. He advises her to continue being the leader who makes the important decisions, and to change the structure in front of her if it doesn't fit who she is.
"She has the capacity to define the world, not just find her place in it," Odekirk said. "She's of sound judgement and I think she's an innovator so I hope she presses herself to be in positions of leadership because I think she'll make the world a better place."
Julia has a very powerful command of what she wants to say, and combined with her sincere care for the world, it gives Julia an impressive outlet from which she can express herself. In particular, speech provides her with ample experience and opportunity to do this.
"You can learn a lot from someone, just from hearing them speak for a few minutes," Julia said. "It's really interesting to hear what other people say in their speeches because while it's one thing to talk about a problem, it's another thing to argue what's causing it—what the theories and the ideologies behind the root cause of a problem are or how we can solve it."
By constantly looking to improve, by practicing and by working her hardest, Julia earns herself the sense of confidence she uses to create change. Another platform Julia uses to put herself in the public is her Instagram account for activism where she often discusses her beliefs with others.
"I learned that even if my beliefs don't change, it's really a powerful experience to be able to understand why someone might believe differently," Julia said. "In a lot of cases, our beliefs are driven by our fears and our hopes, things that may not be understood at first, but end up being more similar than expected."
About the Contributors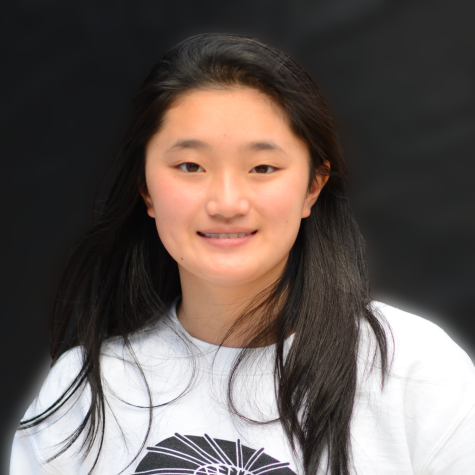 Katie Wang, TALON Photo Editor
Katie Wang (12) is the photo editor of the TALON Yearbook, and this is her fourth year on staff. This year, Katie looks forward to photographing with new...
Saloni Shah, Humans of Harker Editor-in-Chief


Saloni Shah (12) is the editor-in-chief of Humans of Harker. This is her fourth year on staff. She loves to spend time with the rest of the staff and...