Humans of Harker: Writing for the right reasons
Sara Yen finds happiness in journaling and journalism
Sitting serenely on a wooden bench in her backyard next to a colorful selection of Moleskine notebooks and mechanical pencils, Sara Yen (12) journals quietly as her pen comes to life with dance and her loopy letters thread her thoughts into the lined pages.
Ever since her grandmother gave her a red Moleskine at the start of high school, Sara has been practicing journaling, a "therapeutic process" that fills notebook after notebook with her reflections of the day. 
"I think things through more now [because of journaling]," Sara said. "Instead of rushing into things or reacting to things immediately, I take the chance to think things over."
As someone who writes on a daily basis, Sara finds solace and comfort in the process of placing ideas down on a tangible piece of paper. 
"It's nice to almost not know what you're going to write about until your pen touches the paper," Sara said. "There's something about writing where, for me personally, I'm able to explore parts of what I'm thinking about that I wouldn't have been able to even know without writing. I'm able to find things that I didn't even know I was worrying about or that I was happy about until I write."
While personal writing and journaling provides a creative outlet and a great degree of freedom and exploration with no expectations, as the co-editor-in-chief of Winged Post, Sara also extensively practices a different kind of writing: journalism, which entails a much more systematic and structured approach. 
"I do like both forms of writing. You don't have that research aspect when you're writing for yourself, and you really get to learn more about other people through journalism and other cultures, other events, more outside of yourself, where writing for yourself is just you," Sara said. "They're totally different, but they both have their own merits."
As a now-second-semester senior who has nearly completed the rigorous Harker journalism program, Sara looks back on both the skills gained, such as reporting, researching, interviewing and writing, as well as the lessons learned from the past few years. 
"Open-mindedness and being willing to take the extra step to understand someone or something or some event [is what journalism has taught me]," Sara said. "That applies to so many things, in terms of self-care and also approaching people and meeting new people. Something I learned through journalism is that you shouldn't have assumptions, or at least rely on those assumptions, and it's good to have observation first."
Anna Vazhaeparambil (12), who has been alongside Sara in her journalism career as a fellow student journalist, appreciates Sara's dedication to the publication, noting her diligence as a leader in the program.
"She truly understands the meaning of what it means to be a student journalist," Anna said. "She gets why we do the work that we do and she loves journalism. She understands [that] what we're doing is important, and she really takes that on and embraces the responsibility that comes with it."
Even as a freshman, Sara felt an affinity and love for writing, which ultimately motivated her to join the journalism program in the first place. 
"I really liked the idea of a journalist, someone who's very analytical. I wanted to adopt that poise, and professionalism, and in going into journalism, you really do learn all these social skills."
Close friend Ankita Kundu (12) notes Sara's growth throughout the years because of her high school experiences in journalism and more. 
"One thing anyone who talks to Sara will know is that she doesn't have a bad bone in her entire body," Ankita said. "She's always been that nice person that everyone got along with, but in journalism, I saw her putting herself out there more, and she's always been a motivated person who could work hard, but then [she also started] having the courage to make sure other people knew that and then showing that off and even rising to the top."
Sara's experience in journalism has further transformed her from someone who used to be more quiet to a more outspoken person. She recalls the moments when others would show acts of support to check in with her and make sure she felt included, and she now strives to carry on the same legacy with her peers, especially on the lacrosse team.
"On the lacrosse team, I make sure to talk more to the underclassmen, especially the freshmen and the newcomers, because when I joined lacrosse, the seniors were so nice to me, and they were really like moms to me," Sara said. "They were so inclusive and [made] sure that if I wanted more practice on something, they would help me out."
Anna, who played alongside Sara on the Harker girls lacrosse team, further emphasizes Sara's current confidence and leadership, whether as the co-editor-in-chief of the Winged Post or as a member of the lacrosse team. 
"She's embraced the leadership and the responsibility that's come with her maturing to high school," Anna said. "She's become a leader in her own right, and she's the one who will make sure people are talking and invite people to speak up. She's really become more confident in herself and allowed a voice in her community."
Dana Lieberman, upper school mathematics teacher and Sara's adviser, emphasizes that Sara has shown initiative and drive since freshman year. 
"She seemed engaged, up to try new things, generally always cheerful," Lieberman said, "The fact that she's still organized, on top of it, cheerful despite increasing workloads means she has been growing."
Sara's high school journey has not been without challenges; her sophomore year, she tore her ACL, putting her off the field for the rest of the season. Despite this physical barrier, Sara continued to show support and enthusiasm for the team. 
Even when her physical injury healed, Sara still had mental difficulties to overcome, such as the fear of never being able to fully recover. Taking a step back though, Sara has come to learn that progress is gradual and that eventually, pains will heal. Through lacrosse, Sara has also gained valuable advice that she keeps in mind to this day. 
"I've learned a lot about endurance [from lacrosse]. One of my coaches' quotes was 'pain is temporary,' which might not be the best motto, but I think part of that rings true in that it always gets better," Sara said. "When you're running down the field and you're really tired, there's that voice inside of you that tells you to keep on going. You should listen to it and know it will get better."
About the Contributor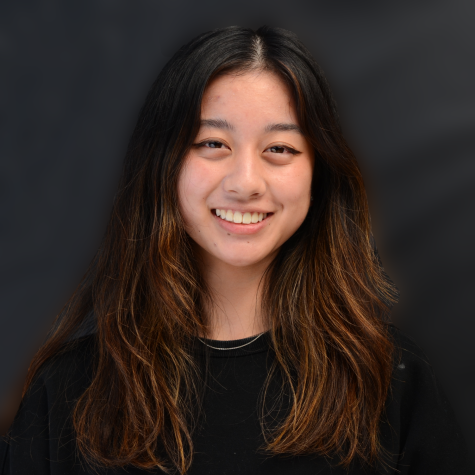 Emily Tan, Winged Post Co-Editor-in-Chief
Emily Tan (12) is the co-editor-in-chief of The Winged Post. This is her fourth year on staff, previously serving as the Winged Post features editor, and...