Humans of Harker: Proving a point
Nathan Ohana explores his interest in history and politics
The warm sun shines down on the finely cut grass at De Anza Park in Cupertino. Faint noises of children joyfully playing echo in the background as Nathan Ohana (12) rides his bike across a thin path. Breaking smoothly, he comes to a complete stop, taking off his helmet and walking his bike to a nearby shady bench.
Whether in Quiz Bowl tournaments, debate tournaments or in his day-to-day schedule, Nathan has always maintained a calm, mellow personality which he attributes to his parents. He also attributes his love for history and politics to his parents, who work in political fields and often discuss politics with Nathan. 
"I'm a very laid-back person, and my parents mirror that in who they are as people, but they also have [a] tremendous interest in politics, which I probably derived from them," Nathan said. "We take news quizzes every week as a family, and read the newspapers, so I think that shaped my interest in politics."
To Nathan, history is its own form of art. He hopes to not only indulge in history and politics himself, but share his fondness with others. 
"There are some things in politics and history that people seem to not pay any attention to, or they consider it lesser, and I think it's very important to understand what's going on in the world around you," Nathan said. "There's a lot that goes into it, and it's about understanding perspectives of large groups of people. I was never really good at art, but history is an art—just a different type."
Upper school English teacher Brigid Miller taught Nathan in both his junior and senior year and noted his growth and detail to learning. 
"It was a thrill to work with him," Miller said. "[He's] more confident in his assertions [and] in his analytical abilities. He's [also] conscientious, [and] he gets his work done; he doesn't just do things on time, he does them early." 
Starting in his freshman year, Nathan began to participate in activities surrounding history and politics, including congressional debate. He particularly enjoys the researching aspect, focusing on topics such as foreign affairs or economics. 
"Researching things is fun [to me] and congressional debate is [a] very action-packed activity," Nathan said. "Congressional debate [is] simulating actual Congress, so you debate bills and resolutions that change every tournament and the format is a lot less set. You have a lot more people to debate against which I like, and having new bills and resolutions each tournament gives you new topics to research [which] I find pretty interesting, especially foreign policy topics." 
Fellow congressional debate teammate Andrew Sun (12) grew closer with Nathan in high school through preparing for debate tournaments and playing on the same soccer team. He fondly remembers discussing topics with Nathan the night before tournaments since Nathan is curious and easy to talk to.  
"[Nathan is] open-minded, that's for sure," Andrew said. "He's the type of person who is not going to ask 'why' before he asks 'why not,' and he's enthusiastic about it as well, which is a cool vibe to have because it encourages other people to be more open-minded."
For an outgoing and curious person like Nathan, debate is his form of expression. He compares it to arguing with his brother, since debate is his outlet, yet with debate, his argument does not necessarily have to have an impact. 
"It's nice to argue with someone else over a topic," Nathan said. "In the end, it's a pretty meaningless argument. It's not going to change anything, but it makes your words have meaning, and I think as someone who likes to talk a lot, words [that] at least have some sort of meaning mean a lot to me and gives me a lot of motivation to keep doing debate."
Speech and debate teacher Scott Odekirk coached Nathan in congressional debate since his freshman year, and described his contributions to the congressional debate team as a whole.
"We've had a real explosion of success [on the congressional debate team] and I think that one of the people who should take credit for that is Nathan," Odekirk said. "He's a vocal leader who gives research assignments, coordinates preparation efforts and functions as a role model for other people, and I think that can only happen if you really develop a sense of yourself and start to have confidence in who you are. That's what I saw develop over the course of the four years."
Another activity that Nathan explored due to his interest in history and politics was Quiz Bowl. He first participated in the History Bowl club in middle school, and then later joined the Quiz Bowl team in high school. 
"[Quiz Bowl] is like a trivia competition," Nathan said. "If you measure worth based on the costs and benefits of doing something, I don't think the costs of doing [Quiz Bowl] is very high, but I think the benefits are very high. I get to travel around the country [and] meet people from all over the country from doing debate or Quiz Bowl, [and] I get to learn about [topics] I want to learn about."
Close friend and Quiz Bowl teammate Michael Eng (12) met Nathan in middle school after the two bonded over World War II history. Michael acknowledges that he has made some mistakes in Quiz Bowl tournaments, but Nathan always remained calm and supportive of his team.
"It's really fun sitting next to [Nathan], or online, seeing him on the screen, because we get to answer questions about various academic topics," Michael said. "In Quiz Bowl, I've said a lot of really [questionable] things as answers, and a lot of times, especially with newer players, you'll see that if someone makes a really bad buzz, then their teammates will get very irate, but Nathan never did that. He doesn't get mad over trivial things, which I think is a very good trait."
Overall, Nathan's high school decisions reflected not only his interest in history but also his curiosity. He made an effort to maximize his high school experience and try new activities besides debate and Quiz Bowl. He participated in his grade's Spirit Rally dance and spontaneously decided to run for class treasurer in his senior year, just for fun.  
"I want to be remembered for actually doing things I'm interested in. I don't think there's an activity I've done in high school that I haven't enjoyed, so everything I've done has been completely worth it, because I like doing it, and there's nothing else I'd rather be doing," Nathan said.
About the Contributor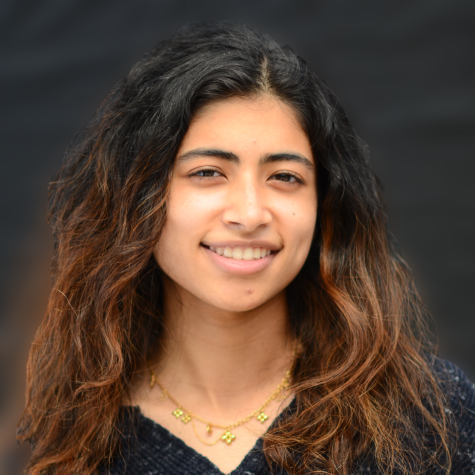 Anika Mani, TALON Co-Editor-in-Chief
Anika Mani (12) is the co-editor-in-chief of the TALON Yearbook, and this is her third year on staff. She enjoys traveling the world, trying out new restaurants...