Humans of Harker: Melodies and morsels
Advika Phadnis develops close relationships and immerses herself in music
Advika Phadnis' (12) face is taken over by a smile as she laughs at a joke her friend makes across the table. The buzz of Philz Coffee continues in the background as she turns back to her computer to refocus on the homework sitting in front of her. 
With her friends being a large part of her life, Advika prides herself on being the one that's always there and willing to listen and lend a helping hand. She credits the community created by her friends as one of the main reasons she has grown into the person she is today.
"I gather different parts of myself from each environment I'm in," Advika said. "Some traits come from my friends, some come from my parents, some come from what I've learned at school or something, or internal conflicts … it's different within each one."
Close friend Calais Poirson (12) commented on her genuinity and ability to care so effortlessly yet effectively. Although her first impression of Advika was shy and timid, the two have grown closer and more comfortable, now FaceTiming almost every day and going on frequent excursions to Philz Coffee to hangout and do homework. 
"She's very good at making people feel important and loved, which I think is one of the best things someone can do. She's such a genuine person that's always going to be there for you. And she's like that with all of her friends," Calais said. 
Close friend Elaine Zhai (12) has a similar opinion on Advika's character. Throughout their friendship, Advika has remained a reliable shoulder to lean on, always willing to help out and maintaining a constant presence in her friend's life, no matter what was going on in hers. 
"She has a really great way of connecting with people … Her ability to connect to other people and really develop valuable relationships with them … I know that my relationship with her is definitely very honest and very true. And I feel like it's very unwavering," Elaine said. 
Close friend Meona Khetrapal (12), who met her through the basketball team in seventh grade, has grown much closer to her off the court since then. With the stress of junior year, the two bonded over using a planner and creating study schedules. 
"We sit down and even now we FaceTime … and we'll just plan our entire days together, like entire weeks, but she's really organized … and I think that's a really big strength of hers," Meona said.
Along with planning, Advika uses music as a way to relax and unwind, creating playlists and discovering new tracks at the same time. She uses it as a way to express herself, not unlike what she does in speech, which she's been taking part in since middle school. 
"I'm a naturally shy person, so [speech] has helped me a lot to overcome this fear of public speaking," Advika said.
With her playlists and new confidence by her side, Advika takes on the world, or, more specifically, the food wastage crisis on college campuses, something she is taking on through her Girl Scouts program. 
"Hunger is a really big problem, especially within college campuses, [and] there's a lot of wastage, especially in food," Advika said. "Becoming more aware of that [problem], myself included, is something I've seen and cared deeply about."
Meeting with big corporations and raising funds to bring awareness and take on this issue, Advika is doing something she never thought she would be able to. 
"It's finally come to an end, it's not a far-fetched goal anymore. It's like I'm looking forward past that to see how I can build off what I've already done … I would just feel fulfilled if I knew that my work was … benefiting at least one person," Advika said.
Despite any challenges and obstacles that were in her way, Advika was able to push past and achieve her goals, no matter how impossible they had originally seemed. To do this, Advika has kept in mind one motto: everything happens for a reason. 
"It helps me put things into perspective, when something doesn't really go the way I expected or doesn't turn out in my favor. It puts it into perspective and makes me think, 'Oh, why?' It's a more motivational mindset that helps me keep going," Advika said.
About the Contributors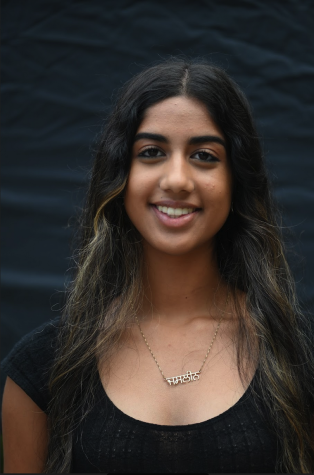 Jasleen Hansra, TALON Organizations and Co-Student Life Editor
Jasleen Hansra (12) is the Organizations and Co-Student Life Editor for TALON Yearbook, and this is her fourth year on staff. This year, Jasleen is excited...
Nicholas Wei, HoH Managing Editor
Nicholas Wei (11) is the managing editor of Humans of Harker. During his third year on staff, Nicholas looks forward to bonding and working with the cubs...