Humans of Harker: The fight is ours
Natasha Yen uses activism to create a better future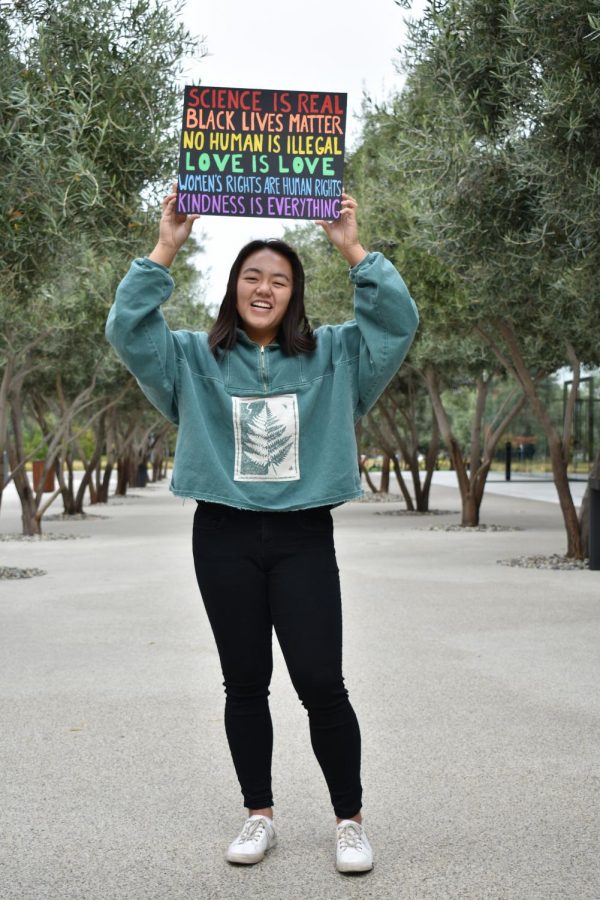 "Fight, fight, fight, fight, a healthy planet is alright!" 
This empowered chant, soaring from the throats of youth climate activists, filled the air of San Jose City Hall on September 20, 2019. One of 4 million students who participated in the worldwide climate strike that Friday, Natasha Yen (12) recalls the palpable passion of the crowd.
"There was a powerful energy, to be part of that. Everyone there was so enthusiastic and hopeful," Natasha said.
From climate change to racial justice to social inequality, it's hard to find a current issue that Natasha is not determined to solve. With her core values in mind, Natasha strives to pave a path toward a more just world, whether that be organizing speaker events with assembly members and artists or marching alongside fellow youth during peaceful protests. 
"All the efforts that I've put into my activism is going forward to create that community that I envision — one that is filled with hope and compassion and empathy," Natasha said. "We don't have that much time on this earth, and everyone can do something, even if it's little, to help make a better future." 
Her dedication to address this era's most pressing concerns is evident in her actions, even on a daily basis. Close friend Santoshi Tirumala (12) appreciates Natasha's drive for positive action that has carried into her personal life. 
"I admire her passion for what she loves. She's definitely a leader, she takes charge in situations," Santoshi said. "She's super passionate about social justice and change, and you can see her off-campus going to marches and talking about it with our friend group all the time."
Natasha's activist work doesn't stop outside the doors of a classroom, either. Upper school history department teacher Mark Janda, who taught Natasha in world history her sophomore year, also recognizes the unmistakable devotion toward justice that distinguishes Natasha outside of her hard-working and academically driven demeanor. 
"There was some point in studying history where she questioned the fairness and the humanity of something, and that's where she began to shine," Janda said. "When something is about what's right and wrong, when something is about what is humane and just, then you're going to get to know her." 
The fuel for this fire, according to Natasha, is empathy. In actively practicing empathy, Natasha believes that people will naturally find the necessary commitment to advocate for an issue that, oftentimes, seems separate from their own life.
"To realize that there's an issue in the first place is the key, and empathy allows people to step beyond themselves and to care for others," Natasha said. "All issues—environmental justice, social justice, racial justice—these are all connected to the core value of empathy." 
Prior to involving herself in more formal acts of activism, Natasha regularly discussed topics of social justice at her former middle school. Upon joining Harker in her freshman year, however, Natasha discovered a smaller presence of activism at school. Instead of being discouraged, Natasha resolved to create a space solely focused on activism. 
One such opportunity was the Youth Activism club, an organization advised by Janda and co-founded by Natasha that encourages conversations about current events and politics. 
"Seeing people engage in the space that I created has been really fulfilling to know that at least these conversations are beginning to happen," Natasha said. "Hopefully, these students, after reaching out to a broader audience, will also be able to make an impact within their own communities. It really is a snowball effect — once one person is touched, it goes on from there, and it can start a movement going forward." 
Natasha has also helped to foster an area dedicated to promoting diversity, equity and inclusivity. After attending the annual Student Diversity Leadership Convention (SDLC) in her junior year, Natasha and close friend Uma Iyer (11) were inspired to form what would become the Student Diversity Coalition (SDC), an institutionalized student-led organization that aims to create a cohesive and equitable community culture at Harker. Along with seniors Brian Pinkston and Dylan Williams, the four worked over the summer to turn a vision into reality. 
"She's the most well-spoken, kind, empathetic and overall caring human being that I could've started [SDC] with, and I have a lot of admiration and respect for her because of how well she carries herself and how well she took on the responsibility of leading SDC and making it as great as it can be. SDC would not be where it is without her today," Uma said. 
These same impassioned communities that Natasha has created during her four years of high school are also the reason why she continues her activist work.
"I'm really proud to be a part of a generation that cares and that wants to fight for a better future for all of us. Whenever you're feeling down, you just be part of that community, you just listen, and you're re-motivated and reinspired to continue the work of activism," Natasha said. "There's going to be resistance, there's going to be a fight, but it's a fight that we need to fight and [something] that I want to be a part of."
Outside of community-centered activism, Natasha adds a unique flair to her own activism through art. For her portfolio, Natasha explored using various household objects as canvases to symbolize the model minority myth. And in the aftermath of the killing of George Floyd, Natasha joined several other high school students in painting a "Black Lives Matter" mural.
"Using art as a means of expression has definitely been part of my activism as well," Natasha said. "I used to think that art was limited to traditional art, like painting or drawing, but … art is not limited in any way. It's really about the artist, and the artist is able to express [themselves] in whatever form or way they wish."
Her affinity toward visual creativity also enriches her classroom presence. One of Janda's favorite memories of Natasha was her sculpture of a ceiling mobile for a project in world history class. 
"I had said to go home and create a visual representation of history, and 43 students came up with drawings, but she came up with a three dimensional thing," Janda said. "That was just purely Natasha fearlessly thinking in her own unique way. And I love that—that's what makes her special." 
With her artistic talent, her unwavering sense of justice and the supportive communities she has created, Natasha faces the difficult task of battling the world's problems with determination and, above all, hope.
"I've faced … the overwhelming idea of all these problems that we have to fix. There's so many different issues in the world, and I want to fix them all, but I can't," Natasha said. "But being part of the effort in the first place is what has helped me to know that even if I can't fix all of the issues, I'm at least being part of the effort in trying to fix them." 
About the Contributor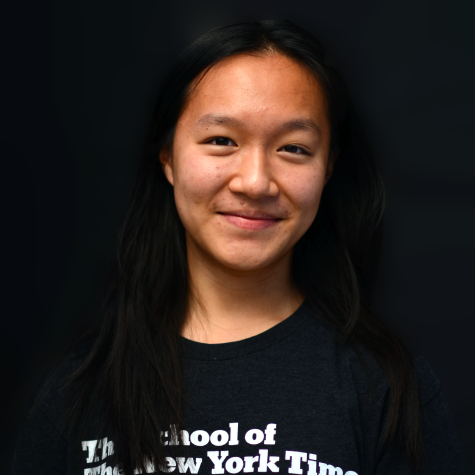 Erica Cai, HoH Co-Editor-in-Chief


Erica Cai (12) is the co-editor-in-chief of Humans of Harker, and this is her fourth year on staff. Her goals in journalism this year are to celebrate...