Humans of Harker: Creating platforms
Arushi Saxena lends her knowledge to others
Pulling out a glossy red guitar from a soft black case, Arushi Saxena (12) checks for pedestrians before sitting down cross-legged in the middle of a bridge spanning across the far end of Vasona Park. The rusted beams arch above the fading wooden planks as the dimming sunlight frames her silhouette and the guitar hums out gentle strains.
Eleven years ago, 6-year-old Arushi strolled through a music store, searching for a new instrument. Not piano–all her friends played piano, and she "wanted to be eccentric." A flute? Extremely loud, definitely an option. Continuing to scan the displays, she spotted a bright crimson acoustic guitar. Finally!
"Because I was a very outgoing person when I was little, I found [the guitar] just sitting on the shelf, and I was like, 'This is it,'" Arushi said. "'I'm going to play it.'"
She started lessons the following week, and in the 11 years since then, she has played classical artists from Mozart to Bach, utilizing guitar as not only a personal outlet but as an opportunity to connect others and provide refuge in music. After her guitar teacher introduced her to the "Guitar Not Guns" program, which provides lessons to at-risk children, Arushi decided to drop by a class one day. Although the roomful of children balancing oversized guitars and singing along to the tune proved endearing, it also opened a window to experiences of another socioeconomic background.
"[When] I wanted music lessons, I got them, that was that. I saw these kids who loved their music so much but didn't even have the proper sized guitar and didn't even have the proper learning environment to do so … For me, teaching guitar came out of 'I have this skill, and I have this opportunity to pass that down,'" Arushi said.
Arushi's dedication to pass down her knowledge in order to assist others with their own experiences drives her interactions as she in turn creates opportunities from those mentors offered her.
"[People] want to start a discourse and talk about things with people with other interests and different viewpoints," Arushi said. "As I've realized the openings and the gaps and … the opportunities I have been afforded, I've done all that I could to provide these platforms to other people and open new doors that wouldn't have been opened otherwise."
Before creating new pathways for others, she needed to first carve out her own space. At the start of freshman year, Arushi decided to join journalism. As she took on new roles, from global editor to news editor, she strengthened not only her reporting skills but also her lifelong gravitation to politics. 
After interviewing presidential candidates at the California Democratic National Convention alongside reporters from the New York Times despite the close proximity of an array of presidential candidates and an accidental swat on the head from former presidential candidate and New Jersey Senator Cory Booker, the previously terrifying prospect of diving into political reporting as a student reporter strengthened into confidence. 
"Having that sort of responsibility and having the ability to [interview political leaders] is so amazing," Arushi said. "Even as a young person, I can work toward getting those interviews, and I have an equal platform as everyone else." 
On top of exploring politics through reporting (and chasing down the occasional Congressman for an interview), Arushi especially appreciates its tangible applications for enforcing change as reflected in her internship with the Census Bureau last summer to expand diversity and inclusion in the census. As with her skills for guitar, Arushi generously shares her own education, whether it be through texting a friend an essay's worth of commentary on the pick for vice president or providing tips to younger reporters about the best coverage plan for an upcoming rally.
"Every time I have a question about politics or there's anything I need to know about what's going on in the news … she's always the first person I'll reach out to," close friend Saloni Shah (12) said. "She always is very articulate and thoughtful and always has a response for you to chew on."
Arushi's constant striving to lend her own power to a greater function clicked not only with politics but also with economics, a subject which she describes as an "art of putting everyone on an equal platform." After taking that first Economics course the summer before sophomore year, she was inspired to co-found Harker's first Economics magazine, Equilibrium, with Michelle Si (12). 
"Arushi is definitely a great collaborator," said upper school economics teacher Dean Lizardo, who taught Arushi Behavioral Economics her sophomore year and is now her Econometrics teacher. "She's really good at working with other students, she's a great team player, and she seems to help everyone else get the job done, because she's a great facilitator. She really brings the group closer to its end goal."
The 64 sleek pages of student research came after hours upon hours of editing content, designing and page revisions, standing as a testament to her love of offering an open platform for people to explore their own interests in economics.
"I remember when it first came out, I would open it once a day and just look through, because I was so proud of what we'd accomplished," Arushi said. "Being able to create a product like that, that meant so much to the community but also meant so much to me, [it] just absolutely blew me away."
Through her roles as a managing editor of Harker Aquila and editor-in-chief of Equilibrium, Arushi has successfully merged her love of economics and politics with her desire to convey her learned experiences to others, "to save anyone from the frustration of not being able to find an opportunity or do something that they want to do." Her giving, accommodating nature extends beyond her role as a leader in her community to her dynamic with friends.
"She's always someone who I can just be myself with," Saloni said. "We can go completely insane, we can say the … most random things, and she's someone who I know won't judge me for that, someone who I can just be a crazy person with, and I know that she'll be right there with me."
Such shenanigans include the 16 missed calls when Arushi lost her way in the Washington D.C. metro on her birthday or when she marched through the hallways at school with a huge jar of Nutella and a fork.
"She calls the number on the back of the jar and asks if she could buy a whole case of it–no idea if she actually did, but I could not stop laughing," close friend Helen Zhu (12) said. "It's these dumb moments that make our friendship and a lot of her other friendships as well … I know that she can always find some light in some aspect and make it a really fun memory."
Back at Vasona Park, Arushi sits down on the rocks by the lake as a raft of ducks paddle by, pecking at the shoreline. Although she has long outgrown the half-size guitar on her lap, the thrum of the chords remains the same. Not only her own music, but as the soft melody carries on and on, also music played for others.
About the Contributor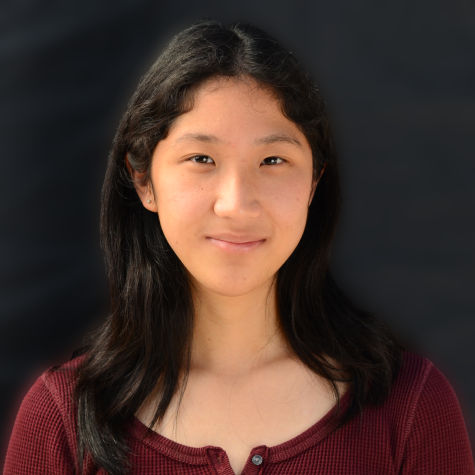 Nicole Tian, Aquila Co-Editor-in-Chief
Nicole Tian (12) is the co-editor-in-chief of Harker Aquila. This is her fourth year on staff, and she previously served as the opinion editor, co-lifestyle...