Humans of Harker: The light in every room
Calais Poirson uses her global perspective to make a difference
Calais Poirson (12) is no stranger to the Harker community. From singing onstage with Downbeat in a glittery gold dress to greeting students at the door of the winter ball to decking out in cheerful white face paint and other white paraphernalia to participate in class challenges during spirit week, she finds ways to engage herself with the student body.
Despite being a newcomer to the community in freshman year, Calais quickly became intrigued by spirit, particularly its ability to bridge the gap between members of her class. Her passion for fostering these connections prompted her to run for class office in junior year and continue on as Associated Student Body (ASB) spirit coordinator as a senior.
"Spirit was always a place for me to feel like I belonged to the community, even though I was entirely new and didn't know anybody," she said. "So I realized at the end of sophomore year that if I could get excited about spirit as a new kid, maybe it could bring together more people beyond the new kid community [and] more people in general, and I could give them a way to connect."
Close friend Hannah Sobczyn (12) notes Calais' skills as a leader and diligence in her contributions to the Harker community, whether it be organizing events, leading in initiatives or simply showing her class and school spirit.
"She completely commits herself to whatever she's doing, and she always wants the best for other people," Hannah said. "Knowing that she's making a difference and really [being] excited about every activity she's doing is really inspiring to see … When she's making announcements or leading in any activity, you can see that she's excited about it, which makes everything so much better."
A more unexpected factor in Calais' interest in student government is her upbringing in the small historical town of Nevada City, California, where her mother was a member of the city council. As a child, Calais would listen to council meetings as she quilted or worked on homework and would help pass out flyers for events and political topics. This early exposure to leadership shaped her understanding of community.
"Seeing people that you love and admire active in their community and in local government probably was a big influence in me wanting to be involved in school government. That value in community and improving it definitely comes from early exposure to a small town political scene," she said.
To this day, Calais still finds ways to implement positive change in her town by contacting the council and passing out information to raise awareness of local issues such as deforestation. A key skill she uses when partaking in activism is listening before judging no matter how different the opinions of others are.
"Understanding people's perspectives is something that I try to do. No matter what situation I'm in, I never immediately judge someone," Calais said. "[With] people who have different beliefs than me [and] different opinions, before I try and fight against them, I try and understand where they're coming from and why they believe what they believe."
Her friends echo Calais' willingness to listen, no matter the circumstances. Morgan Miller, a senior and long-time friend from Nevada City, appreciates Calais' acceptance and open-mindedness towards others' beliefs.
"She's able to state her opinion and then also accept anyone else's opinion too–she's not just on- sided and only listens to [herself]," Morgan said. "She really thinks about their opinion too and puts it into her own mind," Morgan said.
Close friend Advika Phadnis (12) values Calais' empathy and ability to provide support.
"She is always the first person I go to when I'm feeling sad, or mad or frustrated or any sort of thing happens. She always talks me through it and listens," Advika said.
Growing up in Nevada City also made Calais aware of her consumption of goods as the town made consistent efforts to preserve its historic nature by keeping large brands out. She makes a special effort to support local small businesses instead of buying from big chain stores. For example, she prefers to study and buy coffee at Crema Coffee Roasting Co. despite the convenience and pervasiveness of Starbucks.
"I feel like it's something that people who live in cities don't really think about because they're surrounded by Targets, and Kmarts, and all those amenities. But small businesses are what makes a community special and what makes [parts of] the world different from other parts of it," she said.
While Nevada City shaped much of her identity, coming to Harker helped Calais to explore different facets of performing arts. As a child, Calais sang folk songs with her family around the dinner table during celebration, a tradition that sparked her interest in music, but seeing Harker's plays and musicals in freshman year and having access to performing arts programs allowed her to discover theater. In junior year, she was cast in the spring musical "Urinetown," a first step in musical theater that integrated her into its warm community.
"Once you're in a show, the theater community is so welcoming and so loving, so I think that being around those people all the time was a really positive influence in my life," Calais said.
Throughout her time as a performer, she has observed the importance of self-growth and developing confidence.
"Being on stage with people that I love was just a magical experience, and then getting to sing is something that takes a lot of self growth. Freshman me would have never sang in front of 800 people, and I've done that many times now," Calais said. "As my confidence grew, I became more comfortable being on stage and sharing my voice and having fun doing something that I enjoy."
About the Contributor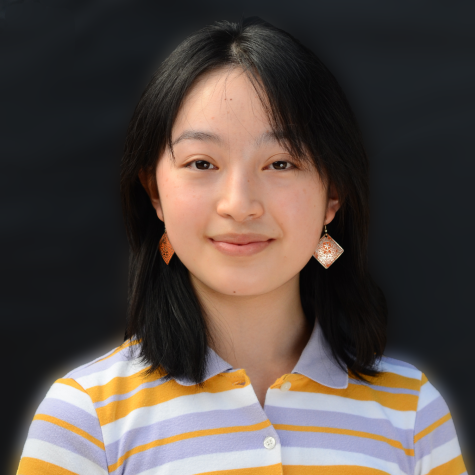 Arely Sun, Aquila Co-Managing Editor


Arely Sun (12) is the co-managing editor of Harker Aquila with focus on longform writing. This is her fourth year on staff, and she hopes to work with...