Humans of Harker: Encouragement on and off the court
Maria Vazhaeparambil supports her teammates, friends and other athletes
Nine girls bustle around a busy kitchen. A mix of different aromas wafts through the house, and the sound of metal tools clinking combined with joyful laughter fills the room. Maria Vazhaeparambil (12) looks on as her teammates excitedly cook up a multi-course meal. There's macaroni and cheese, steak, smoothies, brownies and more. 
Maria recounts this vivid memory with a gentle smile on her face. Although the November Hawaii trip largely consisted of games, workouts and preparation, this experience stands out the most to Maria.
"We all flew out there, and we got to have so much fun [by] going to the pool, going to the beach and we of course played games and practiced. And it was just all-around a great bonding, great team practice, a great way to welcome in the new freshmen," Maria said.
Maria started playing basketball in fourth grade, when she signed up for every sport Harker offered. By the beginning of high school, she knew that basketball was her favorite and decided to continue playing. 
Although she loves being on the court, Maria especially enjoys being part of the team. Through her teammates, she has grown more confident and has developed close relationships with each of them. After Maria became captain, she further understood that playing basketball is a team sport. She believes that only thinking about one's own actions is not helpful and does not capture the essence of the game.
"I realized that [only thinking about yourself] is not really what it's about. You have to focus more on picking up your teammates, being an all-around team player, worrying about team dynamics and making sure everyone's head is in the game, not just your own," Maria said.
Throughout the years, upper school basketball coach Daniza Rodriguez has seen Maria grow into a more confident person and player and become more comfortable with herself.
"I don't think she realizes how much influence she has over the people around her and how much they really look up to her leadership. She's become a natural-born leader. Her traits of encouragement, of hard work and just being the example really set a tone for anyone around her," Rodriguez said.
Even when she's not a player on the court, Maria still continues to support fellow athletes. She recognizes how important sports are to other students and tries to make sure their work is appreciated.
"I live by wanting to always support my community, so especially as I've gotten to junior and senior year, I've always made it a point to [go to] everyone's volleyball games and basketball games," Maria said. "Not just for my sport but for other people who are putting hard work into their own sports, so their work doesn't go overlooked."
Teammate Cindy Su (11) admires how much support Maria has for other athletes. Many of Maria's friends go watch her basketball games, so she always tries to do the same for them.
"Whenever we're in season or out of season, she always talks about how she wishes people would go to other people's games more. She just wants people to support them. She really appreciates when her friends come to support our games, and she's always trying to go to as many games of other teams," Cindy said.
This trait of encouragement is an inherent part of Maria. She hopes to leave a little of it behind when she leaves Harker to help foster a supportive environment. 
"I want [people] to remember me for always being a team player and always looking out for other people. Especially in athletics, I want to be supportive of everyone around me and show others that they're not in it alone," Maria said. "You'll always have the support of other people in your community."
Even when she's off the court, Maria lends a hand to those around her. Close friend Anvitha Tummala (12) agrees that throughout the years, having Maria as a kind and loyal friend has helped her through many challenges.
"I have come to rely on her so many times when I've needed help, either with school or just something I'm going through. She's just a really strong support system for me," Anvitha said.
Cindy has had similar experiences with Maria and notes that she is very understanding.
"If you ever need any help with school or your personal life, she's always there, and she tries to give any advice. If she has experience with similar things, she'll give you some input," Cindy said.
In the future, Rodriguez knows that Maria's dedication and drive will lead her to success, no matter where she decides to go.
"She can go anywhere, it's limitless for her. It doesn't matter if people are doubting her because she knows her own confidence and her own abilities," Rodriguez said. "It is her determination, it is her encouragement, the support she gives to other people around her, and just her desire. If she really wants something, she's gonna put the time and effort into it, and she just makes sure that if it's something she cares about, that she really does give the all to what she's doing."
About the Contributors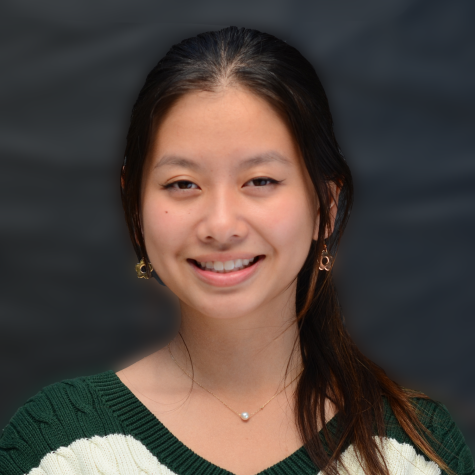 Sabrina Zhu, Winged Post Co-Editor-in-Chief
Sabrina Zhu (12) is the co-editor-in-chief of the Winged Post, and this is her fourth year on staff. Sabrina hopes to capture more campus life through...
Anna Vazhaeparambil, Editor-in-Chief
Anna Vazhaeparambil (12) is the co-editor-in-chief of Harker Aquila. This is her fourth year on staff, and she hopes to grow as a reporter and photographer....