Humans of Harker: Full of zest
Austin Killam puts forth his energy in theater, biology and life
Student Directed Showcase. Spring musical. Fall play. Dance production. Attend any of these shows, and you'll find Austin Killam (12) center stage — singing, dancing or acting his heart out. From middle school vocal ensemble Harmonics as a budding sixth grader to upper school vocal ensemble Downbeat as a much more experienced senior, Austin has done it all with vigor and delight.
For Austin, hearing Wicked's "Defying Gravity" playing on a CD in second grade served as the initial spark for his lifelong passion for theater. As a 7-year-old, Austin would put the song on repeat and sing along, an experience that opened his eyes to the world of music and theater.
"I appreciate the whole education side of [theater]: the feeling that I'm becoming a more versatile actor, I'm becoming a better musician, I'm learning more about theory [and] I'm learning more about proper singing," Austin said. "I get such enjoyment out of just being able to be there in school, learn and grow as a person."
In addition to being captivated by theater itself, Austin values the relationships he is able to create through the various performance groups that he takes part in. Within these big group settings, he feels that his extroverted personality truly thrives and that he can express himself.
"There's a lot of social skills and communication skills that you get from [theater]. There's just this bonding and camaraderie you can get from these ensembles, from these big groups, and it's invaluable," Austin said. "That sense of community [and] belonging just keeps me going back because I'm comfortable there, the other people are comfortable, and we're all just trying to help each other."
Fellow performing artist Joel Morel ('20) met Austin through Harmonics in middle school, though their friendship strengthened as they entered high school when both their passions for performing arts intensified. From the various musicals and plays they've done together, Joel recognized Austin's strong drive in both theater and other aspects of his life.
"Austin's insanely hardworking, and he's one of the most hardworking people I've had the opportunity to encounter. When he has his mind set on something, he will do anything to achieve that goal," Joel said. "I admire that a lot about him, since he excels those qualities and shows me what's possible, and in turn, that pushes me to be a better person."
Joel is not alone in observing Austin's dedication towards what he loves. Close friend Audrey Liu (12), who also connected with him through choir, appreciates this attribute about him as well.
"I think Austin is a really dedicated person. Once he decides to do something, he plans it out really thoroughly, and he tries every way to achieve his goal. He's really passionate and whatever he loves doing, he'll put as much energy into it as possible," Audrey said. "For example, if he's rehearsing lines for a play, he'll rehearse each line multiple times to get different beats right and take feedback from different people."
This attitude translates to other hobbies as well – although the vast majority of what Austin loves is theater and music, he also considers himself a "biology nerd." Since science appeals to the left brain in comparison to theater, which tends to be a more right-brain activity, Austin enjoys finding an equilibrium of the two.
"I find biology, specifically genetics but also as a whole, just captivating. Theater engages a lot more of my creative side, the side that science doesn't do nearly as much, so I get this nice balance between both subjects," Austin said. "I think that's something that's really important to me."
To broaden his knowledge base, Austin has pursued numerous life science classes at Harker, ranging from AP Biology to Organic Chemistry to Food Science. In addition, he enjoys watching educational YouTube videos during his spare time, simply for the joy of learning.
"I love all of the life sciences and, when I go into college, I want to study every aspect of it. I just want my focus to be in genetics and molecular biology, but I'm not giving up the rest of it because it still captivates me as well," Austin said. "I love learning about just random biology subjects so I find [videos] to be really engaging."
Upper school biology teacher Mike Pistacchi, who taught Austin during his junior year, appreciates the easygoing personality and thoughtful insight Austin brought to the classroom.
"He's kind, he's funny, he loves life and he's just fun to be around. He always had great questions and great thoughts about biology," Pistacchi said. "He was a great contributor to the class all around and a great lab partner as well."
Holistically, Austin describes himself as an open book and always finds a way to express himself, whether through day-to-day interactions with his peers or through songwriting when experiencing a social low. At the end of the day, Austin hopes that this approachable and relatable quality about him encourages the same from those around him, something he likes to consider "wearing your heart on your sleeve." 
About the Contributor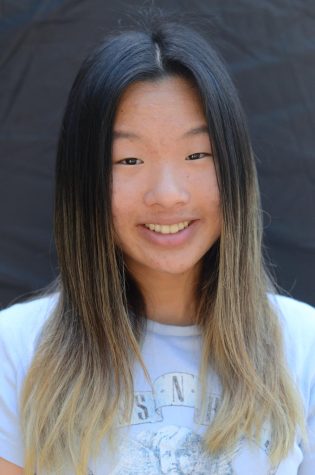 Tiffany Chang, Humans of Harker Editor-in-Chief
Tiffany Chang (12) is the editor-in-chief of Humans of Harker, and this is her fourth year on staff. She's looking forward to telling the story of the...