The show must go on: Student directors prepare plays to be shown virtually
Ever since joining the performing arts community at the upper school in freshman year, Topaz Gao (12) knew they found their place of inspiration. Their journey in theater inspired them to dabble in playwriting, and for the past year, Topaz poured time and energy into an original play, "The Little White Bracelet," hoping to see it come to life one day on the Student Directed Showcase (SDS) stage. 
Then the COVID-19 pandemic hit the community in March and closed all four campuses, and at first, Topaz feared that their dream might never come to fruition. Still, they vowed to continue "creating," adapting to changes and proving to themself and to the upper school that the show must go on. 
Together, the four senior directors, Topaz, Alexander "Alex" Kumar, Maya Franz and Vaishnavi Murari, quickly shifted gears and began developing their chosen plays over the summer to prepare for the fall semester. Working with Director of Performing Arts Laura Lang-Ree, who mentors the senior directors for SDS, the directors began holding online rehearsals in October and transitioned to in-person in November.
Just after five weeks of in-person rehearsals, Santa Clara's new stay-at-home order on Dec. 6 paused all activities on campus until Jan. 4, according to the mandate. If allowed by COVID-19 restrictions in January, the four plays are set to come out in a video format after filming during the week of Jan. 18.
During the months of November and December, two of the four directors had in-person rehearsal slots on Friday, while the other two had slots on Wednesday. Directors used their rehearsal times for play logistics that were more difficult to conduct over Zoom, such as figuring out spacing on stage or practicing scenes outside in the open air, depending on available space and the comfort level of the cast.
"There's always some nerves and trepidations when you go out in the world during this pandemic, but once people see how careful the school is and how careful we are in terms of the pre-screenings—the temperature checks and social distancing—then they start to relax and have a really good time," Lang-Ree said. 
As of now, Topaz is leading a cast of eight members in their original play. "The Little White Bracelet" explores the complexity of a domestically violent situation where the protagonist has the internal battle of trying to escape but not necessarily wanting to.
"The actors really make it so much fun, but also I love being able to do what I always wanted to do, which is to create, especially when it's something that I wrote from scratch," Topaz said. "I knew that there was going to be issues with scheduling [and] complications with COVID, but I'm just so beyond excited to be working with people who are passionate about affecting other people with the message of my show." 
While researching over the summer, Maya became interested in plays that explored the family dynamic to reflect the extra time spent at home during quarantine. Maya finally chose "The Hope and Heartache Diner" by Lindsay Price, where protagonist Felix attempts to say goodbye to the diner, her longtime home, and move forward. Maya works with 10 members in her cast, some of whom play multiple characters.
"In this current environment, I was looking for theater as a sense of escape to take us out of the monotony that we're feeling in isolation and present something comedic but that didn't rely on too much physical comedy and farce," Maya said. "There's a sense of nostalgia and novelty of [the show] being set in a diner, but the overall goal was to bring something light-hearted and uplifting." 
"
In this current environment, I was looking for theater as a sense of escape to take us out of the monotony that we're feeling in isolation and present something comedic but that didn't rely on too much physical comedy and farce. There's a sense of nostalgia and novelty of [the show] being set in a diner, but the overall goal was to bring something light-hearted and uplifting.
— Maya Franz (12)
Alex, who directs six members in his one-act play "The Other Room" by Ariadne Blayde, hopes to share the story of Austin, a high school student with autism spectrum disorder, and Lily, Austin's neurotypical classmate. As the play progresses, Lily's efforts to approach Austin lead the two to develop a genuine friendship. The stage is divided in two, where Lily and Austin are on one half, and four personified voices in Austin's mind comment on the other half. 
"The best we can do is really just go with the flow," Alex said. "We've worked out ways to do both in-person and virtual rehearsals, and I think the four of us and our casts are finally falling into the rhythm of how rehearsals work. We're ready to adapt to whatever happens."
Alex says that SDS is a "wonderful way" to make new friends and create "familial" connections in the theater community, especially crediting previous SDS directors for heavily impacting him as a student performer. Since the fall play and spring musical tend to feature more experienced student performers, he encourages everyone to try out for SDS as an introductory production for underclassmen new to high school performing arts.
"I love teaching, and teaching is a big part of directing, especially in SDS where it's not a professional director directing a group of professional actors," Alex said. "We're making an effort to make sure that [the underclassmen] get up to the same place that they normally would in person so that they have a good foundation for high school performing arts."
Freshman Amit Karoshi, who acts in Alissa's play, found SDS to be as Alex described, calling it a "warm welcome." If given the opportunity to perform in SDS again next year, he would "definitely do it again." 
"I enjoy working with [student directors] because they remember what it's like to be [a freshman performer], so they more closely empathize with us," Amit said. "So far, my best memory is going to in-person rehearsals because I get to see actual people, do blocking and actually see the stage. Even though I also enjoy the Zoom rehearsals, it's just not the same." 
Especially for first-time auditioners, the directors acknowledged that the audition process was much more efficient on Zoom, without the chaos and time limits that come with in-person auditions. During auditions this year, the directors sent auditioners into breakout rooms to practice scenes before inviting them back to present them. 
"It's not as high pressure for people [over Zoom], because when you're physically in the room and having to go from place to place, it can sometimes get overwhelming, especially for the first-time auditioners," Maya said.
As rehearsals continue, Vaishnavi is also "incredibly" excited to see her show come together. She is directing Susan Miller's "It's Our Town, Too," a play based on the upper school's 2018 fall play "Our Town" by Thornton Wilder, which Vaishnavi acted in during her sophomore year. "It's Our Town, Too" focuses on two gay couples and their families, and Vaishnavi hopes to share the play's inclusive message with her seven-member cast.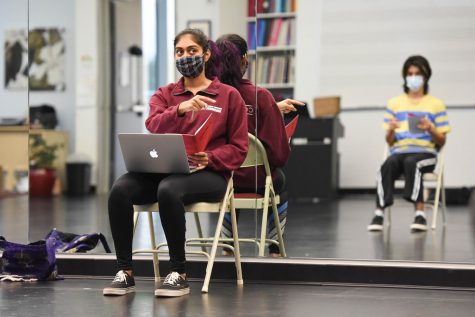 As a first-time director, Vaishnavi finds the process "a little scary" but is thankful for Lang-Ree's guidance and experience. 
"The four of us are obviously new to directing, so Ms. Lang-Ree has really helped us in picking a play, scheduling and conducting rehearsals and navigating the virtual audition process with COVID-19," Vaishnavi said. 
Lang-Ree, in turn, says that teaching directing is "a huge passion," and she is thrilled to see the plays progress in the in-person rehearsals during the past couple of weeks.
"I love directing so much professionally, and to be able to have the opportunity to teach a master's level class to these students is a joy," Lang-Ree said. "I'm just super proud of them."
This article has been updated to reflect the correct usage of pronouns for Topaz Gao (12).
About the Contributor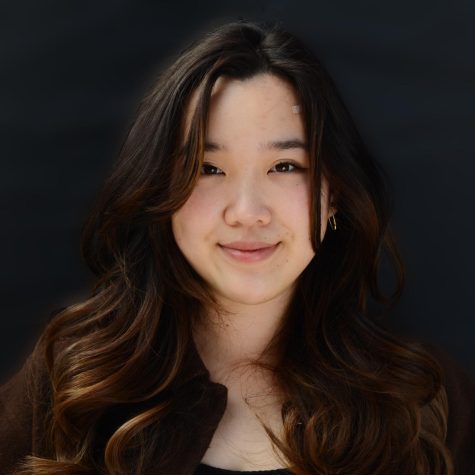 Alysa Suleiman, Aquila Co-Editor-in-Chief
Alysa Suleiman (12) is the co-editor-in-chief of Harker Aquila. This is her fourth year on staff, and she previously served as Aquila's first A&E editor,...