Humans of Harker: An open ear and an open heart
Shalini Rohra aspires to bring aid to those in and beyond her community
The legend of Perseus, the son of Zeus who slayed Medusa. Athena and Poseidon's contest for Athens. Those were some of Shalini Rohra's (20) favorite Greek and Roman myths as a child. Gaze tilted down to the wood chips below her feet, she recounts her exposure to the Latin language from mythology books her parents kept in the house. She pauses to think, fiddling with the fuzzy sleeve of her forest green sweater and brushing back her long black hair, before continuing with a brief smile and a soft chuckle.
"I grew up with Greek stories because my parents have a lot of those books in their house," she said. "Of course, [they're] myths adapted to kids books because the actual thing, some of the stories, they're not for children."
Shalini's interest in mythology from an early age prompted her to take Latin in middle school and continue learning the language beyond the credit requirements in high school. She notes the significance of reading and analyzing the stories and literature she loved since childhood in their original languages in order to fully comprehend the richness of ancient culture.
"By learning the language, you could get such a great insight into the culture. We were reading the Aeneid in its original Latin, which was so amazing to do," Shalini said. "You miss so much of the story when you read the Aeneid translated into English. It left me in awe of how the Greeks and Romans fleshed out their culture and their legends."
Outside of school, Shalini found time to take extracurricular ancient Greek classes offered by upper school Latin, history and social science teacher Clifford Hull to enrich her understanding of language. Hull, who taught her history in freshman year and Latin in junior year and senior years, highlights her dedication to the subject and thoughtful disposition in class.
"I can see that when I ask her [a question], she thinks about it, and she goes through the process. And then she gives me the answer that she feels is representative of what she knows and what she doesn't," he said. "She follows her own head: she's not a follower. I would say she's a quiet leader – very mature for her age, even as a freshman."
Her love for the language also contributed to another passion: medicine. The abundance of Latin words in human anatomy have facilitated her understanding of the material.
"[Latin] continues to be a really important language today in my opinion – in human anatomy, for example. I recognize that so many words are actually Latin or have Latin roots, so it actually has helped me in that way a lot," she said.
A major factor in her affinity for medicine was her father's job as a cardiologist. She remembers him often bumping into his patients on family outings and building upon the connections he fostered with them.
"He comes from that social interaction–those meaningful bonds he has with his patients. I've always been like 'Oh, wow, I also want to have those when I grow up,'" she said. "It's also really essential, like if you want to become a doctor, you should know how to interact with others and be empathetic.
Throughout her interest in medicine, Shalini has realized the importance of global access to healthcare.
"We should bring more health equity into the world for global public health. I know volunteering is a bit of a luxury for doctors, especially abroad, but that's what I really want to do," Shalini said. "I really want to volunteer abroad as a doctor to help others and developing countries especially."
Within her own community, Shalini makes time to lend a hand to her family and friends. Her sister Priya Rohra (11) notes her eagerness to help out.
"She tends to be quiet or shy, but she has a big heart: she'll always prioritize everyone else. And I know in her grade, people see her as a person they can come to for help with work because I always see her phone blowing up with messages about help [for] an assignment, and Shalini responds to all of those before doing the work herself," Priya said.
Close friend Santoshi Tirumala (12) recalls a time earlier this year when Shalini selflessly helped her out with a biology lab over FaceTime and walked her through the process.
"I think some defining traits of hers are that she's a very loyal person," Santoshi said. "She puts other people before herself a lot of times, and she thinks about other people's concerns … she's very aware."
Beyond exploring academics, Shalini enjoys expressing herself through photography, a skill that she is hoping to master through AP Studio Art. She often shoots landscapes, but since quarantine started, she has experimented with household objects such as paper or kaleidoscopes to convey her artistic messages. 
"A photograph an artist takes and their vision of it can be completely different from when a reader sees it. It may not always turn out as what the artist intends. But that's just art: it's one's own subjective experience," Shalini said.
Whether it's helping her sister edit photos, volunteering at a local library or guiding her classmates through schoolwork, Shalini hopes that she impacted her community through listening.
"I hope that I was helpful to everybody in some way in the Harker community because I often do listen to people … I listen to people's frustrations and their anger, especially now with college [applications]. I like to think I would have helped by listening and also talking them through. I also vent a lot, and I find [that] my friends listening to me is very helpful. So I hope I was helpful as well to them," Shalini said.
About the Contributor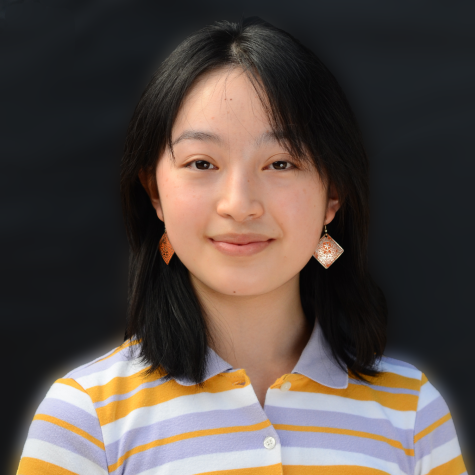 Arely Sun, Aquila Co-Managing Editor


Arely Sun (12) is the co-managing editor of Harker Aquila with focus on longform writing. This is her fourth year on staff, and she hopes to work with...