Humans of Harker: Sliding into the spotlight
Maya Franz embraces vulnerability through the performing arts
A cherry-red plunger balanced precariously atop her head, Maya Franz (12) carefully lowers her hands before striking a jazz pose and flashing a bright smile. The bathroom accessory — memorabilia from her role as a rebel in the musical "Urinetown" where she performed at the Edinburgh Festival Fringe in the summer of 2019 — encapsulates Maya's humorous and daring personality.
"As a child, I was always the extroverted kid in my family, so I was always the one who was acting out and doing things to make people laugh," Maya said. 
Maya's contagiously cheerful energy lightens the moods of those around her. Friend Julia Biswas (12), who has known Maya since third grade, values Maya's optimism, a quality that has helped both of them through trying times. 
"My initial perception of Maya was [that] she was always really funny. I thought she was kind of a class clown," Julia said. "She's always really busy but even despite all of that she has a really positive attitude. Throughout high school, all of us have struggled with a lot of things, but I think that she always bounces back, [and] that's something that makes her a really fun person to be around." 
This outgoing demeanor translates into Maya's affinity toward the performing arts. Beginning with an illustrious music career in piano, vibraphone and alto saxophone, Maya branched out into choir and theater in middle school, where she found a community that both suited her interests and served as an artistic outlet. 
"I was always searching for things that were fun and creative for me," Maya said. "I just really enjoyed [performing arts] as a means of creativity [and] searching for some sort of freedom."
Performing arts director Laura Lang-Ree, who has known Maya since her freshman year, highlights Maya's bold nature. After being awed by Maya's "vivacious" on-stage presence in a middle school production of "Guys and Dolls," Lang-Ree witnessed Maya's growth both as a student and an actor through working with her in multiple productions, including "Urinetown." 
"Maya is not only such a fun person to be with, but she's also just fearless," Lang-Ree said. "She's somebody so creative and so clever and always challenging and always making us laugh and thinking of the most appropriate thing that she can do on stage. Truly, there is nobody funnier than Maya."
While she is a seasoned performer now, Maya struggled with stage fright, especially with singing. Doubtful of her own abilities and self-conscious toward her voice, Maya initially practiced in the safety of her closet before gradually familiarizing herself with her voice and becoming comfortable with singing in front of others. 
"You get a similar effect when you're playing instrumental music because your fingers might cramp up [or] it's harder for you to physically get the notes to be played, but when you're singing, [your body] is your entire instrument," Maya said. "It was a very  nerve-wracking process for me. I did not want anyone else to hear me and I didn't need anyone to hear the sound of me learning how to vocalize properly."
As she moved away from jazz band and focused more on show choir in high school, Maya further cultivated her confidence in singing. She took vocal lessons both at Harker and outside of school, where she was forced to sing in front of another person for the first time, but also attended singing festivals that provided her with constructive feedback on ways to improve her abilities. Now a member of upper school vocal ensemble Downbeat, Maya continues to challenge her boundaries.
"I'm still not a person who's super comfortable going out and like singing a solo by myself … but I'm still very much trying to move myself towards full confidence on stage, especially through singing," Maya said. "Realizing that the key to singing well is relaxation and being able to fully technically open your throat and be able to sing well is tied into not being nervous. It's hard, but it is still a journey that I'm on." 
Similar to her vocal journey, Maya has also furthered her acting skills through pushing herself to explore different genres of theater. While playing comedic roles distinctly separate from her own personality came naturally to her, Maya found it difficult to play roles in which infusing her own traits was necessary to successfully portray the character.
"One of the more challenging transitions I had in high school was becoming more comfortable with being vulnerable. I was very comfortable putting myself into another character, but to talk honestly to people was very challenging for me," Maya said. "I often treated humor and comedy as a way to just make people laugh … it's a form of escapism. But dramatic theater [is] more kind of catharsis, being able to have the audience empathize or learn from and analyze it in a different way."
After being cast in her first dramatic role in the summer before her freshman year, Maya learned to perceive theater through a new lens. As the protagonist in the play "The Lottery," in which her character is brutally stoned to death at the conclusion of the show, Maya perused every aspect of her role in order to best embody the serious and morbid tone of the story. 
"It's very much going through the intentions of a character and figuring out the intricacies of human behavior and the way that we interact with one another and how our motivations guide what we say," Maya said. "There is a lot of interesting analysis that goes on behind the scenes of what we see as entertainment. There's a very interesting science behind what we see as a very creative art form." 
Maya's thoughtfulness, whether it be capturing the details of a character or supporting members of her community, is a trait that friend Betsy Tian (12) appreciates. 
"As we've grown a lot closer, I've been able to see that more introspective side of [Maya]," Besty said. "She is very well-liked by almost everyone around her, and I think it's because she is very willing to reach out to other people, to listen to other people and try to understand other people. That's why she is able to have all of these meaningful connections."
As one of the student directors of this year's Student Directed Showcase (SDS), Maya applies her astuteness to her leadership in these shows, something especially valuable in the uncertain times of the pandemic. Lang-Ree, who mentors the student directors, remarks on Maya's contributions to ensuring that this year's productions run smoothly, such as planning audition forms.
"Maya's usually the first one to chime in and say, 'Have we thought about this? What about that person who might have this issue?' She's always thinking of others and thinking ahead," Lang-Ree said.
With her exuberance and amicability, Maya has dabbled in almost every aspect of the performing arts, from music to singing to theater. Through her experiences, she has not only grown to be more self-confident but has also gained a deeper appreciation for the performing arts and the life-long lessons they contain.
"I've played many things, from an old lady to a little boy, [and] oftentimes, I [play] characters that are humorous or a little bit strange," Maya said. "You have to really be able to convey this emotion that's very personal a lot of the time … It was a really interesting experience, just to be able to explore those emotions in a way that I hadn't really been able to before."
About the Contributor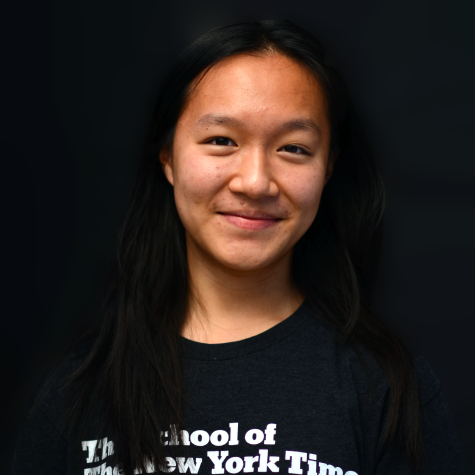 Erica Cai, HoH Co-Editor-in-Chief


Erica Cai (12) is the co-editor-in-chief of Humans of Harker, and this is her fourth year on staff. Her goals in journalism this year are to celebrate...