Humans of Harker: Conversation isn't always spoken
Santoshi Tirumala communicates emotions through musical storytelling
"How's your day been? How's online school?" Santoshi Tirumala (12) asks while taking off her mask to reveal an authentic, caring smile. Subconsciously, her extroverted personality kicks in, and she converses with no hesitation. Santoshi listens attentively to every answer and responds with a genuine and positive reaction as though she's known you for years rather than minutes. 
Santoshi brings a sociable manner when talking to not only new friends but also to teachers. Upper school chemistry teacher Dr. Mala Raghavan, who taught Santoshi AP Chemistry in her junior year, reflected on Santoshi's classroom personality. 
"She has a great attitude, she doesn't get stressed out, she understands what her abilities are. Her strength is coming on without procrastination. She's able to converse with me very directly, talk to me, tell me her problems and ask questions all the time, so that's excellent," Dr. Raghavan said.
Santoshi's extroverted personality isn't seen just with teachers, but with everyone. Close friend Shalini Rohra (12) remembers her first impression of Santoshi when they met in third grade, recalling that her outgoing personality has been constant since the beginning. 
"I thought she was super energetic because she was so different from me, an introvert. She was just super awesome, she's confident, and she puts herself out there. She's [also] very empathetic. Whenever I talk to her about situations she knows exactly what I mean and she's a good listener," Shalini said. 
Despite Santoshi's lively nature, she hides a character who enjoys expressing vulnerability through music. 
"As long as I can remember she's played guitar," Shalini said. "She's a bit shy to show [her music] to anybody, but she has told me about her experience singing for seniors at the senior center."
Santoshi's ability to engage the audience in her music can also be seen through her performances on stage in choir competitions or at smaller venues at retirement homes. Her connection to an audience is comparable to the way she holds a conversation with a stranger – a slow comfortable transition into creating a connection with the other person. For Santoshi, connecting with her audience helps to overcome any lingering feelings of nervousness. 
"It's definitely very nerve-wracking for me before [I get on stage], but when I'm on stage I forget about who's watching and try to really connect with the song and connect with the people," Santoshi said. 
Yet, Santoshi isn't always singing on a conventional school stage. Sometimes she'd rather perform for the elderly at senior centers. Last year, with her friend Arina Oberoi, a senior at Pine Richland High School, Santoshi decided to host a mini-concert for an elderly home. After choosing the songs and spending laborious hours practicing, they finally got to perform their setlist of ten songs for the elderly. 
"We brought all of our mics and sets, and then went to that elderly home and performed [the] set of songs [we rehearsed] and that was a really fun experience. We not only got to get into the technical aspect but also [got to know] how to host that show and contact different places to book us a venue," Santoshi said. 
While her singing and guitar brings happiness to senior citizens, Santoshi found another form of music that is solely for her own relaxation: songwriting.  
"I like to take songs, like covers, and change them up in a way that I would like to sing it. Maybe adding string stylistic elements or embellishing the song somehow so that it feels like it's more my own and to be vulnerable and connect with the audience," Santoshi said. 
Whether Santoshi performs for family, senior citizens, friends or even just for herself, her love for music is always recognized. Santoshi's father, Bharad Tirumala, realises that music is the most prevalent form of expression in her life. 
"Over time, her kind of music took over and dominated. I think both [tennis and music] are there: she has interest in both, but I think music is kind of getting an upper hand in her personality and life," he said. 
To Santoshi, music isn't forced into her life, but is something that she has picked up for herself as a creative outlet. It is not only a tool for self-expression but also a way to show her extroverted nature through vulnerable moments on stage. 
"[Music] is worth it because it's something that's for myself, and it's something that I genuinely have found myself to enjoy," Santoshi said. "It's a great way for me to express my own creativity and explore and learn about myself in the process."
About the Contributor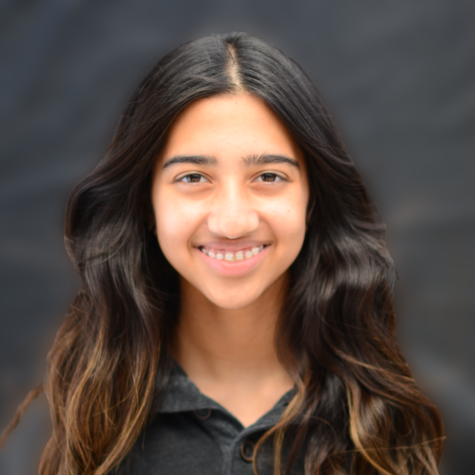 Lakshmi Mulgund, TALON Social Media and Co-Sports Editor
Lakshmi Mulgund (11) is the social media and co-sports editor of the TALON Yearbook, and this is her third year on staff.  She's looking forward to...