Humans of Harker: Making his mark
Elliot Kampmeier embraces love for artistic storytelling
Gazing intently down at the neon inks covering a page in his sketchbook, Elliot Kampmeier (12) lays down another layer of vibrant color, giving his study further depth and dimension. The bright contents of his sketches contrast with his darker outfit: a navy sweatervest with diamond checkers, black straight-leg pants, cool gray socks and shiny black shoes with yellow stitching—a pop of color that complements the pastel green bead clipped on in his hair. While Elliot portrays a slightly more quiet and reserved demeanor, he holds an innate leadership quality and has the ability to bring all kinds of people together. 
"Elliot is a very good leader, but at the same time, when he leaves the room, he leaves everybody smiling," close friend Callie Mayer (11) said. "He can be a really, really fun team member. He's very hardworking, but also very pure-hearted."
Close friend and fellow advisee Alissa Gao (12) describes this compassion as a talent: behind this leadership and ability to connect well with others is Elliot's deep empathy and understanding of emotions. 
"A lot of people are attracted to not only his sense of humor, but also just the way he holds himself," Alissa said. "He is willing to get along with anyone and him being there, he always takes the part of the mediator, and the effect that he has is incredibly calming, which makes him really easy and fun to talk to."
Beyond his talents in connecting with others, Elliot also flourishes in the visual arts, focusing on more traditional mediums like painting, but also dabbling into other areas like digital art. This affinity toward the arts presented itself in Elliot as early as kindergarten, and his commitment only grew as he took more classes and took art more seriously. 
"[I realized that] this is something that comes naturally to me, and this is my comfort zone. This is my safe space, and this is where I can express myself fully and freely, and this is what I want to focus on," Elliot said.
Elliot draws inspiration for his art not only from artists, models and photographers on social media – saving intriguing references and outfits in an ever-growing album on his Instagram – but also from themes and motifs unique to his own story. 
"I really take a lot of inspiration from the sky just because I like the fact that everyday it's different, [and] that can be a metaphor for people, but specifically me and my mindset," Elliot said. "I do like putting metaphors and really building a narrative [in my art]. Even if it's not clear to anyone but me, it's important for me to make a piece that expresses an emotion or an experience."
Upper school visual arts teacher Pilar Agüero-Esparza, who has worked with Elliot in his art for the past two years and is also his adviser, describes Elliot as very "self-possessed" and as having a deep understanding of himself, even as a freshman. Over the years, she has watched him grow as both an advisee and an artist and is now pushing Elliot to explore more expressive styles beyond his well-established realism. 
"Elliot's art is a lot more focused on an inward experience of expression of feeling. When i look at his paintings and drawings, I feel like he has that sensibility where he's telling a story" Agüero-Esparza said. "Yet the images are unique because I feel like he has a particular story to tell, like every artist. To me that demonstrates a lot of confidence and fearlessness."
Despite his enthusiasm for art, which was cultivated through the extensive graphic storytelling influences from his childhood, such as Adventure Time, Zita the Spacegirl, the Archie Comics, Tintin, Asterix and more, Elliot did not always plan on pursuing the same kind of storytelling in the future. In fact, he experienced a period of uncertainty early on in high school about his future plans before making his decision to pursue animation in his sophomore year. 
"It was a scary thing for me to commit out loud in front of other people [and] confidently say that I want to be a visual artist, and I want to do that for the rest of my life," Elliot said. "I was so immersed in art on social media and drawing on my own and drawing in class and just drawing all the time and taking in cartoons in anime and all kinds of animations, I just [had] to. It was so obvious and I couldn't keep denying it to myself."
Elliot's main source of motivation is his constant drive to improve the countless aspects of art such as storytelling, anatomy and color theory, and this desire for further development is what pushes him through difficulties like art block to practice as much as he can. 
"I really want to get to a point where I can tell other people stories and even my own [story]," Elliot said. "I really want to provide good, realistic stories about real people and good representation in kids' shows. I really want to get that satisfaction of creating a story and seeing it come to fruition and putting it out there for the rest of the world to see and making other people happy and feel represented."
Elliot has used his artistic talent to pursue that goal of supporting others in painting a mural supporting the Black Lives Matter Movement as a part of the Art Club over the summer. For Elliot, advocating for social justice issues is an integral part of him, and especially when it comes to such issues, he greatly values honesty and transparency in not only one's beliefs but also in one's friendships. Overall, Elliot strives for inclusivity and acceptance, a goal that he has been working toward as a member of the LGBTQ+ community and the Gender and Sexuality Alliance (GSA). 
"I am queer, and I'm proud of that fact, and I want to find others that are like me and bond over that because we do find family in each other," Elliot said. "I've become completely comfortable with being part of the LGBT community and identifying as queer and being open with my friends and being open in public so that people can come and talk to me privately."
Whether it be through his interactions with friends and classmates, through his art or through actively advocating for administrative change to accommodate students who identify as LGBTQ+, Elliot ultimately focuses on making the Harker community a more comfortable place for all its members. 
"I want to be remembered for making a positive impact on campus. I want to make campus a safer space for people in the future and just a nicer place for people in the future, a more accepting place," Elliot said. "It would just be nice to make sure that all of our students, no matter who they are and what they openly identify as, know that they're safe and welcome. Outwardly, I hope to make school a more visibly accepting place."
About the Contributor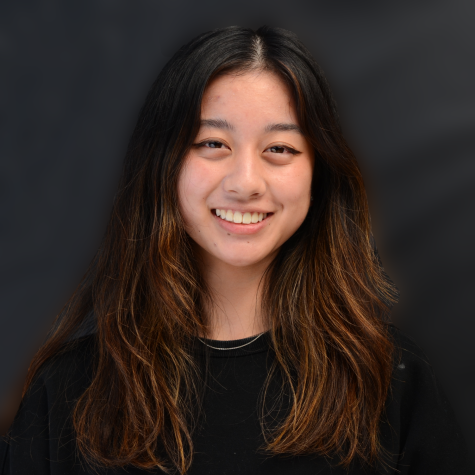 Emily Tan, Winged Post Co-Editor-in-Chief
Emily Tan (12) is the co-editor-in-chief of The Winged Post. This is her fourth year on staff, previously serving as the Winged Post features editor, and...