Humans of Harker: Interconnecting fields
Ronit Gagneja (12) uses business, economics and psychology to better understand the world around him
Taking a deep breath and a few seconds to gather his thoughts, Ronit Gagneja (12) begins to describe the life-changing day in the summer after his sophomore year during which doctors informed him that he had appendicitis, a condition in which the appendix becomes inflamed. Although the tumor that caused the condition was quickly removed and he was freed of cancer, Ronit pinpoints this moment as having a defining impact on the way he sees the world.
"Going through all of that helped me develop this perspective of shutting out the outside and focusing on what I am actually interested in, and I think that perspective developed because I was faced with reality and forced to think, 'Am I really doing in my life what I want to do?'" Ronit said, with the silver-colored link chain hanging around his neck glinting in the sunlight. "Having that moment forced me to realign what I was doing in school, outside of school, at home and with my friends."
Specifically, this moment caused Ronit to channel even more time and effort into business, an interest he picked up after joining DECA in his freshman year. The Harker community, which Ronit describes as being growth-oriented and one in which "everyone is trying to expand their horizons" piqued his curiosity and desire to further explore all that the field of business has to offer. Taking advantage of Harker's wide list of course and club offerings, Ronit has joined many business organizations, most notably TedX, as well as taken numerous business-related courses over the course of the last four years. 
First drawn to business because of the freedom it gave him to be creative, Ronit has begun to also appreciate the human to human interaction aspect of business that he discovered as he delved deeper into the field and intricacies.
"[What appeals to me most about business] is the way that you can connect with people and try to understand people's behaviors and their wants and desires. When you're creating products and trying to market them, I think it's really interesting how you take all those factors into account," he said.
Taking classes such as psychology, statistics and game theory has allowed Ronit to better understand the very interactions that govern the business world. 
"[Economics and psychology] are both focused on understanding what people want. With psychology, all you're pretty much learning about is why people act the way they do, why they think the way they do, how their environment influences their actions, etc., and in economics, we learn about ways to model the way people act, so you can predict what people will do in certain situations," Ronit said. 
Being aware of the interconnections between these fields has ultimately enabled Ronit to have more success in business. 
Although most of his academic interests are centered around business, Ronit maintains the same curious approach he exhibits in his business courses with his other subjects, exhibiting an eagerness to learn whatever his teachers have to offer him. Ronit's junior year biology teacher, Dr. Thomas Artiss noted this very characteristic of Ronit very quickly after meeting him in the fall of 2018.
"Ronit's academic interests do not, I believe, lie in science and biology, in particular. But this did not prevent Ronit from throwing himself into my class entirely. He was always fully engaged, and always he exhibited persistent curiosity about the subject, and he was satisfied with nothing less than his best effort in everything he did," Dr. Artiss said.
Aside from being impressed with Ronit's dedication to his biology class, Artiss was quick to notice Ronit's pleasant personality and sense of humor, as well as his willingness to help out his fellow classmates, whether it be through a homework problem, lab or discussion of a case study.
"Ronit is an intrinsically selfless individual. I saw Ronit working with other students more times than I care to count," he said. "Selflessness and collegiality – being important elements in scientific research – are traits that I, as a teacher, cannot easily teach. But Ronit personifies what it means to be a team player and an excellent colleague."
Ronit does not restrict his collegiality to just the classroom environment, however. This year, he is the head of an organization called Kids Code, which teaches basic Java programming skills to elementary school children in the Cupertino area. For Ronit, leading the organization, which meets from 4 p.m. to 5:30 p.m. on 18 Fridays over the course of the school year, has as positive of an effect on him as it does on the kids he is teaching.
"[The feeling of teaching a kid something new] is just inspiring, honestly, because you just see them light up as soon as they understand that new concept and you can just see it click in their brain. What I really love is that you're just able to provide a positive experience for this kid and just improve their life by helping them expand their knowledge base and even find a new passion," Ronit said.
Sensing an opportunity to combine his love for business and service, Ronit founded the Red Cross Youth Business Association (RCYBA) with fellow senior Larissa Tyagi. As the leader of the organization, Ronit works with the CEO of the Silicon Valley Red Cross chapter with the goals of getting more traction on the Red Cross's social media sites as well as increasing corporate engagement and funding for the organization. Bringing their business and marketing knowledge to the table, Ronit and his RCYBA colleagues seek to "renovate the [Red Cross's] business model" to help the organization get more people in the community involved with their efforts. 
"With social media, we created a campaign that interviewed different Red Cross volunteers, and then they would post stuff about it on FaceBook … For increasing corporate engagement, we used our personal networks to reach out to people we knew in corporations," Ronit said. "We would send out cold calls, cold emails outs, trying to get responses whenever there was a disaster, and we would then set up meetings to talk about fundraising or to get them involved with the [Red Cross's] efforts in some way."
Mohan Awasthi (12), a close friend of Ronit's since last year, notes that Ronit is always there for him when he needs it, just as he is for his classmates and others when they need help.
"He's always there for me. When I first got a car, his house was the first place I memorized how to drive to, even before [memorizing how to get to] school or back to my house. We're always there for each other, and it's really reassuring to have a best friend like that," Mohan said.
About the Contributor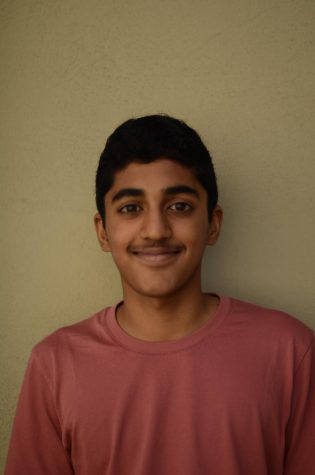 Vishnu Kannan, Aquila Co-Managing Editor
Vishnu Kannan (12) is the co-managing editor of Harker Aquila with a focus on sports. This is his fourth year on staff, and he hopes to continue telling...