Humans of Harker: Purposeful ambition
Annie Ma (12) unifies the community through publication work
Whether it be picking a theme, filtering through submissions or designing pages, publishing the Harker Eclectic Literary Magazine (HELM), a journal full of students' artwork and creative writing pieces, proves to be a challenging feat and onerous process regardless of the circumstances. Yet in the face of a worldwide pandemic, Annie Ma (12) leads HELM's crusade of looking backward, with their annual issue centered around the theme of nostalgia.
Known by her peers for her leading role in publishing HELM, Annie thoroughly enjoys publication work as she finds it fulfilling to provide her peers with a meaningful platform to showcase their creativity to the community. In addition to HELM, Annie also works on Harker Horizon, which details the research that students do and Silicon Valley Chemists, a professional journal. She considers each publication to be unique, as they all provide her with different perspectives. 
"I really enjoy working on publications, since it makes me feel like I'm tying the community's creative talents together," Annie said.
Further, Annie interlaces her passion for creative writing with her involvement in chemistry research. On the surface level, the two activities appear to be from completely opposite ends of the academic spectrum, but Annie manages to interconnect the two subjects.
"Reading poetry and works from great authors has made me a better critical thinker and better analyzer, which has made me a better researcher in the lab. Creating the narrative of the experiment or whatever I'm working on, as part of the larger research project, helps me organize my train of thought when it comes to writing," Annie said. 
Annie's accomplishments in both creative writing and chemistry stem from her remarkable dedication towards the activities she participates in. Her peer and "friend for life," Cynthia Chen (12), emphasizes Annie's work ethic. 
"Annie's very hardworking and really dedicated to everything she does. I know she leads HELM, but she also has a lot of side hobbies aside from her main academic interests. Recently, she's been pretty interested in skateboarding and photography, and she spends a lot of time towards things that she's passionate about," Cynthia said.
Regarding photography, Annie relishes the opportunity to venture out into the unknown world with a camera in hand, as opposed to simply her imagination. In particular, she inclines towards shooting in San Francisco, a city which she describes to be full of dichotomies. 
"You have rich San Francisco, you have poor San Francisco, you have the high rises and you have the old San Francisco. There's the more naturistic side of San Francisco being in the bay and also the very technical side of San Francisco being the hub of Silicon Valley startup culture," Annie said. "There's just so much in that city, and I find it very cool that everywhere you look, it's never just one store that you will see in one frame."
Though Annie wishes she had spent more time on perfecting the art, she carries with her the lessons learned through photography: capturing the essence of the moment. Through photography, she learned not only to observe the world's phenomena but also what they represent about their surroundings.
"One day, I was sitting near the Golden Gate Bridge, and it was very foggy. Out in the water beside the bridge, there was a lone boat, and all you could see was the boat and the fog. I think that really captures the reality of foggy San Francisco," Annie said. "Another time, I guess, taking a long exposure shot of moving car headlights at night really speaks to the drowsiness of midnight activity."
Close friend Eileen Li (12), who met Annie through a ballet class in kindergarten, commends Annie's photography and editing skills and further characterizes her as both an independent and reliable person.
"Something a lot of people might not know about Annie is that she's very good at editing photos and photography. She's also really skilled using photoshop, but she doesn't really talk about it," Eileen said. "As a person, she's very ambitious and willing to pursue what she wants to, and as a friend, I'd say she's someone who I can always rely on."
Upon first impression, Annie might appear quiet to those who first meet her. However, breaking through her reserved appearance exposes a confident leader, which biology teacher Dr. Thomas Artiss notes.
"Annie quickly established herself as one of the most thoughtful, articulate and outspoken members of her class – and these characteristics grew and developed over the next three years [of knowing her]," Dr. Artiss said. "Annie has an insatiable curiosity and a deep and abiding love of learning, and when she sets her mind to learning something, she digs deeper, goes further and explores it more thoroughly than just about any student I have ever known."
Growing up in Silicon Valley and living nearby Apple's headquarters has heightened Annie's palpable ambition, as she has been surrounded by a neighborhood of bubbling innovation from a young age. Annie's drive to achieve greater things guides her in choosing friends, as she's inclined towards spending time with those who share a similar bold ambition. 
"When I feel like we're all working towards something that we want, I feel like we have a connection, and it's easy to relate to them," Annie said.
About the Contributor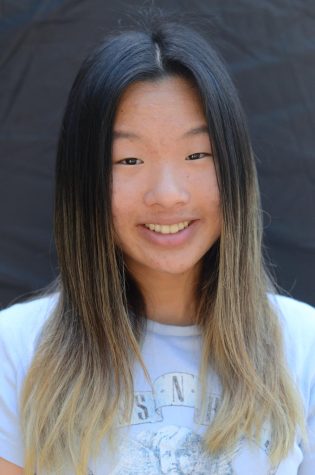 Tiffany Chang, Humans of Harker Editor-in-Chief
Tiffany Chang (12) is the editor-in-chief of Humans of Harker, and this is her fourth year on staff. She's looking forward to telling the story of the...