Humans of Harker: Go green or go home
Alex Shing (12) incorporates sustainability into his everyday interactions
Picture yourself sitting by a creek overshadowed with a lush canopy of leaves. Take a moment to soak in your surroundings. Close your eyes and listen to the slow trickle of the stream and the fervent fluttering of the birds above. This is Alexander "Alex" Shing's (12) reality, a place unmarked by human vice.
For Alex, preserving the environment has always been an issue close to his heart. From a young age, Alex attended a camp in the Santa Cruz Mountains called Hidden Villa, which served as a catalyst for his personal tenet of promoting sustainability. Yet, while he reminisces over summers spent at Hidden Villa's promenade, Alex hopes to present nature's beauty to future generations and preserve that beauty for others to enjoy.
"A few years ago, I became a camp counselor at Hidden Villa, and I took part in showing the fourth and fifth graders around during the day camp. One of my favorite places to go was definitely the promenade because that's where I got my passion for the environment," Alex said. "I wanted to have them explore that area themselves and see whether that is something that they can resonate with."
At school, Alex is well known as a member of Harker's Green Team which facilitates the implementation of sustainable operations within the community. As co-leader of the outreach committee, Alex focuses on collaboration across campuses and working with fundraisers at school; during each club's club week, he encourages the club to fundraise renewably.
Green Team provides Alex with an opportunity to directly improve the community he lives in, and Alex took initiative through launching the "Buy Better Boba Program," which strives to eliminate the use of single-use plastic around the upper school campus and encourages clubs to look into compostable alternatives instead.
"[The Buy Better Boba Program] was actually really successful this year, and that's one of the main reasons why I really enjoy being part of the Green Team: since my actions and also the actions of my fellow Green Team members actually lead to a systematic change in the area that I live in," Alex said.
Diana Moss, who has worked closely with Alex as Green Team's club advisor, applauds his leadership capabilities and characterizes him as a passionate environmentalist.
"Alex was a real leader during Green Team's club week, instrumental in getting our boba project up and underway and involved in all aspects of our earth week celebrations," she said. "I'm so grateful for his leadership because he's the kind of person who will follow through anytime he commits to doing something. He's proactive, committed and a kid with a vision."
Though he prioritizes his involvement in Green Team, Alex remains an inquisitive and well-rounded individual who is inclined to explore new avenues. In his sophomore year alone, Alex tried out for both the water polo team and Bel Canto, despite having never before taken part in either activity. As a senior, Alex progressed to playing for the Varsity Boys Water Polo team and performed with Downbeat in their holiday tour, in addition to participating in the annual dance production and the student-directed showcase.
"Alex can adapt very well to his environment. Even if he's new to something, he's able to learn at a very quick pace," Kenya Aridomi (12), who has been friends with Alex since middle school, said. "For example, with Downbeat, he started choir in sophomore year and now he's in Downbeat. It's a pretty rigorous course in terms of physical activity, but he's able to keep up."
For Alex, Downbeat serves as a way to convey his emotions as well as an opportunity to bond with those who share his passion for singing.
"You know when you love something it immediately clicks? That's what happened for me when I started singing. Singing to me is therapeutic: when I'm not in the right mindset, I hum a tune or bop out to a song to motivate me," he said. "This feeling is amplified when I sing in a group; with our combined voices, I bring smiles to more faces than just mine."
His identical twin brother Anthony Shing (12), whom Alex convinced to join dance in senior year, reveres Alex's openness to trying various endeavors.
"Alex is super intuitive in the sense that when you think about challenging yourself, he always goes out and pursues new experiences," Anthony said. "I admire how he's always trying new things and talking to more people. He's generally outgoing and always sees the good in people. He's good at reaching out to people who may just be acquaintances."
In his spare time, Alex delves into photography, a means through which he is able to express himself and his interests. For his semester-long advanced photography course, he recently undertook a project centered around the theme of "suffocating," exploring his passion for the environment through the lens of a camera.
"I explored this [theme] mainly through the lens of human consumption and its effect on nature in the sense that I photograph images with a natural background and focus on a central human figure who is either manipulating nature or taking advantage of it," Alex said.
Through this series of photos, Alex conveyed the notion that humans suffocate nature and squander its resources. Within his work, he strives to incorporate environmental fields, often spending time at Kevin Moran Park capturing the trees' transformation throughout the year. 
"Through photography, I tell my story and show the observer what I truly value. A lot of my images focus primarily on nature and how people manipulate it," Alex said. "I like playing the storyteller, mixing in visual cues and portrait-style symbolism to build my narrative."
On top of his schoolwork and extracurriculars, Alex ensures to make time for his friends, a valuable trait which his friend Ayesha Baweja (12) appreciates.
"He's really compassionate, and I've never seen him be mean to a single person. He loves to try all these different things, but he also makes time for all of his friends," Ayesha said.
About the Contributor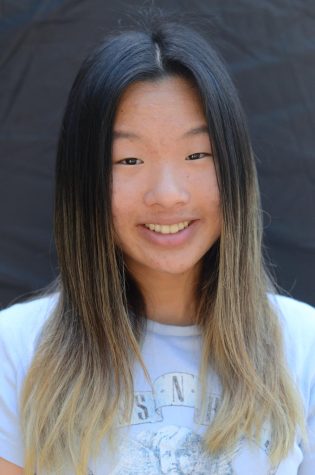 Tiffany Chang, Humans of Harker Editor-in-Chief
Tiffany Chang (12) is the editor-in-chief of Humans of Harker, and this is her fourth year on staff. She's looking forward to telling the story of the...