Humans of Harker: To help, to heal
Simar Bajaj (12) treasures all forms of intellectual growth
You may know him as the creator of the renowned study guide compilations that, with over twenty courses, encompass four years' worth of high school knowledge and help hundreds of students on a regular basis. You may know him as a medical blogger whose site boasts over 5000 subscribers and hundreds of thousands of side views. You may know him as a seasoned volunteer at Foothill Community Health Center or as the president of Medical Club. Or, you may simply know him as the "medicine guy."
It is no secret that Simar Bajaj (12) loves medicine. From research to internships to shadowing, the vast amount of medical knowledge he has gained is without a doubt more than your average 18-year-old. 
With many of his parents' friends already pursuing careers in medicine, Simar was introduced to the field at an early age. Simar's uncle, a radiologist, served in the U.S. Air Force and was deployed to Afghanistan when Simar was nine. The two would Skype occasionally, and it was during these brief yet heartfelt conversations when Simar first learned about – and fell in love with – the nobility of medicine. 
"[My uncle] would treat not only U.S. Air Force personnel and NATO personnel, but also al Qaeda and Taliban members, which really struck me," Simar said. "He taught me that medicine doesn't care about who you are. It doesn't matter if you're a serial killer, it doesn't matter if you're a saint; it just treats you as a person."
Through his experiences, Simar's view toward medicine has blossomed alongside his intellectual growth. While shadowing a surgeon in India, Simar gained additional insight into what it means to be a doctor when the surgeon challenged his initial desire to save lives. 
"[The surgeon] said, 'If you want to save lives, just become a pilot. You save 350 lives every time you fly.' And I was like, 'Oh my, that's a great argument. What am I going to do? My life's dream is just going away before my eyes,'" Simar said. "And he said, 'No, it's not only about wanting to save lives, right? Everyone wants to save lives. It's about having a love for the sciences and for the field." 
From the way Simar talks about the art of medicine to the many medical-related activities he participates in, his personality exudes this "love for the sciences." 
"In some ways, surgeons are like glorified plumbers. They could just go in, mix some pipes up, and make it work again," Simar said, grinning. "But it's just the most amazing thing. It's on the human body. It's our very being, our very existence. The idea of surgery just fascinates me, and then seeing it in person is even better."
Biology teacher Mike Pistacchi, who taught Simar in his junior year and is his adviser for the Near Mitra scholarship program, admires Simar's unconditional interest in science that enriches the learning environment. 
"[He's able to] maintain an intense enthusiasm and drive for doing science and medical history," Pistacchi said. "He really truly loves biology and honestly he knows more about a lot of aspects of biology than I do, so he brings a depth of knowledge of things like surgery and the cardiovascular system that's just great to have around."
Friend and fellow Honor Council member Kalyan Narayanan (12) also recognizes Simar's passion toward not only medicine but also his many other interests. 
"He is someone who has a real zest and vigor for anything he does. Whatever he does, he does it fully and with a genuine and deep love," Kalyan said.  
Yet, passion is not the only force that motivates Simar to continue on the path to be a doctor. Being able to help others, especially those in need, brings Simar joy. 
"I think what's really remarkable about medicine is that doctors come in at one of our most vulnerable states," Simar said. "It's a very unique position to be in because you have someone who's typically scared, typically worried, and this doctor has to not only treat the condition but they have to treat the person, they have to treat their angst, their anxiety, their concerns."
Simar's willingness to help others led him to create not only Medical Club's mentorship program but also his own medical blog in hopes of informing the general public about the beauty and importance of medicine. In order to contribute toward as many people as possible, Simar translated his blog into Spanish and Vietnamese to serve not only English-speaking communities but also other communities from across the world. 
"I felt that there was a dearth of medical knowledge, so … I started to share my experiences learning about medicine with other people so that they could learn about their health. But also, it ended up being a way for me to learn about medicine as well," Simar said. "So it combines my love for service for people with also being able to teach myself and being able to learn about medicine, which is something I really enjoy." 
This desire to help people also resulted in Simar's creating his famous SimarGuides.
"What SimarGuides represents is just the sense that I want to help people, I want to be there for people," Simar said. "It's part of the reason why I want to be a doctor. I like being helpful, and I like bringing a smile to people's faces."
Even now, Simar finds it hard to believe the popularity of the study guides, insisting they are merely his notes. But through these notes, Simar has been able to help nurture the spread of knowledge throughout the members of the Harker community, including himself. 
"At least in every year that I am here, these study guides have become a hub for collaboration for us to discuss topics above and beyond the requirements of our courses. It's just this back and forth conversation," Simar said. "I thought I was, in a way, helping people by sharing these notes, but in a large part, they're helping me by helping me understand the concepts and make my ideas clearer."
Aside from his massive study guides, Simar often helps his peers in their learning as well. Friend Finn Frankis (12), who met Simar in freshman year, appreciates his benevolence and positive attitude toward education. 
"Simar is very devoted to his academics but in a way that is not cutthroat at all in that in the process of working hard, he takes you along with him and helps out," Finn said. "He's always willing to listen to a problem and he has nothing but nice and constructive comments to give. I always know I can rely on Simar if I need someone to talk to."
Despite his well-known affinity toward medicine, Simar values each and every activity he contributes to, from sports to performing arts. 
"I think I'd like to be remembered as someone who did more than medicine. People say, 'Oh, you're the medicine guy, right?' And that's all they remember. But I do a lot more. I play tennis. I do theater. I'm in Honor Council. Medicine is a huge chunk of my life, [but] the other parts of my life are also important to me. Sometimes, it gets consumed by medicine," Simar said. 
Even in these other activities, Simar approaches them with a perspective toward wanting to impact the world in some positive way. In his performance during last year's Student Directed Showcase (SDS), Simar found his role as the Rabbi in the play "26 Pebbles" especially meaningful in a time of rising gun violence. 
"In some ways, I was helping spur on the public discourse on gun policy and gun violence through acting, which is a magnificent thing to be able to do," Simar said. "I had a couple of lines at best, but I think it's what I did with that line [and] what that line meant to me that mattered more to me as an actor and as a person."
At the end of the day, it is Simar's desire to help others and leave a positive impression on the world that drives him to do everything from studying with friends to taking the next step in becoming a doctor. 
"I want to save lives, and I think that's the base requirement for anyone who wants to go into medicine. But I also do love the sciences – I love the art of the diagnosis, how medicine is just a mixing pot of ideas. You need to take so many aspects of life, you need to understand so many parts of the human experience, of the human body to try to diagnose and try to treat a patient. Medicine is the care of people, not diseases," Simar said.
About the Contributor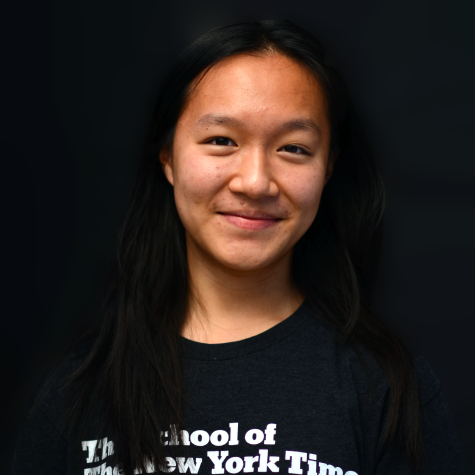 Erica Cai, HoH Co-Editor-in-Chief


Erica Cai (12) is the co-editor-in-chief of Humans of Harker, and this is her fourth year on staff. Her goals in journalism this year are to celebrate...