Humans of Harker: Ready, set, hack!
Arnav Joshi (12) stimulates creativity through his own company
It lasted a mere 24 hours, but the possibilities were endless. Lines of code spilled from fingertips on keyboards and flowed across hundreds of screens. Fragments of designs ballooned into fleshed out projects ready to be presented to a panel of judges.
This was a hackathon – a day-long event where computer science enthusiasts from across the nation collaborated on original projects. This was the event that plunged Arnav Joshi (12) into the bustling world of Silicon Valley. 
Raised in a small suburban community in Denver, Colorado, Arnav had little experience with hackathons – or any events related to technology, for that matter – as they were scarce and often difficult to come across. Only when he moved to California in the summer of his freshman year did he discover the metropolitan lifestyle of the Bay Area. 
"I realized that the hackathon coding culture of the Bay Area isn't necessarily replicated across the rest of the U.S. and across the globe, and so I thought that it would be interesting to try and bring these hackathons to my hometown in Denver and the rest of the U.S. as well," Arnav said.
With this insight in mind, Arnav set out to spread the "hackathon culture" to less metropolitan places like his hometown. In his sophomore year, Arnav and friend Nikhil Sharma (12) started their own non-profit organization, 18Tech Ventures, which aims to provide necessary resources for coding events across the globe. 
Three years later, they have successfully run a total of 50 hackathons in the U.S. and internationally, surpassing Arnav's initial vision. 
"My favorite part is giving people the opportunity that I didn't necessarily have until I moved to the Bay Area. Being able to expand the tech industry and bring more people in from a more diverse set of geographic regions is something that is very valuable for sure," he said. 
What began as a seedling idea slowly sprouted into a national organization. Through 18Tech, Arnav was able to not only help other people but also receive guidance himself. 
"I've had to work with people from different backgrounds, different cultures, even people from different countries," he said. "Being able to work with a lot of older people who have more experience or who have seen more in life [has] helped guide me."
Although hackathons may seem to only educate students on computer science, Arnav believes that these events also exercise one's imagination and resourcefulness. 
"With each hackathon, I want people to take away the fact that they have the ability to create whatever they want," he said. "Instilling that creativity and those values of thinking outside the box and doing something that isn't the same as everyone else is doing is definitely big."
Successfully launching such an impactful company did not come without hardships. Even during the early stages, when 18Tech was nothing more than a dream, Arnav and Nikhil received pushback from both their peers and investors. 
"Initially, we were told by everyone that this business would completely fail and that it was unrealistic for us to expect [it] to do well, but I think Arnav had a very strong vision from the start and even though those around him may not have seen it, he was able to continue pushing it forward," Nikhil said.
At first, these doubtful predictions seemed to ring true. It took over two years for 18Tech to find its first few events, but with the help of major technology companies, such as Balsamiq and Amazon, stepping in as donors, Arnav's vision soon gained traction. 
"It took a lot of resilience. It was rather difficult for us to find places to run events and to find people who are interested, especially because we were doing it outside of the Bay Area so we weren't necessarily connected to the local market," Arnav said. "For us, it was important to continue working on different solutions and trying to find ways to actually run these events." 
Arnav credits this resilience to an unlikely source – swimming, an activity he has been doing for ten years. The challenges Arnav faced over the years in this sport drilled perseverance into him. 
"There are a lot of plateaus in swimming. You aren't always at the top, you sometimes have to work without necessarily improving each and every day. Taking that resilience that built up from doing sports for all these years was useful to me when it came to running something like 18Tech Ventures, where it took a lot of work to actually get to the top," Arnav said.
Despite the rigor of swimming, Arnav describes it as a "great relief" that lets him escape from the pressures of daily life.  
"In those two hours, I can really focus and be myself, and it's a time where after those two hours, I'm rejuvenated and ready to do work," he said.
Sports also helped Arnav acclimate to the urban lifestyle of the Bay Area. Confronted with a new school and a new state, joining the water polo team at Harker gave Arnav a chance to integrate into the community. 
"Being able to go to water polo practices gave me a way to meet people before the actual year started, and that was good for me to have someone on that first day which otherwise I wouldn't have because I didn't even live here, so I wouldn't know anybody," Arnav said. 
While the resilience he gained from sports caused Arnav to persist in his goal, his affinity for problem-solving was cultivated in the classroom. Upper school mathematics teacher Dr. Anu Aiyer, who taught Arnav in both his junior and senior years, appreciates Arnav's inquisitive nature. 
"Arnav relishes learning and understanding things. He is always thinking about why a theorem makes sense and he's trying to put it in a connection to other things that he's learned. I think that's an important quality, making connections," Dr. Aiyer said.
Friend Rohan Cherukuri (12) admires his drive and perceptiveness, which exemplifies itself in not only Arnav's opening of a company but also in the simplest of activities like the discussions they share during daily strolls around the school. 
"Whenever I see him somewhere, I think there's nothing that Arnav can't do. No matter what he puts his mind to, not only will he be committed to it but he will find a way to succeed and make it happen," Rohan said.
Arnav's love of finding interesting and unique solutions manifests itself in both his personality and the passions he pursues, whether it be solving a math problem in class or aiding students around the world to think creatively. 
"I'm always working towards building something better. I'm always interested in looking around and trying to find solutions that may not be obvious to other people and trying to build on them," Arnav said. "I don't necessarily have anything in mind right now, but I definitely want to continue building and exploring new ideas."
About the Contributor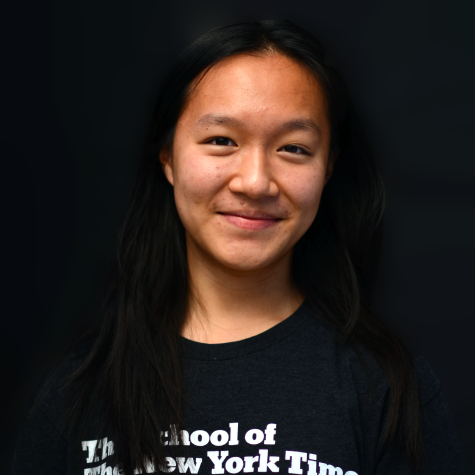 Erica Cai, HoH Co-Editor-in-Chief


Erica Cai (12) is the co-editor-in-chief of Humans of Harker, and this is her fourth year on staff. Her goals in journalism this year are to celebrate...