Humans of Harker: Balance is best
Nathan Wang (12) grows closer with his peers as he explores different hobbies
While one hand swiftly changes chords, the other holds a long wooden bow, gliding back and forth across the taut white strings of a cello. The smooth, light brown instrument rests comfortably between Nathan Wang's (12) legs as he quickly glances up at the sheet music to read the next sequence of notes. Around him, the rest of Harker's cello section moves their bows in sync and a melodious tune fills the rehearsal room. 
Nathan began playing the cello in sixth grade when he decided he wanted a challenge. Ever since, he has played in the school orchestra in addition to taking outside classes. Throughout high school, Nathan has grown close with the Upper School Orchestra. His first bonding moment with the group was in ninth grade when they took a trip to Carnegie Hall in New York.
"I got closer to the other members of the orchestra through the tours and senior speeches. Since this trip was in my freshman year, it helped me connect with my upperclassmen peers," Nathan said.
Vishnu Jaisim (12), another member of the orchestra and Nathan's friend of four years, first became friends with Nathan on the Carnegie Hall trip. During their week in New York, the two were constantly together, either working on their pieces or exploring the city.
"It was one of the best trips just because we spent so much time together: we went everywhere; we were inseparable," Vishnu said. "But more than that, he really taught me the value of practicing and becoming an amazing musician because he really dedicated himself to working on his craft and the arts."
Having previously played together in a quartet, Vishnu admires Nathan's dedication and diligence both inside and outside of the practice room.
"He made efforts in music and he has the ability to really take time and dedicate himself to actually playing the music and expressing it in the best way possible. To me, when I was playing with Nathan, I felt like he was expressive in the best way and he really cared about the engagement of the audience," Vishnu said.
Aside from his passion for music, Nathan is also known for his humorous personality. Even from a young age, he enjoyed making others laugh. One of his most distinct memories from childhood encompasses his aptitude for comedy.
"When I was three years old, I stuck my mom's pearl earring on my nose. It got stuck permanently so the paramedics had to come and I had to go in an ambulance to the hospital," Nathan said, laughing.
Nathan's tendency for telling jokes grew immensely as he reached high school, when his friends persuaded him to join the track team. It has become a minor hobby of his to brighten others' days with his humor.
"I think it was track that made this side come out of me," Nathan said. "The group of seniors [on the team] last year really opened me up and made me more confident … Now I do it because it's fun to see other people smile and I like to laugh."
Over the past four years, a group of his friends has also compiled a document with phrases and moments of several funny memories called 'Just Nathan Things.' As he has gotten older, Nathan has grown to cherish his friendships and spends most of his free time during his senior year with them.
"Meeting my friend group has shaped my entire high school experience. My friend group is a huge part of my life … we're really close. We do a lot of things together, we always find excuses to see each other and work together," said Nathan.
Aside from his extracurriculars and friends, Nathan also finds interest in the sciences. Dr. Mala Raghavan, Nathan's advisor and science teacher, has greatly impacted his growing passion for STEM throughout high school. She notices and values his humility and helpfulness in the classroom.
"He's very smart in the classroom, but he's also humble about it. He doesn't try to show off or make other students feel bad which is nice. He's also willing to help other kids if they need it," Dr. Raghavan said.
Nathan's favorite class, Nanoscience, is taught by Dr. Raghavan, and he enjoys how he is able to implement his skills into unique labs.
"Nanoscience is the class that fascinates me the most [this year]," said Nathan. "A lot of the labs we do are really cool. For instance, one time we used pomegranate juice and these nanoparticle film coatings in order to create a battery using some electrolytes."
After juggling track, cello, academics and a social life for so long, Nathan has gradually mastered the ability to balance his everyday schedule. The key, he says, is surrounding himself with a supportive community.
"Even though it's fun to goof off with my friends, I know I'm also driven to work and do what I'm passionate about. I think it's the environment around me. My friends provide my entertainment; they're how I keep a happy mindset. But they also inspire me to study and keep going," Nathan said.
By constantly supporting him through his several endeavors, Nathan's family has also become a primary source of comfort and guidance during his life.
"My grandma always says, 'work time work, play time play'. During senior year I've really lived by this motto. I've learned how to just set my mind on one thing. It's really about balance. Throughout middle school and high school I've had to learn to be disciplined and study, but I can also have a social life," Nathan said.
About the Contributor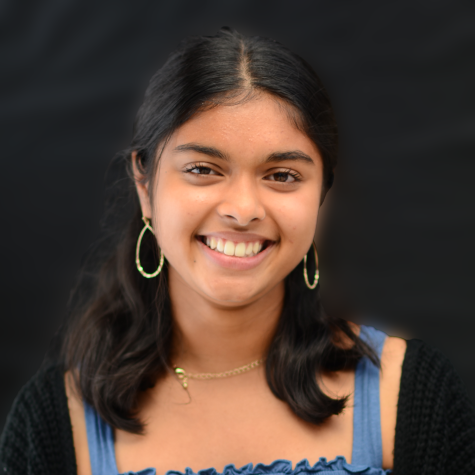 Lavanya Subramanian, TALON Student Life Editor
Lavanya Subramanian (11) is the student life editor of the TALON Yearbook, and this is her third year on staff. This year, she looks forward to capturing...