Humans of Harker: Climate cooperation
Anthony Shing (12) advocates for a greener environment
Bending down slightly, Anthony Shing (12) rustles through the leaves of the passion fruit vine clinging to a wooden frame next to the library. Unable to find the passion fruit he was looking for even with a thorough search through the vine, Anthony turns around and sighs, smiling lightly. In a last-ditch effort, he tries again, this time spotting a different, unripe passion fruit that resembles a small lime. 
Anthony's passion and knowledge of plants stems from his concern for the environment. From a young age, his mother took him hiking, allowing Anthony to develop a close bond with nature. He took the Human Ecology course offered at Harker in the summer of 2017, which explored how individuals interact with the natural world and inspired his environmental worry.
"I'm particularly interested in the scientific aspects of the environment," Anthony said. "There's so much that we don't know about [the environment] and how different organisms are attracted to a better environment and how we interact with environments, how ecosystems function. And not much is known about ecosystems that are disappearing."
His fascination with the intellectual aspects of climate change aside, Anthony's care for climate change stems from a desire to bring change. 
"He cares about trying to make the world a better place, and everything he does and all of his efforts are kind of through that lens," Dr. Kate Schafer, who taught the summer Human Ecology class, said. "He really cares deeply about other people and protecting nature. And it just makes me optimistic about the future that he's going out into the world, and is going to do amazing things that will benefit the world."
Meeting people whose lives have been impacted drastically by climate change, such as Alaskan Natives, has caused Anthony to care about the impacts of climate change on the world and on people. 
"He is really passionate about [climate change]," Anthony's twin brother Alex Shing (12) said. "He actually got me interested into the same thing … he was the first person who joined Harker Green Team after school, and he really encouraged me, along with his other friends."
Inspiring and urging others to care about climate change is important to Anthony. He believes that, while statistics about climate change are objective and useful, people are unable to relate to them and realize how it impacts them.
"Using stories and using events that people can directly relate to are what really can change people's beliefs in this current partisan environment," Anthony said. "The best way to reach people is going out into the community, meeting new people who are from different backgrounds or just rallying outside and showing why you care about certain issues."
From traveling to San Francisco alongside the debate team to talk to Environmental Protection Agency (EPA) legislators to helping organize the attendance of Harker students in a climate strike in San Jose, Anthony advocates for measures against climate change.
"He is a climate lawyer. He's an impassioned activist on behalf of helping people change their thinking about the importance of making a difference regarding climate change," Green Team adviser Diana Moss said. "And he's very inspired and dynamic in his role as an officer of the club. Right from the beginning, [Anthony] has stepped up and taken on a major leadership role."
Even though he is an avid proponent of measures against climate change, Anthony does not believe in outright challenges to others' viewpoints, instead choosing to respect all opinions. 
"I think that people are shaped by how they were raised, and their upbringing influences their beliefs and views," Anthony said. "But as individuals, we should strive to challenge our own viewpoints by speaking to others who are outside of our comfort zone."
About the Contributor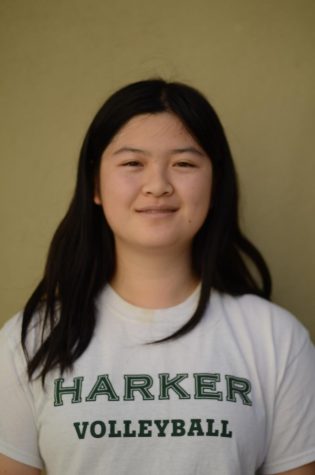 Catherine Feng, Asst. Copy Editor
Catherine Feng (10) is the assistant copy editor for the Winged Post. This is her second year on staff, and she hopes to improve her journalistic skills...