Humans of Harker: A 3D world
Allison Yen (12) experiences life through creation
Her hands move carefully as she concentrates on a 3D popsicle stick sculpture in the art room, her gaze remaining focused upon the intricate and delicate design in front of her. The cream-colored popsicle sticks slowly piece together to form a beautiful figure. Satisfied, Allison Yen (12) pulls the plug on the hot glue gun and looks up with a bright smile, finally pleased with her work.
Anu Selvaraj (12), one of Allison's close friends, describes her as an "exuberant" and "outgoing" person. Allison herself uses adjectives including "optimistic" and "passionate." Allison's journey to finding her passion involved some backtracking and a lot of optimism.
Though her parents were both software engineers and her older brother pursued computer science in college, Allison always knew that they would be supportive of her endeavors, whether or not she followed the same path. She describes her mother as someone who was "passionate about [Allison] finding [her] passion."
Allison began her journey at a young age by enrolling in different classes to see which ones she enjoyed and would like to stick with.
"I started taking art and music classes when I was very young, and I continued throughout middle school. When I got to high school, I decided to quit art but stayed in music and focused on some other things," Allison said.
Allison credits her uncle, an architect, and her mother with helping her find her way back to art, specifically architecture, two years later.
"In junior year, with my mom and uncle's help, I realized that I really enjoyed design and 3D and started my portfolio. Together with the summer program at the [University of California at] Berkeley and with the support from family and teachers, I've done things that I'm proud of. I love how there are endless solutions and choices in designing something that can be abstract or structural," she said.
Allison says that the experience has helped her stay open to different possibilities.
"Now I'm more open to things and just try to be positive about things that I'm unsure about because it might be something that I actually really enjoy," Allison said.
Allison's journey to finding her passion closely mirrors her mother's, someone who she admires and thanks for her relentless effort and time.
"My mom used to be a software engineer, but she later realized that she liked being an interior designer more and switched to that," she said. "And she's always been extremely supportive of me, and I'm really grateful for that."
Her effusive and bubbling, yet kind and humble personality is appreciated by close friend Kaidi Dai (12), who described a moment they shared earlier this year. 
"I was talking to her about something that I rarely talk about, and it was perfectly normal to talk to her about it. It felt like the most natural thing to talk to her about," Kaidi said.
Anu echoes that sentiment, with words of praise for her friend as a comical and humorous person. 
"Whenever Allie laughs, even if it's at the smallest thing, everyone starts to laugh with her, even if it's not that funny," Anu said. "She's just that kind of person who can bring a room together."
When asked to describe her personal style, Allison characterized it as "3D lines and forms and shapes and patterns."
Though her path to 3D art was a curly squiggle, rather than a straight line or a roadmap, Allison is proud of where she has reached.
"I enjoy creating things. It's really beautiful to see what you've visualized come to life, especially when others enjoy it too" Allison said.
About the Contributor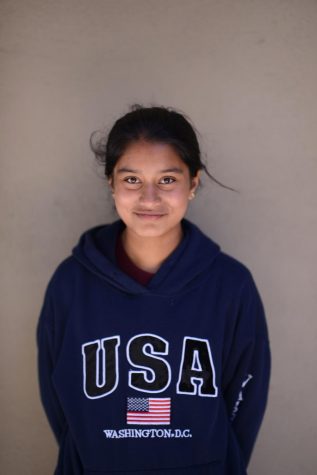 Amruta Dharmapurikar, Reporter
Amruta Dharmapurikar (9) is a reporter for Harker Aquila and the Winged Post. This is her first year on staff. Amruta hopes to improve her photography...