Humans of Harker: Kicking for a cause
Darshan Chahal (12) gives back to his community with soccer
Darshan Chahal (12) races down the field, expertly dribbling a soccer ball between his feet before being blocked by an opponent. With one quick feint to the right, Darshan kicks the ball left to his waiting teammate. 
Darshan started playing soccer when he was only three years old. Since then, he's played soccer every year of his life, whether it be for Harker or in an outside club. For him, the team aspect is the most important reason behind his continued dedication. 
"I started when I was really young and I've just kept playing since I enjoyed the company, the community aspect, and the camaraderie that's sort of generated in the team," Darshan said. "I find it kind of interesting how people with so many differences are able to sort of come together and unite and achieve like a common goal through soccer."
The bonds Darshan forged through team sports like soccer also allowed him the chance to meet some of his current best friends. 
"I met Darshan when I first came to Harker in fourth grade," Asmit Kumar (12), one of Darshan's best friends, said. "I was sitting alone at a table during lunch when some of the other soccer boys like Andrew and Darshan came over and were like 'oh here sit with us'. Eventually, I started playing soccer with them because they used to play every lunch and we all just became friends like that." 
In 2011, Darshan joined the U19 National Futsal team and often played both competitive futsal and soccer outside of school. From Monday to Thursday throughout the entire school year, Darshan practiced club soccer from 7 – 9 p.m. Then from late winter to the summer, his futsal club also held practices. In addition to practicing eight hours a week for soccer, Darshan also practiced futsal from 5 – 7 p.m. on Fridays and from 8 – 10 a.m. on Saturdays and Sundays. In addition, both clubs usually scheduled a game for the weekends. 
"Futsal is kind of different from soccer," Darshan said. "I first tried it because I wanted to improve on my touch and my control over the ball and futsal helps a lot with that. My dad also had an old friend who runs one of the cub teams for futsal and he had me come out to one of the practices and I really enjoyed it on the first day so I just kept doing it."
At the end of his first season on the futsal team, Darshan won his first of two National Championships. Just five years later, he became the captain of the nationally-ranked team, representing the U.S. in two international tournaments, one in Spain and one in Scotland. 
"When I won the championship in 2013, I was very young and it was my first national tournament," he said. "It was just such a great feeling to go through all the stages of the tournament and just end up on top."
Friend Datha Arramarredy (12) not only admires Darshan's achievements in soccer but also emphasizes some of his qualities that may not be so clear. 
"Even as one of the most accomplished people I know, Darshan's successes don't define him," Datha said. "I know him as a diehard Liverpool fan, a god at Madden, but most importantly one of my best friends."
Darshan even uses soccer to further his own community service. In 2016, Darshan founded his own nonprofit named Borderless Futsal. Working with San Jose City Council and their Gang Task Force, Darshan coaches children in East San Jose futsal for an hour and 30 minutes every Saturday. Afterward, Darshan stays behind to tutor the children through any homework that they might need help on. 
"A lot of people in that area don't have the same opportunities that I've been given as I've grown up, so I feel like my ability to sort of help them and give them some of the opportunities that I've had is special to me," he said. "I think that playing soccer is just a good way for everyone to destress, be active, interact with other people, make friends and just have a good time."
For friend Rohan Arora (12), Darshan's kind and thoughtful personality follows him beyond the soccer field wherever he goes. 
"Whether it's a joke I came up with, a stupid video I found, an ask for advice, or just needing someone to talk to, I know [Darshan will] always be there for me regardless of the circumstances because that's just the type of person he is," Rohan said. 
Junior year AP Chemistry teacher Dr. Mala Raghavan similarly highlights Darshan's ability to work with others in the classroom. 
"What was most striking about him was how calm he was in class," Dr. Raghavan said. "He was never trying to show off or put down anyone and was extremely encouraging to his lab mate."
Eventually, in his sophomore year, Darshan's club commitments conflicted with his ability to continue playing soccer for Harker. His outside soccer club did not allow him to play simultaneously for both the club and Harker. 
"I haven't played soccer for Harker for the past three years of high school," Darshan said. "I just played outside because the team I played for didn't let me play high school. The outside club was more high level than the school team but playing at school was more fun. It was a struggle to decide whether to maximize my growth as a player or to have more fun." 
In the end, Darshan chose to play only for the outside club and was forced to leave the Harker soccer team that he had gotten to befriend. 
"It was pretty sad to hear that Darshan wouldn't be playing with us because we like to pass the ball around and have fun," Asmit said. "So having to substitute for him was kind of difficult because no one could really fill that hole."
This year, Darshan decided to quit his outside soccer club mid-season and rejoin the Harker team, recognizing it as the last year he would have the chance to play competitively with his school friends. 
"Now that he is back I am really happy because we are able to just have fun again on the soccer field," Asmit said. "We're always smiling on the soccer field, even if we're losing, and that is a great experience." 
About the Contributor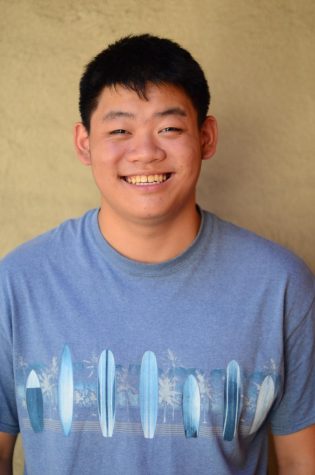 Eric Fang, Winged Post Editor in Chief
Eric Fang (12) is the co-editor in chief of the Winged Post. This is his fourth year in Harker Journalism, and he hopes to hone his skills as both a writer...