Humans of Harker: Curiosity cures
Naviya Kapadia's (12) family inspires her to pursue her interests
Laughing as she grabs a clean white lab coat and tosses it across her shoulders, Naviya Kapadia (12) prepares for her upcoming anatomy class. She warmly greets her teacher before carefully examining the microscope placed in front of her. As she beams at her classmates, her contagious smile radiates positivity throughout the classroom. 
Along with playing lacrosse and sipping Philz coffee with friends, Naviya's curiosity and love of learning led her to discover her true passion: research. She attributes her love of learning to both her classmates and her family. Growing up with educated parents, Naviya's family supported and encouraged her to follow her academic dreams. 
"My family has made me want to pursue education in a way that interests me, and not necessarily go after something that someone else tells me to do," Naviya said. 
Naviya's greatest influence was her mother. Her mother led a life that exemplified the life that Naviya wanted to lead, and she admires her mother's courage and perseverance. 
"My mom left home at 16 and went to college, and she came here and did a Ph.D. in electrical engineering," Naviya said. "She went into a career that no one else told [her] to do, and I think that I have a very unique experience in that my parents have always told me that your pursuit of higher education should be for your own self-growth and success."
When Naviya was 13 years old, her mother was diagnosed with cancer and passed away. Naviya was a young teen trying to navigate middle school, and her mother's loss left a huge weight on her shoulders. She felt expected to start thinking about her future but was unable to think clearly. 
"[My mother's loss] prevented me from thinking for a while. I felt like I had a really big hole in my brain, which was really bad, and I hated it so much," Naviya said. 
Gabriele Stahl, a previous math teacher of Naviya's, has had a close relationship with her student during the two years she taught Naviya. 
"When things didn't come easily to her, she just had the strength to pull herself out of any hole that she was in and continue," Stahl said. "It feels like nothing can really throw her off."
As Naviya grew older, she began to enjoy learning and persevered with her interest in science. Her mother's loss inspired her to actively make a change in the world of medicine. 
"I wanted to do something about it, but I was too young at the time to understand anything, so then when I got older, I [decided] I actually really want[ed] to do [research]. My mom's illness compounded with how much our family went through made me want to go into research and medicine because I saw that this is how people make differences," Naviya said. 
In her sophomore year, Naviya received the opportunity to make an impact on research. The National Institute of Health in Bethesda, Maryland, offered her an internship, and she has been working with them since she was 16. She focuses on T-cell immunotherapy for cancer, which changes a patient's T-cells in order to recognize cancer.
 "I never thought I would be working in a lab when I was 16," Naviya said. "The fact that something I did as a 16-year-old could help someone someday is crazy to think about."
In addition to research, Naviya's family inspired her to discover another new passion: photography. Naviya's father first introduced her to photography at a young age. She started out taking pictures of objects but found that she truly enjoys photographing people and taking portraits. 
"My dad was always super into it," Naviya said. "We started taking pictures when I was really young. Now I'm taking studio art, and I think sticking with it really [helped] me find out that I love taking pictures of people." 
Taking pictures of strangers changed Naviya's personality. She admits that fear kept her from sharing her work, and asking strangers for permission to photograph them helped her find her outgoing side.
Anika Tiwari (12), one of Naviya's closest friends since sixth grade, has watched Naviya grow into the kind and unique person that she is today.
"Naviya is super bubbly at times, but she's also super thoughtful," Anika said. "She shows me some of the things she writes, like stories, and other thoughts, and they're super philosophical. She writes in a very lyrical way and I think it kind of comes across in her personality."
Another one of Naviya's close friends, Brandon Lin (12), only met Naviya last year. 
"As you get to know Naviya, there are so many things that she does, and she puts herself out there to do that you wouldn't expect, and that's really incredible," Brandon said.
It took Naviya a long time to take pride in her own work and share what she did with other people. Now, she is confident in her abilities and hopes to continue making an impact on the world around her.
"You see everyone around you excelling so much, and then you don't really want to put yourself out there. I didn't share my research, I didn't share my photography, I didn't share anything," Naviya said. "Recently, I've started being more open about [my work]. I realized that if I keep comparing myself to other people, I will never be able to take pride in my own work, and I think that is really important."
Additional reporting by Lakshmi Mulgund.
About the Contributor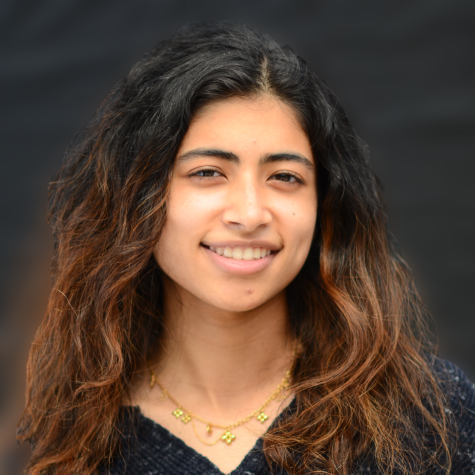 Anika Mani, TALON Co-Editor-in-Chief
Anika Mani (12) is the co-editor-in-chief of the TALON Yearbook, and this is her third year on staff. She enjoys traveling the world, trying out new restaurants...