Humans of Harker: Fostering a community through service
Michelle Kwan (12) creates a warm atmosphere wherever she goes
Reaching her arm over a stack of small, white discharge slips, Michelle Kwan (12) picks up the phone and answers with a kind "Good morning, this is escort, how can we help?" Nodding her head while jotting down the nurse's notes on the slip, she gently places the phone back on its receiver and confidently delivers instructions to the rest of the volunteers on her shift at El Camino Hospital. As one volunteer returns with a wheelchair, Michelle quickly stands up and greets her with a smile, grabbing a Clorox wipe and disinfecting the wheelchair.
As shift captain, Michelle is one of the oldest and most experienced volunteers. In her freshman year, she began volunteering at El Camino Hospital, the hospital where she and her siblings were born. 
When she first joined the Junior Auxiliary, Michelle recalls feeling awkward and lost in her position but remembers that the sense of community helped her adjust to the new atmosphere. 
"During my first shift I was welcomed by a really supportive group of people," Michelle said. "I made this stupid joke when we were discharging a mother and her child, and they were making fun of me for it, but in the friendly way. That's when I realized that these weren't just kids who were coming here to work, and that they actually want to help out the hospital."
A large component of volunteering at El Camino Hospital is discharging patients, and Michelle enjoys socializing with her patients in the downtime before their ride arrives. She recounts simply being with the patients as some of her favorite memories and loves to have meaningful conversations with them as she waits. 
"You get to see the doctors with their scrubs on, you get to connect with the patients and have conversations by the curb as you wait for their pickup. It's a good place to meet new people and see new perspectives," Michelle said. 
Through the four years she has worked this shift, Michelle has discharged a diverse demographic of people, allowing her to connect with patients from varying backgrounds. One of the most eye-opening conversations Michelle held was with a homeless person during their almost 40-minute wait for a cab. 
"The cabs always take forever to show up because they know it's a homeless person without a place to stay. While we're waiting, I talk with them and have a nice conversation," Michelle said. "One person told me how he got to Cupertino and how he was living there before, and it was really interesting to hear his story. People really dehumanize them, and I wish they would stop." 
Michelle nurtures a sense of community not only within the patients she discharges but also between her fellow volunteers, who make El Camino Hospital a worthwhile place for Michelle. She places a large emphasis on human relations, whether it be with her family, friends or complete strangers at the hospital. 
"The deepest connection is between all the volunteers," Michelle said. "I'm shift captain, so I get to teach new volunteers about the hospital, and it's so great to create bonds and make new friends. The position is twofold for me."
Madison "Maddie" Huynh (12), Michelle's friend since elementary school, notes Michelle's caring personality and her passion to provide service to others. 
"[Michelle] wanted to do computer science originally, but she changed her mind because she felt it wasn't personal enough for what she believes in and what she wants to do," Maddie said. "Now she wants to be a doctor, and she's really passionate about medicine and using what she does to help people in some way."
Michelle believes that her love for connecting with and helping others stems from visits to her family in Hong Kong, where there is a large emphasis on family ties. She recounted the luxe dinners they enjoy together at the family restaurant, where they bring out dishes reserved for special occasions and catch up with each other. 
Close friend Catherine Zhao (12) also recognizes Michelle's compassionate personality. When Catherine found herself in car trouble, Michelle did not hesitate to lend a helping hand. 
"Once my car started making sounds, and I was worried so I took it to the auto shop, and during that time [Michelle] drove me anywhere I needed to go," Catherine said. 
Qualities such as loyalty and humor also enhance Michelle's amiable personality. Close friend Emma Li (12) appreciates Michelle's ability to be both light-hearted and committed. 
"She's goofy sometimes, but when it really matters, she comes through for her friends, and I think that's really good," Emma said. 
Upper school computer science teacher and Michelle's advisor Anu Datar credits the welcoming and cohesive atmosphere of her advisory to Michelle's affable demeanor. 
"Because of Michelle's nature, I felt that advisory became a place where everyone wanted to be together and share their feelings and thoughts," Datar said. "She's been a really positive impact on the advisory." 
From volunteering at El Camino Hospital to spending time with her advisory, Michelle never fails to bring communities together through service. Even in the little activities she does, whether it be teaching children at the lower school or helping her friends in times of trouble, Michelle's empathy shines through. 
"I like to help other people. I feel very fulfilled when I see them smiling and happy after they get a concept I teach them, or I'm able to help them out with daily activities and they're relieved. That brings me joy," Michelle said. 
Additional reporting by Emma Gurleroglu.
About the Contributors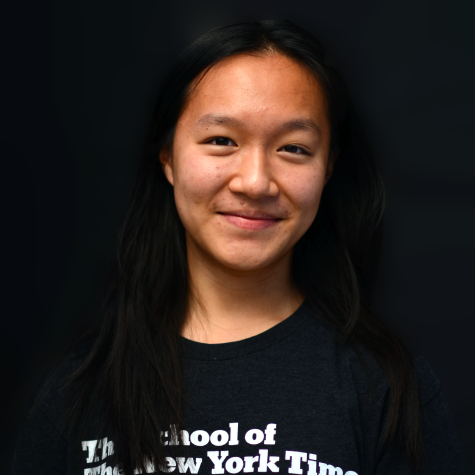 Erica Cai, HoH Co-Editor-in-Chief


Erica Cai (12) is the co-editor-in-chief of Humans of Harker, and this is her fourth year on staff. Her goals in journalism this year are to celebrate...
Saloni Shah, Humans of Harker Editor-in-Chief


Saloni Shah (12) is the editor-in-chief of Humans of Harker. This is her fourth year on staff. She loves to spend time with the rest of the staff and...