Humans of Harker: Telling stories with a twist
Nina Gee (12) builds her own story through art
Sketchbooks of varied sizes, a camera and art supplies lay scattered on a desk. Nina Gee (12), clad in a red, white and black flannel layered over a grey Cambridge hoodie, hunches over an open sketchbook in the middle of the spread, pen in her hand, wrist moving in gentle flicks. Lines of blue ink blossom on the creamy white page, forming the figure of a person.
Nina's path in art began when her parents introduced her to coloring because they thought that it would make her a more well-rounded person; she immediately "took too much of a liking to it" as she said with a chuckle. Although she drew frequently, her embarrassment of her creations eventually stopped her from creating art when she reached middle school.
"I internalized peer pressure more than I acted on it externally. I think that's what I use a lot in my art, which is that time period when I was so unsure of myself when I kind of lost that part of myself," Nina said.
Nina began to miss this essential part of her self-expression, so she took an art class in sophomore year and reconsidered how much joy the activity brought her.
"There's something about doing things with my hands and working with lines and shapes and colors and these abstractions of emotions [where] you don't have to think in anything concrete. It's so freeing," she said.
Close friend Jin Tuan (12) has acknowledged Nina's evolution as an artist and increased openness with loved ones.
"She is still studying, practicing and improving her technique through [art classes], but she's also doing a lot of enterprise art. You can see a lot more emotion, a lot more color, a lot more dynamics," Jin said.
In addition to expressing her own story through visual art, Nina also tells the stories of others using the power of words. When she was in elementary school, she would always go the extra mile when writing assigned stories using vocabulary words. Creating characters and imaginary worlds and telling stories with them captured Nina's interest from an early age.
In freshman year, she joined journalism because her father suggested it but stayed because she loved the community and the stories she was able to tell through her writing.
"The fact that there are so many types of writing that you can work with within these bounds to create something beautiful is like telling stories with a twist," Nina said.
Journalism also allowed her to overcome her social anxiety as it forced her to talk to and connect with strangers.
"I realized that in the interviews, [the other person] is just as scared as I am, and that was really comforting in a way and helped me to get closer with people," she said.
Nina's journalism adviser Ellen Austin notes her growth and prowess in storytelling in creative ways.
"I think a lot of people like to think of themselves as original or unique, and those words wouldn't necessarily be correct, but for Nina it really is," said Austin. "She's such a creative original, and I've really enjoyed seeing her become the voice, the artist, the activist, the heart that she is now."
Nina's passion for writing developed another key facet of her artistic expression: screenwriting. When she was young, she would marvel at film awards, and her father would tell her that she could be up there one day if she became a screenwriter. Although Nina lost interest in screenwriting itself, she began to see it as an expression of her personal experience while transitioning to other types of writing.
The summer before her sophomore year, Nina stepped out of the Harker bubble and attended a screenwriting course at Cal State Summer School for the Arts (CSSSA).
"I just knew immediately that this was what I wanted to do, just sit there and write and throw around ideas and bounce off of other people and collectively come up with stories and storyboards," she said. "It's a combination of art and writing and film, and it's so so fascinating."
That summer at CSSSA changed Nina's perspective of herself, encouraging her to be more open and bold with her creativity and personality.
"A piece of my soul will always reside at Cal Arts because that experience was so life-changing for me. I split my life into two distinct parts: there's post-CSSA-Nina and pre-CSSA-Nina," she said. "It taught me how to be free, and it taught me not to be scared to be myself. If I came back and everyone hated me for who I was, so be it. I'm me."
Stepping out of the Harker bubble, forced her to face herself and be vulnerable. Despite Harker's STEM-focused environment, Nina doesn't allow her surroundings to hinder her creative goals.
"I don't see myself as trapped because I realized once I came back from that camp that the world is what I make of it," Nina said. "I didn't have to let the pressures of Silicon Valley squander me. I could take Silicon Valley by the horns and rein it to do what I want because this is my home, and it's my life."
Her self-deemed "crazy" personality has remained steadfast throughout her evolution in her artistic expression. Close friend Hanoom Lee (12) has noticed her vibrant personality that has continued since the day they first met in freshman year.
"[She's] very caring but at the same time, passionate about what she does," he said. "She likes to yell a lot at random periods of time. Her texting style is exactly the same."
Nina's passions in art and writing cumulatively have helped to develop her bold and creative identity. Each of her interests has helped her to tell others' stories as well as her own.
"It's mostly storytelling in tangent with emotions. I've always loved telling people stories, so much so sometimes that I forget that I have my own, but I think that's the purpose of art and filmmaking and journalism, they're all a form of art. You see others' feelings out on the page, and you want to express your own," she said.
About the Contributor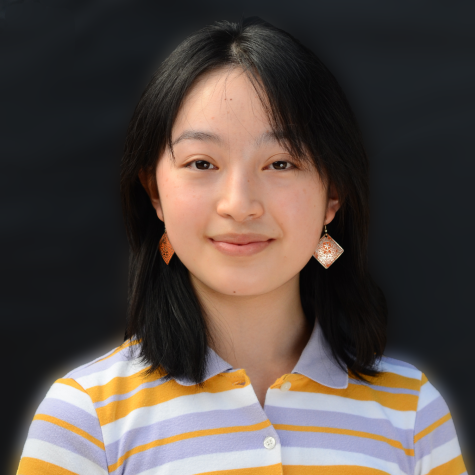 Arely Sun, Aquila Co-Managing Editor


Arely Sun (12) is the co-managing editor of Harker Aquila with focus on longform writing. This is her fourth year on staff, and she hopes to work with...