Humans of Harker: Re-Searching for new horizons
Cynthia Chen (12) leads with her heart
Pops of emerald green, sunset orange, rose pink and Persian blue cover the pile of canvasses sprawling across the floor, a vibrant mosaic of meticulously colored and shaded scenes from an alien world. The Golden Gate in forest green against a salmon pink sky. The curved, glazed tiles of Chinese rooftops in a golden brown, against a fiery red light. A simple brick wall, reminiscent of colonial Boston, reimagined in shades of midnight blue and indigo.
This is the world of Cynthia Chen's (12) adventures. Striking, unconventional, a little disorienting and vividly recolored by her ever-curious imagination. 
Her portfolio, which was prepared for AP Studio Art and inspired by "the magic of traveling," as Cynthia relates, features a dozen pieces that each capture a memory from Cynthia's travels in a unique light.
"I wanted to use acrylic to portray these really bright colors and a really surreal light," she said. "I had a lot of fun because it was super cool to imagine what it would look like in another color." 
Unbeknownst to many, Cynthia's journey in art began from a young age, in a garage-turned-art-studio. There, she developed her budding affinity for painting shapes and colors and hues, even using her talents to create the winning yearbook cover designs in her fourth and fifth grade years—both of which, like her travel pieces, are marked by a dynamic use of color.
"Color is something that's very essential to art, and it definitely can convey a lot of mood and tone and the atmosphere of your piece, and I feel like a lot of times in fine arts, bright color isn't really used because it's seen as unprofessional or not very emotionally driven," she said. "But I'm like, it's so cool, the mixing of color and how they work with each other is very interesting."
For Cynthia, art gives her an avenue for her guiding passion: adventure. Whether it be her choice to concentrate on travel as her portfolio's theme, or her endless search for new perspectives on familiar sights, or even her academic work, Cynthia endeavors to venture beyond and explore. 
In fact, the first word that comes to Cynthia's mind when reflecting on her own character is "adventurous," a quality that has been encouraged by her family. Ever since Cynthia was a young child, she, her parents and her younger brother, Brian Chen (9), have embarked on voyages big and small. Together, they have skied down snowy mountains in Tahoe and uncovered hidden cenotes in Cabo San Lucas, and they continue their quest to find new adventures at home as well, with their everyday excursions in search of local food discoveries.
"A lot of it is late night eating, so if there's a restaurant that's open at 2 a.m., we go to those a lot. My family is a pretty big food family. We find a lot of joy in food," she said, laughing as she lists the names of various breakfast, Italian, Chinese and Korean restaurants that her family frequents.
For Cynthia, family always comes first. Not only is her family a source of inspiration and strength for her, but she also seeks to lend a hand wherever she can, such as helping her brother during his transition from middle to high school. For Brian, the little tips that Cynthia offered, from pointers about Latin class to larger academic planning advice, proved "really helpful along the way" and, in fact, encapsulate their sister-and-brother relationship.
"It's almost kind of parental—like a little bit, sometimes, because she'll act like a parent, like a person that will lead my path, shine a light, so I know where to go if I'm ever lost," Brian said.
In the same way, Cynthia's sense of adventure and endless curiosity have inspired her friends, notes Annie Ma (12), who is literally Cynthia's friend from birth, as they were born in the same hospital room.
"Learning from her both directly and indirectly, I've definitely gotten a greater sense of just a better work ethic and also having the courage to reach higher and try new and harder things," Annie said.
Cynthia's passion for exploring while helping others has especially inspired her academic ventures, for which she is widely known at school. As a dedicated student and researcher of STEM studies, Cynthia has worked on numerous projects on the forefront of scientific discoveries, and she has won a collection of accolades, including a Broadcom MASTERS Finalist award in her freshman year, a Siemens semifinalist award in her sophomore year, a Third Award at the Intel International Science and Engineering Fair in her junior year, an invitation to be Research Science Institute (RSI) scholar in her junior year, Davidson Institute Fellows Scholarship in her senior year and a finalist in the Regeneron Science Talent Search in her senior year. 
Cynthia's research projects have ranged from developing water-conserving seed pods to using computational biology to predict cancer types. Recently, Cynthia has taken a particular interest in the intersection of computer science and medical research. She remembers a transformative experience watching a documentary called "End Game" that her math teacher and advisor Bradley Stoll showed her class. The documentary told the story of terminally ill patients, and Cynthia, whose family has not been immediately affected by cancer, was struck by the patients' bravery and perseverance in the face of suffering.
"That was kind of just like a slap in the face," Cynthia said, reflecting on her experience watching the film. "Cancer is a very devastating disease, and honestly, I feel like if there's any way in which I can improve any bit of that, I think that would be amazing."
Since 2018, Cynthia has been interning at the Dana-Farber Cancer Institute at the Harvard Medical School to work on develop deep neural networks that can decode protein patterns, and her Davidson fellowship project, which resulted from this research, is centered on the possibility of such neural networks to pave the way for an antibiotic cancer treatment.

The force behind Cynthia's research and her work at large is her driving mission of service. Just as she is always willing to help her brother, she never shies away from lending a hand in her greater community, whether it be by pioneering medical research or volunteering at a homeless shelter or even starting her own nonprofit, Opportunity X, to provide research opportunities to low-resourced students and communities. 
"The more I got to know her, it became clear that she was interested in service of some sort," Stoll said. "She's super interested in artificial intelligence and what it can do for us, but what I think is more amazing about it is that she's very interested in the ethical implications of it, too."
In fact, Cynthia's desire to help others, even the smallest of ways, has proven to be a guiding light for her, shaping her interests and her ambitions, and as she continues to be inspired by adventure, always pushing the boundaries of what is possible and exploring the new, she lets that guiding light—the guiding light of her heart—take her to new horizons.
"I'm a pretty spontaneous person. I do things just because my gut feels like it, you know?" she said. "I would also say I'm a very honest person with myself. If I like something, I know that I like it, and if I don't like something, I know that I don't like it, and I know which things motivate me and which things inspire me."
Stoll, who has served as a mentor to Cynthia throughout all four of her high school years, not only admires but encourages this defining trait of Cynthia's character.
"If you lead with your heart, nothing can go wrong, really," Stoll said. "Maybe I would advise her [Cynthia] to step out of her brain a little bit—or [the] academic—and just, what does her heart tell her to do? And just go with that."
About the Contributor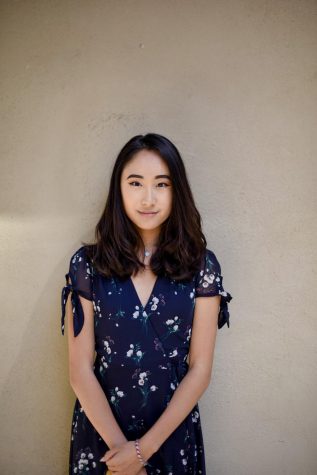 Kathy Fang, Editor-in-Chief
Kathy Fang (12) is the editor-in-chief of Harker Aquila. This is her fourth year on staff. From covering local marches and protests to initiating Harker...