Humans of Harker: Bullseye
Lila Gorman (12) builds resilience and confidence through archery and trumpet
Ten concentric circles. Three slender arrows. One determined face. 
Dressed in a red and black jersey, Lila Gorman (12) swiftly hooks an arrow onto her metallic blue bow. Her eyes focus on the foam target in front of her, the paint cracked and flaking from years of practice. She widens her stance and steadily pulls the string back to her lifted chin. She releases. 
Bullseye. 
Lila first picked up archery around five to six years ago in middle school and found the atmosphere of Los Altos Hills of Archery, where she practices weekly. The rhythmic routine of setting up her bow, shooting at targets and talking to fellow archery enthusiasts helped relieve stress. 
"Archery is just really relaxing and calming, and that's where I can see all of the work I do and have a more tangible representation of how I've improved," she said. 
Acquiring the skills of this sport was by no means easy. Lila reminisces on how rewarding it was when she was able to hit her first bullseye in eighth grade. 
"After a lot of work I hit more of the center of the target and it was really exciting to see that," Lila said. "It was a nice surprise because you can't see it at the distance you're shooting at." 
Having a calm and determined mindset posed another challenge for Lila. Unlike other sports, archery focuses more on mental strength rather than physical strength. Especially during tournaments, where a competitive environment added to the pressure of shooting accurately, Lila struggled with shutting out her anxiousness to focus on the task at hand. 
"There isn't that much to do, you do the same thing every time, but a lot of it is just being in the zone and not having your nerves get the best of you," Lila said. "At a competition, you're obviously going to think about your score and you're going to be like, 'I need to do better on this shot to get back on track,' so that was something I had to deal with." 
Despite having a rough start at her first tournament, she overcame the initial setbacks and ultimately ended the day with triumph. 
"I did really badly on the first day. I was missing a lot of shots. Then the next day, I just came back and I was like 'Okay, there's still one more day,' and it was one of the best rounds I've ever shot at that point," Lila said.
The air of calmness that Lila has gained through archery also applies to other aspects of her life. Friend Ashna Reddy (12) recalls her first impression of Lila as being "someone who is always put together" and recognizes Lila's unperturbed poise even in the face of difficult situations. 
"The more I got to know [Lila], the more I realized that she's just really good at keeping that composure of hers even when she's struggling. Before, I don't think I'd be able to notice if something was bothering her because she's so good at keeping that calmness about her," Ashna said. 
Lila's patient and understanding personality led her to work at a certified organization where volunteers teach archery to kids who struggle with mental disorders, such as attention deficit hyperactivity disorder (ADHD). 
"Everything I learned from [archery] was very surprising and different than most sports. I felt like I could offer my experience and help someone with it in a positive way," Lila said. "We help [the kids] to relax and get better through archery, so we teach them how to shoot and we listen to them." 
While archery helped Lila calm her nerves and build resilience, trumpet allowed her to break out of her timid shell and trust her own abilities. 
"When I play something right or I perform something the way I want to, it kind of gives me confidence, like 'Okay, I can do this,'" Lila said. 
This self-assurance positively contributed to Lila's growing presence around campus, transforming her from a shy person to a confident one. 
"I think she's grown bolder in all of the best ways, both in the classroom dynamic and just as I see her taking on leadership roles around the school. She's blossoming," upper school English Department Chair Dr. Pauline Paskali said. 
Her trumpet career began when she arbitrarily chose the trumpet on the first day of band class in fourth grade, and Lila has been playing the instrument since. She has participated in her middle school's band and El Camino Youth Symphony and is currently in the upper school orchestra. 
Lila's musicality has made her cherish the versatile range of the trumpet, allowing her to fully express herself. From traditional pieces like Joseph Haydn's trumpet concerto to arrangements of her favorite songs from Les Miserables and Hamilton, Lila has grown artistically through the years. 
"I've learned that it's more than playing notes on a page – you can make your own music or you can add your own emotions to something that's already written," Lila said. "You can be really loud and annoying but also emotional with it." 
This pure devotion to her hobbies is a defining quality that friend Nellie Tonev (12) appreciates. 
"I admire her dedication to what she's passionate about, things like music and archery that she's been pursuing for most of her life," Nellie said. "Yet every day, it seems she still has a new passion for these same activities. I really admire that never diminishing flame and desire to keep getting better."
Because of her unfaltering enthusiasm toward the activities she adores, Lila has gained important insights that have undoubtedly shaped her into the open, strong-willed person that she is today. 
"[Archery and trumpet] have made me more open because I used to be pretty shy, and I'm still kind of shy, but it's encouraged me to express myself in different ways and start opening up," Lila said. "I've met a lot more people than I would have, especially through the friends I have made through archery; a lot of them I wouldn't really have known if I didn't do the sport [since] we don't have that much in common otherwise."
About the Contributor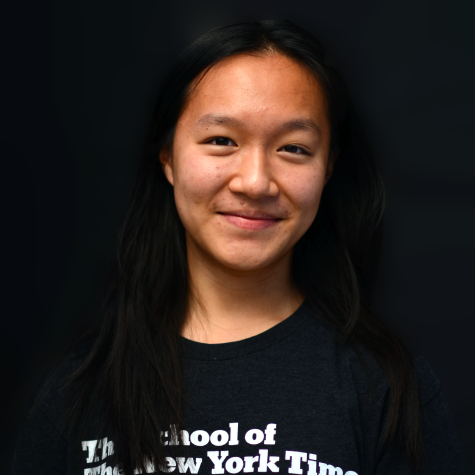 Erica Cai, HoH Co-Editor-in-Chief


Erica Cai (12) is the co-editor-in-chief of Humans of Harker, and this is her fourth year on staff. Her goals in journalism this year are to celebrate...