Humans of Harker: Quirks and all
Jai Bahri (12) contributes both humor and happiness to the community
Leaning against a wooden bench, he fiddles with the rubber band on his wrist, stretching it and letting it snap back as he ponders his answer to the question. An upperclassman passes by and calls out to him, and they fistbump each other in a series of handshakes as they exchange light-hearted banter. The end of lunch nears, and more and more people begin to walk past him, each sharing witty comments with him and laughing before going on their day. Although his friends may poke fun at his "quirky" and "edgy" nature, it is clear that through the dark curls hanging over his eyes and the earbuds streaming punk rock into his ears, the whimsical atmosphere Jai Bahri (12) brings to the community benefits those around him. 
Jai's gregarious personality is evident even in the mundane nuances of his day-to-day life. During lunch, Jai can often be seen amid a throng of people crowded around the green tables next to the library, joking with his friends. And on Saturdays, Jai often goes to the Cupertino library with fellow peers to study as he finds he is most efficient when with other people. 
"I definitely tend to hang out with friends more. Even when I'm alone, it's not like I'm completely isolated, I'm still texting," Jai said. "At Harker, it's such a small community, so you're kind of friends with everyone." 
Past the jest and the humor, Jai also supports his friends in meaningful ways. Close friend Mihir Dixit (12), who has known Jai since third grade, appreciates the inspiration Jai gives him to take that extra step in whatever he does. 
"Especially even during this application season, he always pushes me extra [hard] to contact teachers or check-in with them or contact college counselors," Mihir said. "I wouldn't have gotten valuable pieces of information from counselors if he didn't make me do that."  
Deeply involved in a plethora of clubs, including Model UN, National Honor Society, and Junior State of America, to name a few, Jai uses his outgoing personality to unite the many microcosms he is a part of. With events like Model UN conferences, these organizations often give him an opportunity to get to know other people. 
"There's a lot of people that I met [at Model UN conferences] that I'm still in contact with. And it's really fun for the few days that you're with them because you eat lunch with them, you eat dinner with them, you hang out, so that's pretty fun for me," Jai said. 
Jai's contagious and seemingly infinite energy, one of his defining features according to friend Jack Jia (12), may be the cause of Jai's amiability and light-hearted nature. 
"[Jai] is a very energetic person. He jumps around all the time [and] talks a lot," Jack said. "He pretends to be chilling all the time, very relaxed all the time, but actually, I feel like he's working really hard in the background."
Even though his boisterous personality now brings joy to so many of those around him, that same energy used to be a stubborn quirk when he was little. 
"I've definitely learned to control my energy because I have a lot of it usually. One of my teachers used to joke that I gave her gray hairs [because] I didn't exactly sit still in class," Jai said, grinning. "If I'm in class, I'm still going to be making snide comments on the side, but I'll actually focus on the material and enjoy it and ask questions."
These "snide comments" that used to be viewed as a problem are now celebrated by both Jai's peers and his teachers. Upper School chemistry teacher Robbie Korin, who taught Jai in his sophomore year, values the upbeat atmosphere that he brought to the classroom environment. Although he no longer teaches Jai, their casual banter and inside jokes still continue. 
"Now [Jai] said I was supposed to [say that] he was a really bad student, so to make Jai happy, he was awful," Korin said, chuckling. "But no, he was a good student. You could joke around with him very easily. He could take a joke, and he'd give it back to you." 
Despite Jai's laidback exterior, he possesses a hard-working personality that he spreads to those around him. 
"It's easy to get caught up in school and working hard, which is all fine, but, you're working hard with people right alongside you, so it makes it a little easier," Jai said. 
Mihir also recognizes Jai's ability to accomplish whatever he sets his mind to, whether it be in academics or in extracurriculars. 
"I think one of the biggest traits about him that's going to make him really successful in the future is his ability to hustle. He has this way of getting what he wants," Mihir said. "We used to play tennis together, and he would have no skill in the actual sport, but he does whatever he can to win, and that's what I really like about him." 
Ultimately, Jai does not conform to the typical beliefs of others, rather going with what life brings him at a particular instance. 
"I'm not like one of those people who has a core set of values or tenets of who I am," Jai said. "I feel like I just do what I do, and I am who I am in the moment. I don't adhere to anything."
But this same uniqueness that sets him apart from others makes him a leader and admirable member of this community that accepts him, quirks and all.
About the Contributor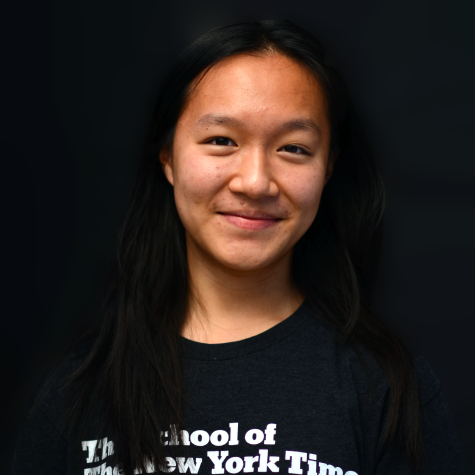 Erica Cai, HoH Co-Editor-in-Chief


Erica Cai (12) is the co-editor-in-chief of Humans of Harker, and this is her fourth year on staff. Her goals in journalism this year are to celebrate...