Humans of Harker: Built for the job
Sanjay Rajasekharan (12) walks through life with friends
Standing next to an intricate machine, fit with rubber rollers and metal bars running up and down the sides, Sanjay Rajasekharan (12) fiddles with a large battery that powers the entire robot. He smoothly yanks out a red and black cord, and firmly attaches a recharged battery in its place. As technical president of Harker Robotics, Team 1072, Sanjay has worked with the team from the start of freshman year, learning from mentors and upperclassmen, and in the last two years, he has taken leadership responsibilities, guiding new members of the program.
"[Leading robotics] has been just like the same attitude I've approached everything [with] recently. It's taught me that most people don't actually know what they're doing, and it's the people that are willing to admit that they don't know what they're doing and try to learn that do the best," Sanjay said.
Anand Rajamani, one of the team's mentors and a current college student in the area, has taught Sanjay and seen him grow during his time in robotics.
"When I met Sanjay, he was was a pretty shy freshman, but he was never afraid to ask questions. Over the last four years, he's grown immensely as a technical powerhouse on the robotics team," Anand said. "Eager to learn and quick to correct mistakes, he knows way more about robots than he gives himself credit for. He's also become much more confident and at home being himself, in his own way."
Although he has built confidence through robotics, due to stress from senior year, Sanjay has dedicated more time to relax and to be with his friends to ease his mind.
Staying away from a constantly stressed mindset by worrying less about the little things gives Sanjay time to talk to friends, specifically taking long walks around campus and talking about their daily lives.
"We walk around campus and like to take laps. Those are really when we've had our best conversations and helps our brain flow," Finn Frankis (12), executive president of the Harker Robotics team and close friend, said. "We've had some really fun times, being unrestrained, unchecked and talking about anything we want."
Sanjay brings up the morale of his group through the words he says by laughing and having fun at the right time but still being supportive and helpful when one of his friends feels down.
"Sanjay says things that seem really minor, but they mean so much in the moment. If someone is upset, he'll say something like 'You're the best,' which is something that doesn't seem like a big deal, but it makes such a big difference in other people's lives," Hari Bhimaraju (11), close friend and operations president of Harker Robotics, said. "I've realized that the little things that he does improve the lives around him so much."
In addition to spending time with his friends to reduce his stress, he watches football with his family, a stalwart part of his Sunday since he was young.
"Both my parents lived in Texas and I was born in Texas, so it's become a family tradition to watch football every Sunday. It's like a cult or obsession," Sanjay said. "I feel like that's what it feels like when you care about something that has very little inherent value and have so much emotional attachment about the team you support."
But at the end of the day, Sanjay puts forward his authentic self, being there for his friends, no matter the situation.
"Authenticity is one thing that he's really stressed by being yourself and trying not to put on a face for other people. He's just his honest and true self, and that's one thing he embodies," Finn said. "If you need help anywhere in your life, he's happy to talk and help you out. He has a great sense of humor, and he's great to talk to."
About the Contributors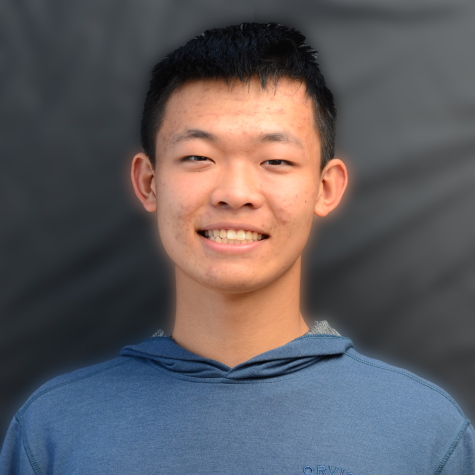 Mark Hu, Winged Post Managing Editor
Mark Hu (12) is the managing editor of The Winged Post. This is his fourth year on staff, and he previously served as the STEM editor and a staff reporter....
Irina Malyugina, Photo Editor
Irina Malyugina (11) is the photo editor of Harker Aquila and the Winged Post. This is her third year on staff. She has a passion for visual storytelling...