Humans of Harker: Culture and community
Catherine Zhao (12) embraces others' experiences
On a windy Monday afternoon, Catherine Zhao (12) sits on a bench behind Manzanita, describing a retreat at Walden West, an outdoors environmental program with around 100 participants from the Interact Club, a service program for young adults extending around the Northern California region. She views the annual event to be an apt demonstration of the term "community" itself. "It was a very community-oriented experience," she decides, and fondly recounts having no access to a cell phone and rooming in cabins for two days and one night.
Catherine, who began participating in Interact as a freshman with advice from senior classmates and is now the president, has found herself connecting with other participating students. The club organizes events such as charity dinners and cooking for homeless shelters. 
"Because [there is] a community service requirement you have to fulfill to graduate, it sort of feels like a necessity," Catherine said. "I want to understand it as an enjoyable experience, like something you voluntarily choose to do, and that you genuinely care about the people that you're helping."
Since the club extends off-campus, Catherine meets with others invested in similar ideas of community, who introduce perspectives outside of her "social circle" at school. Apart from forming lasting friendships, Interact provides a platform for her to visualize the impact of her service work. 
Catherine continues to provide opportunities to marginalized groups through writing for the monthly publication Her Culture, a magazine that focuses on creating a space for women and people of color to express their own ideas. 
"[Writing is] a lot about being introspective, so speaking about things that maybe you aren't comfortable with," Catherine said. "A lot of it is about race, identity, politics and the intersection of the three … A lot of these issues don't affect me personally, but it's still interesting to me because I just like listening to stories and talking to people."
In the current social climate of the U.S, she hopes to open up paths for individuals to share their experiences through dialogue, even if the topics, such as sexual assault, are not personally pertinent. One of her early interviews with Amanda Nguyen, a 2019 Nobel Peace Prize Nominee and CEO of the civil rights organization Rise who was raped while in college, introduced a raw testimony to real-life issues. Nguyen's ability to turn her experience into progress further pushed Catherine to feel "almost obligated to do something."
While learning about less personal issues, Catherine has also discovered stories close to her own community. Following the release of "Crazy Rich Asians," she spoke to Asian-American advocates about the unprecedented content of the movie along with civil engagement. Inspiration also came from her parents, who immigrated from China to the U.S. While growing up, there was little discussion in her family about the process of acculturation, sparked her curiosity about everyone's "unique experience" and "take on life." Using her parents' experience as a starting point, she began to explore how others define themselves.
As treasurer of WiSTEM, a club for women to participate in STEM related subjects, Catherine plays a crucial role in coordinating the Research Symposium, an annual science event that brings in speakers and hosts workshops based on each year's theme. She ensures that fundraisers are sufficient for the organization the club supports and organizes a project in Western Kenya which provides resources for young girls to obtain an education.
Aarzu Gupta (12), president of WiSTEM, notes that Catherine is willing to help out and provide guidance. Close friends Eileen Li (12) and Michelle Kwan (12) describe this characteristic as "one text away" or "if you want to walk around, she'll take that walk with you."
"She's an honest person, and she's willing to share her perspective on any situation and give advice if you need it," Aarzu said. "She's a really good listener, and she's always available. We have Skype calls past midnight sometimes, and on the weekends if any of us need anything."
Catherine's resolute dependability in her friendships carries on into her drive to honestly express her own opinions regardless of judgment and candid nature.
"A lot of people put on a facade to seem a way to others, but I think her authenticity is something that is really rare and really valuable," Aarzu said.
About the Contributor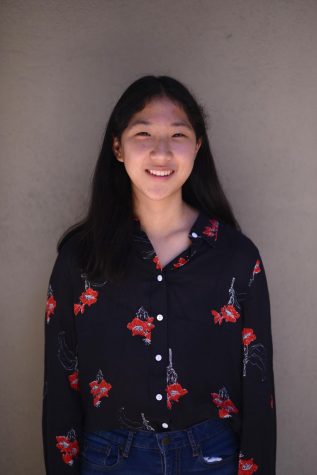 Nicole Tian, Aquila Co-Editor-in-Chief
Nicole Tian (12) is the co-editor-in-chief of Harker Aquila. This is her fourth year on staff, and she previously served as the opinion editor, co-lifestyle...