Humans of Harker: Blazing his own trail
Henry Cuningham (12) balances individualism with care for others
Wearing a black "thrasher" hoodie and navy blue sweatpants, Henry Cuningham (12) allows himself to sink back into his seat while talking about the latest anime he has begun watching. Despite his joking personality, Henry likes to keep things low-key. For example, not many know that Henry has not only lived away from home but has also lived in a different country. For Henry, living in Japan for six weeks proved to be an exciting opportunity that aligned with his independent personality.
Last summer, Henry stayed with his aunt and uncle while taking full-day Japanese language classes and teaching English as a volunteer. 
"I really like bonding with people of different mindsets, different cultures," Henry said. "All these different cultures around the world, they're distant in the fact that you almost don't even know if the culture exists if you don't understand their language. Once I went to Japan and started studying the language, so many different aspects of their culture just made themselves apparent to me. It was like a whole new world."
Henry was drawn to Japan by his interest in Japanese culture, along with the fact that his mother went to college there. His mom's journey from China to Japan to the U.S. has influenced Henry's outlook on life as well. 
"My mom's a hospice nurse, and she started off from rock bottom. And since she was so nice to people, people were nice to her and gave her opportunities. So it taught me to be nice to people, and that everything revolves around people," Henry said.
His mom's job led him to volunteer at San Tomas Convalescent Hospital where he's made close friendships. Once or twice a week, Henry spends time at the nursing home helping out with activities like Bingo and talking to the people there. 
Henry's empathy and concern for the wellbeing of others extend beyond the nursing home. When his close friend, Haley Arena (12), lost her dog, Henry comforted her and took her out to dinner. 
"That really meant a lot to me at a difficult time," Haley said. "[He] balances well with me—I'm a pretty stressed out person. He reminds me to not let things get to me so often."
In addition to caring for the elderly, Henry also does what he can to help animals. Specifically, he adopted his current dog, a poodle named Snowball, after finding him dirty and ownerless in the parking lot of the hospice where his mother worked. 
"The dog that was there was pretty much pitch black with streaks of grey," Henry said. "He was super frantic and was like constantly barking and cowering under a car." 
When Henry was eventually able to get the dog out from under the car, he convinced his mother and father to take him home. 
"My dad always kind of wanted a dog so he was okay with bringing him home," Henry said, chuckling. "My mom on the other hand really did not want that dirty dog in the house, so my dad and I hosed him down before bringing him in. Only after we did that did we found out that his fur was actually white and not gray or black, and that is where the name 'Snowball' came from." 
Now, eight years later, beyond spending quality time with other students, Henry loves playing games like fetch with Snowball and teaching him tricks. 
"Sometimes when I'm having a bad day, Snowball just really cheers me up, and he's like a friend that I can depend on at any time of the day," Henry said. "Even though he's a relatively old dog, he really never fails to amaze me with how much energy he has." 
With kindness and empathy serving as some of his core values, Henry abides by the golden rule: treat others as you want to be treated. An introspective person himself, Henry enjoys sharing self-reflective moments with people. 
"I like having those deep conversations with people," he said. "I like people that aren't too absorbed with schoolwork. I like people that are motivated, but they can take a step back and chill."
At the same time, Henry described himself as individualistic. He unwinds from schoolwork by kicking off on his bike, cruising through the surrounding neighborhood or to the mall for food, enjoying the feeling of the breeze. 
"I think he is pretty independent even though we spend a lot of time together. He used to say he needed to"'recharge' at the end of the week," Haley said. "When he is with people he's really competitive though, not like Harker competitive over grades but friendly like in games and such. I think that's where his individuality shows."
Outside of school, Henry plays video games such as Overwatch, Call of Duty and Counter-Strike: Global Offensive with a passion. In fact, he joined an esports team of 9 other video gamers and receives coaching specifically on how to step up his game in Overwatch. 
"We used to play games together, and he was always so much better than I was, but he always put up with me and brought me along to get better," Griffin Cook (12), Henry's friend of seven years, said.
Henry's love for video games led him to explore other creative activities. For example, upon being dissatisfied with the keyboard he was using for gaming, Henry decided to order parts to build his own. 
Henry brought this same creative energy to the final project of his AP Computer Science A class last year, designing a program that used relative frequencies and amplitudes to identify beats in an inputted mp3 song. 
"I think the only way he could have done that final project is if he was a deep thinker and a really curious person and willing to go after information," upper school computer science teacher Susan King said.
Through teaching Henry computer science last year, King also got to know some of Henry's sense of humor and what she described as his "gentle, kind and warm personality."
"He's like an oyster that has a pearl inside," she said. "He's a really special human being."
About the Contributor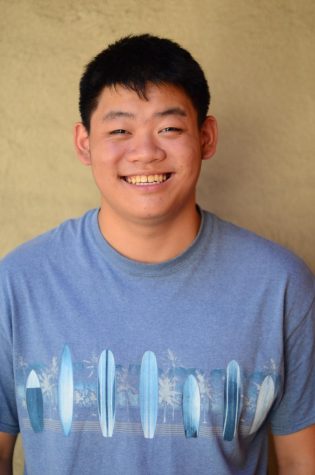 Eric Fang, Winged Post Editor in Chief
Eric Fang (12) is the co-editor in chief of the Winged Post. This is his fourth year in Harker Journalism, and he hopes to hone his skills as both a writer...