Humans of Harker: Calling the shots
Henry Wiese (12) balances logic and charisma to support others
Henry Wiese (12) leans forward, aligning his back parallel to the sides of his computer screen, poised to call his team's final strategy in a game of Overwatch. A mash of keys and a flurry of mouse clicks ensue, and, with repeated micro-adjustments to the plan voiced through his headset, his team completes the objective and wins. His headphones are gradually pulled off as he says into his mic "good game," and refocuses on the real world. 
"I love video games. If I'm just trying to have fun, there's nothing better than just sitting down and grinding Overwatch or Minecraft or whatever it is [I'm playing] at the time," Henry said. "I also feel like video games are more enjoyable with friends. If I'm ever trying to just relax, sitting down and playing and laughing with my friends is unmatched." 
For Henry, the grind of ranking up in Overwatch is something he embraces wholeheartedly; his every move is in pursuit of becoming a better player. 
"He watches [The] Overwatch League on Twitch all the time and he really tries to improve in the game like one would practice a sport. He might not be the best player, but you can tell he wants to improve," his friend Liam Bakar (12) said. "I love playing video games with him because we're able to focus solely on the game during matches and we're able to joke about the matches while we're not playing."
Henry's role in Overwatch, support, doesn't do the most damage or require the most mechanical skill but rather focuses on being there to help teammates. The role requires the ability to develop efficient strategies and solve problems in the game while voicing ideas effectively to his team; in other words, to play support he needs game sense, the ability to know the best next step at all points during a game. These skills translate to his interest in computer science. 
"Basically, I'm better at encapsulating the entire situation and making call outs and strategies. The way to get game sense is just by playing the game more," Henry said. "Similarly, as you do more projects in computer science, you start understanding what constructs or methods or strategies you can use to solve the problems you are trying to solve. The optimal solutions are more and more visible the more similar situations you experience."
Henry's close friend Anya Gert (12) believes that his rationality is the driving force of all his interactions with others.  
"He's probably one of the most logical people I've ever met, and he uses it to help people. He's quite the helpful friend," she said. "If I'm freaking out and being annoying about something he always analyzes the situation step-by-step calmly instead of attacking me."
When he first began to play volleyball in middle school, Henry heard a maxim that has stayed with him and influenced his logical thinking in all parts of life: even when volleyball players do not know if they can stop a ball from hitting the ground, they still dive after it just in case they can. 
"I think that the analogy of just trying to dive even when you think you can't reach something is just as applicable to life. If you don't go for the ball, you just lose the point. You might as well just dive because a quarter of the time you succeed, and it becomes worth it," he said. "Sometimes there is something to lose though — I'm not going to dive for a ball if it means my face lands on my teammate's knee. It's all about calculated risk. Knowing that sometimes things aren't going your way is important." 
Henry's analytical side is balanced by charisma, poise, and maturity. While working on computer science projects over the past three summers, Henry learned a valuable lesson in working with others.   
"I think it's important to learn how to work with basically everyone, whether or not you really disagree with them or are completely aligned with them," he said. "Effective communication with people without having a conversation devolve into an argument is something I've learned to value a lot."
His twin sister Jasmine Wiese (12) shares that Henry was charismatic even at a young age. 
"In 5th grade he was in "Oklahoma!", the upper school musical (one year they wanted 5th graders). Ever since then, until I reached high school, everyone on the upper school campus knew me as Henry's sister," she said. "People from the classes of 2012 and 2013 know Henry all the way to now where people in middle school know him. Over a decade of generations of Harker know who Henry is. That's just a testament to the effect he has on others."
About the Writer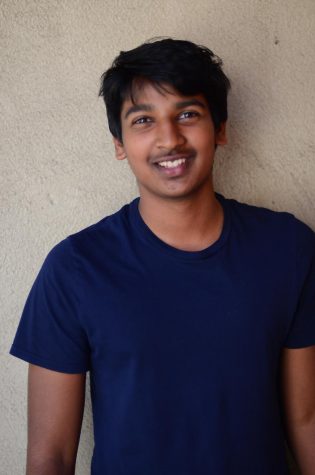 Srinath Somasundaram, Winged Post Managing Editor
Srinath Somasundaram (12) is the managing editor of the Winged Post. This is his fourth year on staff, and he aims to improve his designing abilities and...