Humans of Harker: Power in words
Prameela Kottapalli makes an impact through storytelling
Behind the tinted doors of the journalism room, Prameela Kottapalli (12) is always hard at work. You can find her completely immersed in her work, constantly writing and editing, fingers flying over the keyboard as she makes comments and suggestions. Other times, you can find her casually moving around the journalism room, making sure everything is running smoothly.
After discovering her fascination with storytelling at a young age, Prameela cultivated her interest and began expressing herself and telling her stories through creative writing. Upon entering high school, journalism sparked interest in Prameela, but she didn't quite realize it until the summer of her freshman year.
"Journalism raised my awareness, and I was like 'I should do something. I have to do something.' It was that moment of breakthrough and revelation. And that was the foundation for a lot of the work that I did in journalism my sophomore and junior years. Even when I wasn't writing, I was still doing a lot of reporting, like talking to activists and political figures. That continually fueled my dedication to not only journalism, but also to the social aspect of politics."
Though starting as an outlet for her creativity, journalism has become a key aspect in her life and has led her to something far greater—a voice.
"When you think about it, we're only 16-year-olds," she said. "How much can we do? We can't even vote. I'm aware of this. The people my age are aware of this. But the world doesn't give us straightforward opportunities to make a difference. So writing was the way I could be able to promote awareness. So this was the breakthrough that I had for journalism, but it was also the breakthrough that I had in life."
Journalism has fostered Prameela's growth not only as a writer, but also as an involved member of the community. Through paths of activism and political involvement, she has had a stronger presence in the community by being engaged in current events and writing empowering articles on topics such as gun control and immigration policy.
"What drew me to journalism was, 'I want to tell people stories.' But what kept me with it was just having this consistent outlet through which I could just write and keep on writing," she said. "It also allowed me to be a very involved member of my community. The stuff that I could be telling stories about could range from the dance show to the Black Lives Matter movement. I've had some of my most incredible interviews through journalism, and those connections that I've formed through interviewing people and writing with people were some of the most intense and inspiring conversations that I've ever had. And storytelling, to me, is kind of a sense of form of these connections. Those connections really showed me what I wanted to do in life, which was to continue being someone who is engaged and serves in the public sphere in some way."
Along the lines of creativity and creative writing, Prameela also founded Power of Words, an organization dedicated to hosting writing workshops for children at Boys and Girls Club. The organization, which she founded in April of 2017, has worked with about 40 kids so far and hosts workshops at public elementary and middle schools around San Jose.
"I founded Power of Words in spring of my sophomore year," she said. "For me, creative writing was always something that was personal and intrinsic compared to journalistic writing, which is very much service and world awareness oriented. So, I wanted to share it with the world and do something service oriented with spreading creativity. But there was a gap in the service world, since there weren't any local organizations dedicated to promote creativity and creative writing. There were organizations that taught essential skills, like math and science, but honestly what's more essential than self-expression. So that's what really started POW."
Her love for writing and talent for it is part of everything she does, including her academic classes and even across languages.
"Linguistically…[she] could express herself really clearly and smoothly, with some fluency," Abel Olivas, her Spanish teacher for two years said. "I was really impressed with how good she is with literature and how inspired she is to be a writer…it was cool that she had an interest in [writing] because her talent was evident from the beginning."
Aside from being a journalist and doing creative writing in her spare time, Prameela has another side to her that is often unknown—she is a basketball player. Ever since fifth grade, she has been dedicated to participating in the sport, inside and outside of school. Playing as a center on the basketball team, she scored 12 points in their CCS game, creating her season scoring high for the year.
"Every emotion is out there when you're playing a sport," she said. "And with basketball, it's almost heightened because it's such an intense contact sport. And I've had a little trouble with the contact and the aggression throughout. People say that I'm a gentle giant, which is a pretty accurate and applicable term. You have your highs and your lows, and I love how it's kind of gritty almost. Basketball has definitely taught me some grit."
Even though basketball has become a less prominent part of her personality throughout her high school career, it is still an important aspect of Prameela's life, especially the exercise and team community aspect of it.
"Basketball has been an interesting journey," Prameela said. "It's something that I have been doing for a really long time, and looking back, it's kind of crazy to think that I followed with it throughout high school, even though at times it was a lot. But I stuck with it, and I'm really proud of that."
On the surface, basketball and journalism seem to be completely different, but both provide Prameela with a community where she can thrive and bolster her talents.
"With basketball, it was closer to me because not many people knew that I played basketball. It was kind of nice having a little community that was separate from everything else," she said. "With Journalism, everything was out there. There was so much to write about and so much to be aware about, and Journalism just showed me all of that and helped me have a bigger presence in my community. It helped me serve and be there."
Prameela's extracurriculars have kept her busy, but a main constant in Prameela's life is her mom. Even though their personal situations have not always been smooth sailing, her mom's support has allowed Prameela to pursue her interests and achieve her goals in those fields, especially when driving Prameela to workshops and taking the time to make sure Prameela had enough energy and sleep.
"I think what helped me through this time was my mom," Prameela said. "There were a lot of changes that happened in her life, but at the same time, she was my rock and this incredible support system. Without having her there, I would not have been able to do a fraction of what I did for Journalism or stick with basketball for all four years. She became a single parent beginning of sophomore year, but she was still able to support me so much. She's the reason why I was able to balance everything because she was my balance."
Despite her bustling life and packed schedule, she finds time to socialize with her friends and is always there to comfort and support them.
"One memorable moment I've had was in sophomore year when I had a really bad time at practice and I came outside and saw Prameela, who immediately asked me what was wrong," Neha Tallapragada (12) said. "She told me, 'Dude, you can't be so hard on yourself,' and proceeded to basically give me a speech on how awesome I was even though she had to go to basketball practice right after. She's super busy and she's always doing a hundred things, but she always sets all of it aside to prioritize her relationships with other people, particularly her friends, and she's really selfless in that regard."
Regardless of her commitments and the situation, Prameela takes time out of her day to interact with people, even if it's just for a few minutes.
"If you try to walk with her anywhere, it takes about three times as long as it normally would because she stops and talks to a bunch of people on the way," her good friend Anusha Kuppuhally (12) said. "Her personality is truly zesty, and she can alternate from making strange faces at you and falling over laughing to discussing serious topics like activism and educational inequality. When it comes to Prameela, my interactions with her are always a surprise and unpredictable, and our conversations completely depend on her mood at the time."
About the Contributors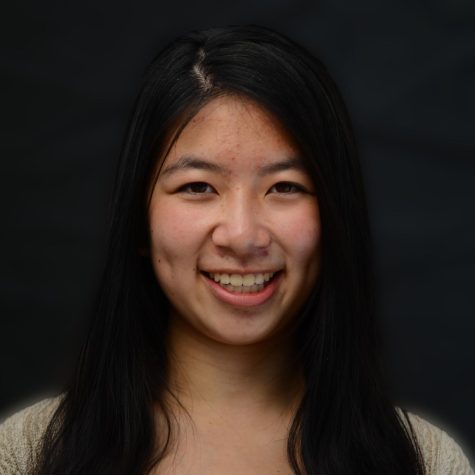 Irene Yuan, Aquila Co-Managing Editor


Irene Yuan (12) is the co-managing editor of Harker Aquila with a focus on multimedia and social media. This is her fourth year on staff, and she hopes...
Ryan Guan, Executive News Editor
Ryan Guan (12) is the executive news editor for Harker journalism. Ryan has been on staff since starting high school, having previously served as a Wingspan...