Humans of Harker: Collaboration
Joel Manning creates more with others
Joel Manning (12) speaks to a group of his peers using his arms to further emphasize his main points and putting everyone, himself included, to work on a new project. As executive president of Harker Robotics, Joel mainly focuses his time on robotics, though it initially started as only a possible hobby and way to make friends.
"Just after starting out doing robotics, it became a large part of my community and people. It was sort of my first exposure to Harker," he said. "I went to the robotics summer camp, and I had been on this campus for a day before shadowing but pretty much knew nothing else, so a lot of becoming accustomed to Harker was through the robotics team."
Initially, while Joel enjoyed the company of many of his friends, he focused on more personal projects and goals.
"When I was a freshmen, I basically didn't speak and people joked that I had a one word vocabulary which was just 'ok,'" he said. "I said 'ok' to a lot of things and would just sit in the corner and write code whereas now I don't write as much code, I try to understand people more which is more difficult because people are weird. That's not where I would've expected to see myself."
Yet, Joel began to embrace the teamwork aspect of robotics more as he began to teach the concepts he had learned from his predecessors. As he learned to love the collaboration involved with robotics, Joel pursued other groups such as HarkerDev, a development team at Harker that work to build applications to assist students.
David Melisso (12) expressed his gratitude for Joel's adept collaborative nature as part of HarkerDev.
"Without Joel, many projects and deadlines would go untouched and left behind. When the Bell Schedule was passed on to HarkerDev, he took on the project immediately," David said. "We had all been focused on the new projects that HarkerDev was working on, but he stayed behind and made sure that Bell Schedule stayed updated."
Along with working with fellow students, Joel found an online community of game developers and currently works on a strategy game known as Istrolid. Initially beginning as a player of the game, he made tidbits of code to assist players, eventually joining the developers.
"I think it's a sort of fun unique experience as far as programming. I've made a bunch of things, but for most of those, it's never at a scale where other people will see them. Usually, I'll just use a piece of code I write once but that's it," Joel said. "But with Istrolid, while it's not a massive game, it definitely has a bunch of players playing at any given time during the day, and I can really see my changes affecting people on a larger scale."
Working with a team of fellow programmers came with time for Joel, who often works with his younger brother Casey Manning.
"I remember that when we were younger, me and Joel would spend lots of time programming games together. Often times on school breaks, we would really enjoy spending time thinking of and creating a game that we would build together," Casey said. "Joel has always had a really collaborative mindset, and I always enjoy being able to work with him on projects he is excited about."
Currently, Joel focuses himself on larger projects that require help from peers drawing a clear distinction between real life and the classroom.
"It's awesome to be able to solve things that are too hard to solve on your own… In robotics everything is a challenge, and everyone has to work at it together for a long time to be successful at all," he said. "It brings you closer to the other people who you're working with for so long. There aren't as many opportunities to do something like a big project in traditional schooling ways."
Looking back, Joel identifies the early connections he made with his peers as the key to what makes him keep learning, coding and teaching.
"Robotics started as my first exposure to the campus. It was a big part of my first few interactions at the school, but I think I almost immediately gravitated towards the teaching and collaboration aspect of it," Joel said. "And I think that's what makes me tick: building things, big or small, with others."
About the Contributors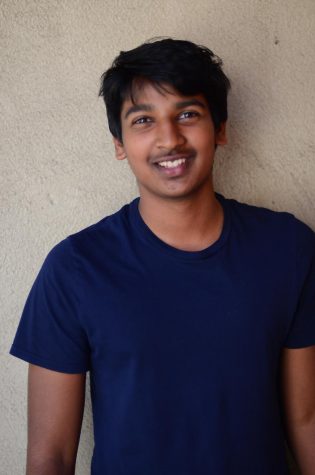 Srinath Somasundaram, Winged Post Managing Editor
Srinath Somasundaram (12) is the managing editor of the Winged Post. This is his fourth year on staff, and he aims to improve his designing abilities and...
Irina Malyugina, Photo Editor
Irina Malyugina (11) is the photo editor of Harker Aquila and the Winged Post. This is her third year on staff. She has a passion for visual storytelling...