Varsity girls tennis team loses a close match against Menlo on senior night
The varsity girls' tennis team lost their senior night game 2-5 in a close match against Menlo High School this afternoon at the Santa Clara Tennis Center, boosting their record to 13-3.
The Eagles were placed in a tough match against Menlo, switching their lineup to even out the players' abilities. As always, they played four singles and three doubles matches.
Pamela Duke (9) played number one singles, winning the first set 6-2 and losing the second and third set, 4-6 and 2-6. Freshman Liza Egorova pulled away with a win at number two singles with a score of 6-4, 3-6, 7-5.
Sophomore and co-captain Elizabeth Schick secured her match easily at number three singles, winning 6-2, 6-1. Finally, Riya Singh (9) lost a close match in a tiebreaker score of 7-10.
Connie Miao (11) and Gloria Guo (10) could not secure the win in their match with a score of 2-6 and 3-6 at number one doubles. At number two doubles, senior Izzy Gross and sophomore Karina Butani also lost their match 3-6, 4-6.
Kathleen Cheng (10) and Aliesa Bahri (10) also lost with a score of 2-6 in the first set, 6-4 in the second set, and 1-6 in the third and final set.
Menlo was able to stay consistent and place the ball in the correct places on the court, which allowed them to walk away with the win.   
Tonight, the team honored senior and co-captain Izzy after the game ended. To start off, head coach John Fruttero gave a speech about the overall strength of the team.
"The fact is that this is the best team we ever had," Fruttero said. "We also have the most heart than any previous team. We're the closest team than we have ever had. The youngest team and the future's still bright."
Even after her loss, Izzy was spirited during her senior night celebration, as she has played for varsity tennis all four years at Harker. She commented on the support of this year's team and she looks forward to playing in the WBAL tournament next week and the CCS Championships the following week.
"As Coach John said, I think this is a great team," she said. "We've got a really strong singles section and our doubles are also pretty strong and I think that we have a really, emphasize on that word, good chance at WBAL and CCS. I will definitely miss the tennis team though."
The girls put together a dinner with pizza, salad and cookies and handed Izzy multiple posters of all her years on the Harker tennis team. Her father also participated in the ceremony, showing the team a visual timeline of her tennis tournaments. Coach Fruttero handed her a bouquet of roses at the end to celebrate her victories over the course of her high school tennis career. Then, the team and parents  all watched a special video about Izzy made by the tennis team.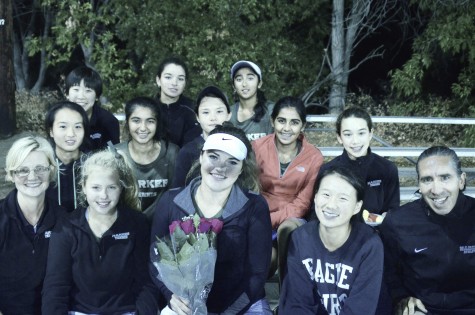 Co-captain Elizabeth will miss her co-captain as she moves on to college after this season ends.
"Izzy treated me like her younger sister last year when I was a freshman," Elizabeth said. "Now she's a senior and I'm really sad that she's leaving. The team and I are going to miss her a lot when she's in college and hopefully she'll come down to visit. But, she's been a great friend to me, a great teammate and I couldn't ask for a better co-captain this year."
Aliesa also discussed Izzy's personality on and off the court.
"Izzy is one of the most hilarious, nicest and most awesome person I've ever met," she said. "She's definitely affected my tennis last year and this year. When I was a freshman, she made me feel very welcomed and she's just always in high spirit, which kind of rubs off on you."
The girls' tennis team will advance to the WBAL Tournament next week on Nov. 2 and Nov. 3 and participate in the CCS Championships during the week of Nov. 9.
About the Contributor
Anjay Saklecha, Senior Copy Editor
Anjay Saklecha (12) is the Senior Winged Post Copy Editor and Columnist. This is his fourth year on staff. He was the Copy Editor last year and former...