Fantasy sports leagues take off as professional seasons begin
Do you have what it takes to put together the perfect sports team? National sports leagues offer you the chance to put together teams in your own way while competing with other team managers.
First you decide the league to participate in. Private leagues are usually among friends, whereas public leagues extend much further and involve cash prizes and trophies. Then, the owner researches available fantasy players in order to rank them according to your preferences. At the beginning of the fantasy season, the draft takes place.
"So I decided to play [fantasy football] with my friends," Sushant Thyagaraj (10) said. "We have our own private league at Harker with a few people which one of us created, and I find it pretty fun so far. This is my first experience with fantasy ever."
During the fantasy draft, team managers draft professional players onto their teams. Managers must choose seven of those players to put in their starting lineups to face their opponent (this number varies for different sports). Individuals who have drafted a team must strategically decide which of their players they feel will perform well to help gain points for the fantasy team.
"I usually play fantasy basketball with my friends," Andrew Gu (11) said. "The season has not started yet, but I like to participate in the draft with a couple of friends so we can get a couple of decent players instead of being super standard. Last year, our league fell apart because no one was there to manage it, but this year we hope to stay competitive."
As the real players participate in games each week, each player's actual stats are converted to fantasy points. If two fantasy teams choose to face off at the beginning of the week, their fantasy points are tallied at the end, where the team with more points wins. The strategy comes into play when the fantasy owner must choose who to keep and drop on their team based on weekly performance.
"I just check in once a week for the player stats," Shasvat Jawahar (11) said. "This way I can pick the players that will go on my team. Also, I play fantasy basketball, but I guess the fantasy sports all work pretty similarly."
As fantasy owners continue winning games, they move up the ladder to the playoffs. At the end of the fantasy season, teams in the playoffs participate in a single elimination tournament until one winner is determined.
"What I do is I look at the matchups and the stats to create my lineup, but you mostly use your gut and your feel to make the right choices," Akhil Arun (10) said.
Additionally, team managers can initiate trades with each other. Since there is no other way to change initial team rosters, fantasy players are motivated to trade with others to form the perfect team. Fantasy sports seasons can vary in length depending on whether they are public or private leagues. Whether you are an avid sports fan or just a casual sports follower, fantasy sports can be good for expressing enthusiasm in sports with friends.
About the Contributors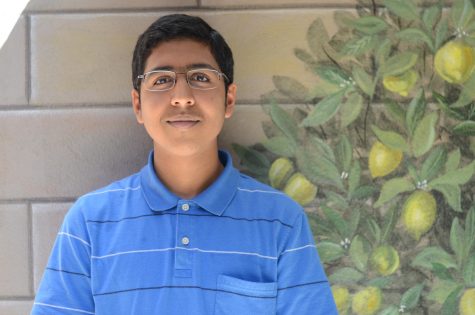 Vijay Bharadwaj, Opinion Editor
Vijay Bharadwaj (11) is one of the opinion editors for The Winged Post and Aquila. She served as the assistant opinion editor and the Wingspan copy editor...
Anika Rajamani, Reporter
Anika Rajamani (12) is a reporter for the Winged Post. This is her fourth year on staff. Outside of journalism, she loves to dance. Anika also loves to...