Eighth graders visit the journalism program
To welcome the incoming freshman journalists, current staff members of Talon, the Winged Post, Wingspan and Aquila held a casual meet-and-greet to introduce the eighth graders to the program in the journalism room after school yesterday.
At the beginning of the event, editors-in-chief of each publication as well as current staff members introduced themselves to the eighth graders. The eighth graders stated their name, one interesting fact about themselves and which publication they would like to join.
Zachary Hoffman (8) decided to join newspaper for the 2015-2016 school year.
In order to get to know each other, returning staff members held games and activities for the new students.
Sanjana Avula (9), a reporter for the Winged Post, participated in the annual games for the new journalists.
"We played name games where everyone tried to remember everyone else's name," she said. "For two of the games, we were actually in a circle. For one of them, someone had to shout out our name and before they could get to our place in the circle we had to shout out another person's name."
Sahana Srinivasan (9) was one of three freshmen to plan the games, decor and food for the eighth graders.
"We were a bit worried about getting everything together but it turned out well," she said. "Today we started off introducing people and playing a few games on the field, we came into eat and we gave the [incoming] freshman gift bags. It was just supposed to be an introductory thing; not to teach them anything necessarily, but to welcome them into the environment."
After a long day of school and playing games, new and current staff members enjoyed all-you-can-eat Panda Express, soda, candy and ice cream courtesy of the returning staff.
About the Contributor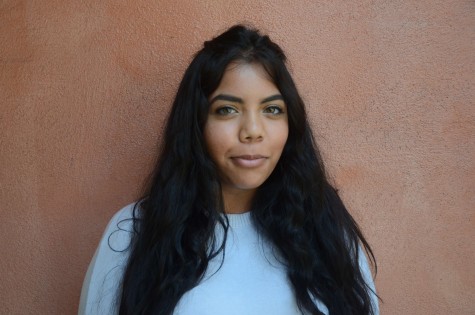 Jenna Sadhu, Reporter
Jenna Sadhu (10) is a Social Media Reporter for the Winged Post and has been a part of the Harker community since Kindergarten. She plays on lacrosse,...