Japanese National Honor Society holds induction ceremony during long lunch
Japanese National Honor Society (JNHS) welcomed nine new members yesterday during long lunch in Room 30 of the Dance Building.
New members included Jerry Chen (9), Elizabeth Schick (9), Gary Tsai (9), Emma Yu (9), Kaitlin Hsu (9), Maile Chung (10), Maria Malyugina (10), Kavya Seth (10) and Alex Sikand (11).
"I think the [induction ceremony] went really well. There were a lot of new members that joined, and I think that helped our honor society grow a lot," JNHS President Kristen Ko (11) said. "I'm excited to work with all the new members to make an even better school year next year."
To be eligible for JNHS membership, a student must be taking an Honors or AP Japanese class and maintain an average of A- or higher in the first semester. Members of JNHS are required to do at least five hours of Japanese-related community service every year and participate in activities hosted by JNHS.
During the ceremony, each new member received a certificate and a red-and-white honor cord from JNHS officers Jason Lee (11) and Kevin Kim (11). The honor cord is given to members of the society and represents the colors of the Japanese flag.
This year's newly-elected officers, Kristen, Jason, Kevin and David Zhu (10), honored last year's leadership and graduating seniors with bouquets. In addition, old and new members took an oath to dedicate themselves to the Japanese language.
After taking the pledge, JNHS members folded paper cranes and socialized with each other.
"[The ceremony] was fun, and there were a lot of people," Jerry said. "We folded origami cranes to strengthen our bonds of friendship."
In February, JNHS hosted Japan Week: a series of activities meant to celebrate Japanese heritage. These events included teaching students how to make "onigiri," or rice balls, Japanese calligraphy and screenings of famous Japanese movies.
JNHS also organized a fundraiser for disaster relief in the Tohoku region of Japan. Members sold shaved ice, candy and takoyaki, a traditional Japanese snack.
Though the induction ceremony is the last JNHS event of the year, officers plan to release a schedule detailing next year's activities over summer break.
About the Contributor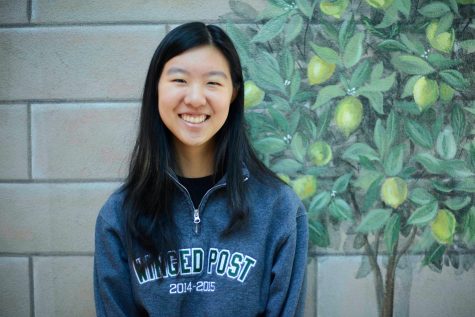 Kaitlin Hsu, Wingspan Editor-in-Chief
Kaitlin Hsu (11) is the Editor-in-Chief of Wingspan Magazine. In her freshmen year, she was a reporter, and in her sophomore year, she was the Features...