Marc Hufnagl holds an exhibition with music from his album "Lunden"
English teacher Marc Hufnagl played songs live from his latest album, "Lunden," in the Nichols auditorium at 11:45 a.m. during long lunch on Wednesday.
During the exhibition, Hufnagl sang and played his guitar to five songs, including two songs from his recently released album and three songs that will appear in his next album, which is set to release sometime in 2015. "Lunden" was officially released in early May of this year and contains ten songs, which can all be found on Amazon, Spotify and iTunes for download. Hufnagl sold CD copies of the album for $5 to both students and faculty at the exhibition.
Kurt Schwartz (11), one of Hufnagl's former students who attended the concert, enjoyed the exhibition.
"He's talented," Kurt said. "I enjoyed listening to him. I really liked his lyrics. He obviously put a lot of thought into his work."
The album title, "Lunden," is named after a small village in the Swiss Alps, which Hufnagl has visited often in his summer trips to his home in the Swiss Alps on the Swiss-Austrian border.
"Typically in the summer when I go [to Lunden], I write quite a bit," Hufnagl said. "So this is why the album is called 'Lunden' because it really was the place where at least half of ten songs in the album were birthed."
Hufnagl has also had a long history in the performing arts. He has played the guitar on-and-off since the age of 13 and also had an extended dance and choreography career interspersed with his professional teaching career.
English and French teacher Nicholas Manjoine has heard Hufnagl play music outside of school as well.
"The last time I heard [Hufnagl play] was a few years ago," Manjoine said. "He was having a get-together and sang a few songs with four or five guitars. He would invite people to show their art."
With the recent release of his first album and the impending release of his sequel, Hufnagl learned quite a bit from the process of songwriting and publishing.
"I'm not trying to be marketable," Hufnagl said. "That's what I've learned. Don't write and create this collection of something that isn't really authentic to what you really are. That's what I'm going into the next [album] with."
Although Hufnagl has already begun his next album, he has yet to decide the sequel's title.
"I have no clue [as to the name of the next album]. It's like I said: just let it happen."
Leave a Comment
About the Contributors
Aditya Varshney, Opinion Editor
Aditya Varshney (12) is the opinion editor of Harker Aquila and the Winged Post. This is his second year on staff. During his junior year, he occupied...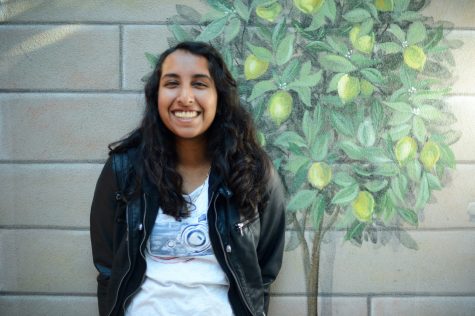 Kshithija Mulam, Winged Post Editor-in-Chief
Kshithija "KJ" Mulam (12) is the Winged Post Editor-in-Chief. Serving as the Winged Post News Editor in her junior year, Winged Post Photo Editor in...