Album Review: Soft Friday by the Coves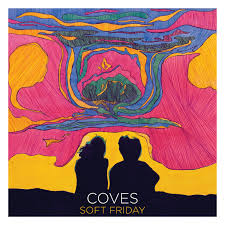 Hang on for a minute...we're trying to find some more stories you might like.
The indie duo Coves (Beck Wood, vocals, and John Ridgard, instruments) released its debut album "Soft Friday" through the German label Nettwerk on Sept. 2.
Featuring a blend of influences ranging from bands like Tame Impala and Phil Spector as well as the genre of psychedelic rock, "Soft Friday" has gained Coves a respectable and unpretentious sound to call their own.
The album opens with "Fall Out of Love," which features a memorable blend of dreamy vocals and dragging guitars reminiscent of the country genre. Wood's crooning is the icing on the cake. "Take what you want and leave me standing here," she sings. "All your effects break my brittle heart, brittle heart."
Minimalism plays a role in several tracks on the album, including "Honeybee," which picks up where "Fall Out of Love" left off with a pleasant synthesizer and a beat that sticks with the listener easily.
"Beatings," the next song on the album, was released separately as a single on Oct. 1, 2013 on YouTube. Though the various instruments used make the piece relatively interesting while listening, this track is not particularly memorable.
After "Beatings" comes "Let the Sun Go," a catchy song which remains one of the strongest songs on "Soft Friday." Wood's vocals and harmonies complement the bassline and ethereal quality of the other instruments extremely well, making this one of the tracks that listeners will remember long after the album is over.
"Let the Sun Go" segues into "No Ladder," which, similar to "Beatings," is an enjoyable listen but fails to be catchy enough to stick around in the listener's mind.
"Cast a Shadow," the other single from the album, dropped on Jan. 14. This track is a lackluster lapse in the album's quality and is repetitive to a fault.
Following "Cast a Shadow" is "Fool For Your Face," an upswing in the album's quality. The vocals mesh well with the lo-fi guitar and synthesizers. "Trying to keep myself serene," Wood sings. "My head's awash with troubled dreams."
"Soft Friday" concludes with two strong tracks, "Bad Kick to the Heart" and "Wake Up." "Wake Up" especially gives the album a perfect finishing touch; Coves definitely waited until the last track to sock readers right in the ear with a flawless guitar riff echoing throughout, matched with breathy vocals.
A triumphant debut, "Soft Friday" has made Coves a lasting and noticeable space in the psychedelic pop genre. While the lyrical content becomes slightly dry, Ridgard's instruments more than compensate for this, making Ridgard the literal unsung hero of the duo.
Coves will attend the Midpoint Music Festival 2014 on Sept. 25 in the U.S. at various venues.