Senior Showcase 2014
Twenty-three seniors put on final performance of high school career
After four years of practice, dedication, and memories, the seniors of the performing arts Conservatory Certificate program will put on their final collective performance of their high school career on May 23, at the Mexican Heritage Theater.
The 2014 Senior Showcase will incorporate the talents of 23 seniors, who have each specialized in one of the following categories: instrumental music, musical theater, vocal music, theater, dance, and technical theater.
The showcase will serve as a graduation ceremony for Conservatory Certificate members, celebrating their passions for the arts. Seniors will perform a solo or ensemble piece that they have prepared over the last year.
"I think the seniors every year are ready to fly, and this is just a nice symbol of that," Laura Lang-Ree, Musical Theater Director and Performing Arts Department Chair, said.
While in the past, the show was held in the Blackford Theater, last year, the switch was made to the Mexican Heritage Theater. According to Lang-Ree, the new location is much more appropriate for the occasion, and she is looking forward to returning.
Because the showcase directly follows the senior trip, performers will be able to practice their acts in a designated "rehearsal room" during their vacation.
Avinash Nayak, a vocal musician, will be singing Sammy Chan's "Love Is The Tender Trap." He picked this particular number because it tells a personal story of how he has matured over the past four years.
"I am looking forward to starting my song, and also ending it, because it's symbolic of the start and end of my performing arts journey," Avinash said. "Performing arts has changed me a lot since freshman year, and it's made me a much more diverse person."
Meanwhile, Damon Aitken, a theater certificate member, will be reenacting two Shakespearean monologues. Over his years in performing arts, he has found that his passion, as an actor, truly lies in Shakespearean works.
"The monologues I'm doing I worked on in Shakespeare scene study class last year with Mr. Draper so I already did the hard work of memorizing them," Damon said. "Now it's just kind of modifying it for a big audience and an actual stage."
Other acts include Pooja Chirala and Anishka Agarwal's Bollywood dance, Justin Young's piano rendition of "La Campanella", and Anna Kendall's comedic musical theater performance.
While the rest of the participants will be carrying out their acts on stage, Nicky Semenza, a member of the technical theater subdivision, will be behind the scenes.
"I will be managing backstage, organizing actors, changing sets, and things like that," he said.
Following the Senior Showcase, each senior member of the Certificate program will be awarded with a plaque in honor of his or her dedication, passion, and commitment to the performing arts program.
 This piece was originally published in the pages of the Winged Post on May 16, 2014. 
About the Contributors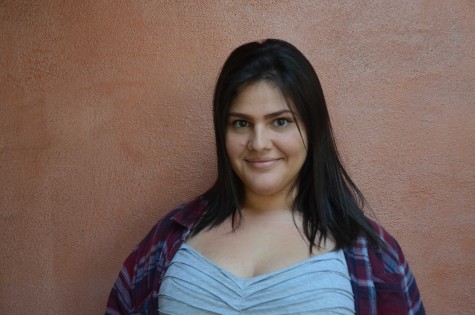 Melina Nakos, Reporter
Melina Nakos (12) is a reporter for The Winged Post. This is her third year as a part of the journalism program. She loves to spend time with the rest...