Online Celebrities: YouTube stars on the rise
From makeup gurus to video game commentators, YouTube has given rise to a plethora of stars, creating a new celebrity culture. As a popular video sharing service, which provides a platform where anyone can post videos, YouTube presents the opportunity for anyone to achieve fame by simply uploading a clip.
Shivani Gohil (10), believes that YouTube has given the word "celebrity" a new meaning, through its ability to give individuals a way to communicate.
"I think that the rise to fame on YouTube is extremely unique, as over time, subscribers get to watch passionate people grow and gain recognition for their talents," she said.
May Gao (9) has an alternate view on the rise of the YouTube celebrity culture.
"I think that YouTube is just another way to become famous for people who don't do things that are as significant as people that attend school and college," she said. "it seems unlikely to me why they would become famous, but YouTube is the way for them to easily become famous if they are funny."
The Slow Mo Guys:
The Slow Mo Guys are a duo consisting of Gavin Free and Daniel Gruchy, who create slow motion videos of various scenarios, ranging from blowing up watermelon to putting paint in speakers for their over 3 million subscribers.
The two use digital high speed cameras to film their videos and then play them back at a normal speed in order to create a slow motion effect.
Neymika Jain (9) is a fan of the Slow Mo Guys and their unique approach towards their video subject matter.
"I find them really interesting. I like how they developed this concept and really went through with it, it must be so much effort because they have to do I bet multiple tries on similar projects," she said. "It just shows how much dedication they put into their project, and if they're getting viewage out of that, that's great."
Check out their channel here: https://www.youtube.com/user/theslowmoguys
Lindsey Stirling:
Former America's Got Talent contestant Lindsey Stirling, also known as the dubstep violinist, has risen to YouTube fame with her videos, featuring her playing the violin and dancing. With over four million subscribers and an album released, Stirling is currently on tour and will be in San Francisco on May 16.
Stirling regularly covers songs and plays original music; she received a YouTube Music Award in 2013 for her cover of "Radioactive" by Imagine Dragons.
"I think she's really creative and she obviously puts a lot of work into it and I respect her a lot," said Serena Wang (11).
Check out her channel here: https://www.youtube.com/user/lindseystomp
PewDiePie: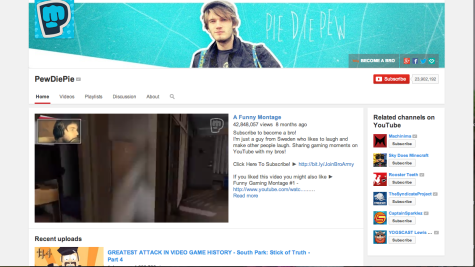 Swedish Felix Arvid Ulf Kjellberg, also known as popular YouTuber PewDiePie, initially began creating videos in the form commentaries on various video games. He has now expanded to creating funny videos on different topics in general.
With a large following of "Bros" making up his 'Bro Army,' PewDiePie has a subscriber base of over 23 million.
"He laughs a lot and he plays games which I enjoy," Anthony Luo (10) said. "He overreacts to everything, and it's really funny how he screams and shouts."
Check out his channel here: https://www.youtube.com/user/PewDiePie
Bethany Mota:
Bubbly teen Bethany Mota creates YouTube videos ranging from Do it Yourselfs (DIYs) to make-up tips, and has a large following of "motavators." With her own clothing line with Aeropostale, YouTube has launched Mota's success. Mota is continuing to post beauty videos to her over 5 million subscribers along with updates on her life in general on her secondary vlog channel called Bethany's Life.
Mota recently visited Valley Fair mall on Feb. 16,  as part of her "Motavatour," a promotional tour for the launch of her spring clothing line with Aeropostale.
Shivani believes that Mota's approach to creating YouTube videos has been a great factor in her success.
"She's not afraid to show people who she truly is, and she's so sweet to everyone, I'd love to be her friend," she said. "I think that her warm personality, as well as her amazing beauty tips and tutorials have helped her create a loyal subscriber base, and win over just about everyone's hearts."
Monica Thukral (12), on the other hand, believes that she doesn't showcase her true self on YouTube compared to other beauty gurus.
'"I think she's kind of obnoxious. Some people just seem kind of fake online," she said.
Check her channel out here: https://www.youtube.com/user/Macbarbie07
Simon & Martina:
Canadian couple Simon and Martina Stawski launched their YouTube channel, Eatyourkimchi, where they describe life in South Korea. Using daily segments such as "Kpop Music Monday" and "Food Adventure Program for Awesome People" and the occasional random upload, Eatyourkimchi is growing their subscriber base with around 500,000 subscribers currently.
Kendall Ka (9), an Eatyourkimchi fan, talks about her favorite parts of the channel.
"I love Simon & Martina, and not only do they make hilarious videos about kpop, they give a really great insight and input on Korean culture from the point of view of a non-Korean foreigner," she said.
With the influx of YouTube stars rising to success, the video sharing service has become a new form of communication and entertainment in today's era.
Check their channel out here: https://www.youtube.com/user/simonandmartina
This piece was originally published in the pages of the Winged Post on Mar. 12, 2014.