Last year's Homecoming, three cheerleaders performed a routine to a remix of Britney Spears' "Baby One More Time" in the middle of the illuminated field, experiencing difficulty in performing stunts due to the small number of members. Fast forward to this year's varsity football home opener, where the cheerleading team showcased 12 of its members as they lifted each other into complex formations above ground. With a total of 15 members this year, the size of the team increased fivefold, and their hardworking spirit and close-knit relationships continue on. 
Sarah Westgate (12), James Blenko (12) and Kashish Priyam (11) made up last year's trio and helped keep the cheer program running. Head cheerleading coach Chantell Rodriguez commends them for their efforts and dedication to the small team. 
"I think the original three who started were brave," Rodriguez said. "We talked about goals and one of [the] primary goals was to have a bigger team. I said 'just stick with this and we will get there' — and here we are. I'm really proud of those three. It can be intimidating to be on a big football field with just three people. They stuck it out, worked hard."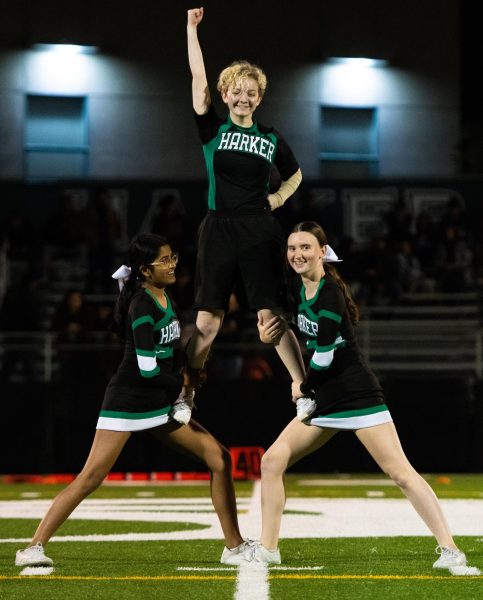 Co-captain Sarah expands on the challenges that the team faced last year. With most stunts requiring four people as a base, the team's options were limited to a two-person base, but this year's team enables more possibilities for elaborate configurations during their performances. 
"We had to be really creative when there were only three of us, so it's definitely exciting to be able to work more things into our routines," Sarah said. "We have more people so [we're] trying to do more complicated things, harder stunts, routines."
This year's home opener football game allowed the cheerleaders to showcase new additions and skills in front of Harker students and families. Rodriguez reflects on the team's progress in the span of a year and looks for the team to maintain engagement with the crowd in the future. 
"We had our home game and everybody was pleasantly surprised," Rodriguez said. "We've come a long way. It's just maintaining the larger number, keeping people interested. I feel that now it's something that people are getting interested in, whereas before when it was three, I think people were a little bit reluctant."
To spread their visibility, the cheerleading team participated in the middle school's assemblies last year, inspiring students like Jessica Skylar Chen (9) to join the team after seeing their performance. Although the season recently began, she already feels welcome, enjoying learning and performing alongside the team.
"Everybody's super energetic, and all of the dances are always really fun," Jessica said. "Whenever we come together, everybody's always going past their 100 percent."
The team's energy spurs her excitement for the season. Jessica anticipates bonding more with her teammates, especially since stunting requires a lot of trust, as the flyers need to have full faith that the base will catch them at a particular moment. 
"There's a lot of people on the team that I'd really like to get to know because sports bring [together] a diverse group of people," Jessica said. "So I am looking forward to interacting with people that I don't usually talk with."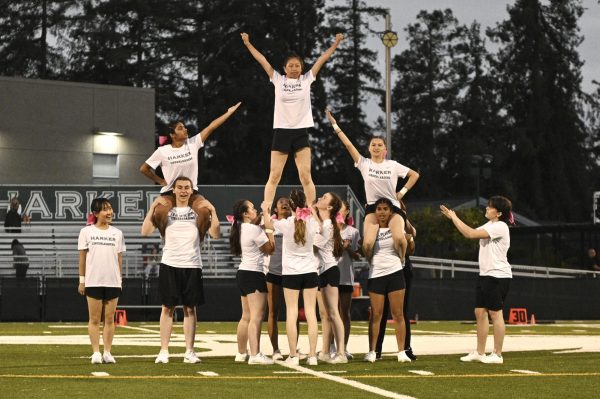 In order to help new members adjust to the team, Rodriguez implemented a buddy system, where an upperclassman pairs with an underclassman to aid the process. The system fosters tighter relationships between team members and creates a supportive and comforting environment.
"There's a really positive environment now," Sarah said. "I'm really excited to go to practice every day. We just really care for each other. It's a team outside of the sport as well. I see my teammates in the hallway and say 'hi' even if we're three years apart. We've established more of a bond."
Assuming her role as a co-captain this year, Sarah explains the importance of helping her teammates acquire new skills and gain experience. During practices, she spreads the expertise she gathered over her past four years on the team to the newcomers.
"All of the underclassmen and anyone who is new is so willing to learn, and they always take every correction I give them really well," Sarah said. "They're always trying to absorb as much information as possible…There's definitely no pressure if you've never learned or done something before. We teach — that's why we're there."
Everybody's super energetic, and all of the dances are always really fun. Whenever we come together, everybody's always going past their 100 percent
— Jessica Skylar Chen (9)
New member Sofia Vasquez-Perez (10), with the help of the open environment, has taken on the role of a base, lifting, holding, throwing, and catching the flyers. She speaks of the often overlooked aspects of her role, including the physical strength necessary to provide a stable support for her team members.
"With cheer, it's very difficult," Sofia said. "I think a lot of people underestimate how much strain it takes, how tiring it is and how hurt you can get. It's a lot of wrist pain and arm pain, so there's a lot of movement going on."
Nonetheless, members' personal challenges are comforted by the team and coach's constant support. With the coach's open-door policy, the members can reach out to her with any of their concerns and needs, further contributing to the caring nature of the team. Sofia expands on this sentiment and shares a memorable team bonding activity that helps keep the team close.
"We say a high and something we look forward to," Sofia said. "We always take time to check up on each other and ourselves during practice, which is really nice because after a long cheer practice, it's tiring and it's nice to have that mental space."