President Donald Trump becomes third president impeached by House
House approves two articles of impeachment in historic vote
December 18, 2019
The U.S. House of Representatives approved two articles of impeachment today against President Donald Trump this evening, marking the third time in American history that a president has been impeached.
After nearly 12 hours of debates across both sides of the House and months of testimonies from key officials, Trump was impeached for two articles of impeachment, abuse of power and obstruction of Congress, in two House votes that fell mostly along party lines.
"What we are discussing today is established fact that the President, again, violated the Constitution," House Speaker Nancy Pelosi (D-Calif.) said in her floor speech today. "It is a matter of fact that the President is, again, an ongoing threat to our national security, and the testimony of decorated war heroes, distinguished diplomats and patriotic career public servants, some of the President's own appointees, over the past weeks, have told us this."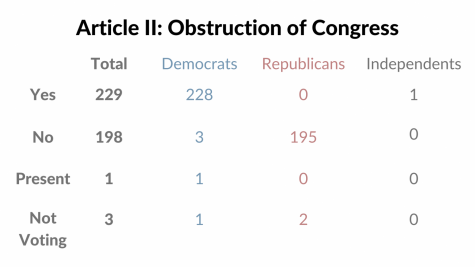 The impeachment inquiry began with a whistleblower complaint that detailed an alleged phone call between Trump and Ukraine President Volodymyr Zelensky on July 25. In the phone call, Trump allegedly asked Zelensky's government to open an investigation into former Vice President Joe Biden and his son Hunter Biden's work with the energy company Burisma Holdings. Biden currently leads the race for the 2020 Democratic presidential primaries. 
Months of depositions, testimonies and investigations led to the revelation that Trump had conditioned military aid and a coveted White House meeting with Zelensky on Zelensky's agreement to publicly announce an investigation into the Biden-Burisma relationship.
Bay Area representatives Anna G. Eshoo (D-Calif.), Ro Khanna (D-Calif.), Barbara Lee (D-Calif.) and Pelosi voted in favor of impeachment. 
"President Trump abused the powers of the presidency by ignoring and injuring national security and other vital national interests to obtain an improper personal benefit," Eshoo said in her floor speech today. "He also betrayed our nation by abusing his high office to enlist a foreign power in corrupting democratic elections."
The final vote for the first article of impeachment, abuse of power, stood at 230-197 with one member, presidential candidate and representative from Hawaii Tulsi Gabbard, voting present rather than for or against. The second article of impeachment, obstruction of Congress, passed with a final vote of 229-198 with Gabbard once again voting present. 
"I could not in good conscience vote against impeachment because I believe President Trump is guilty of wrongdoing," Gabbard said in a statement released minutes after her vote. "I could not in good conscience vote for impeachment because removal of a sitting President must not be the culmination of a partisan process, fueled by tribal animosities that have so gravely divided our country." 
Congressional representatives largely voted along party lines with just two Democrats, Rep. Collin Peterson of Minnesota and Rep. Jeff Van Drew of New Jersey voting against passing the two articles. Van Drew is expected to switch to the Republican party, prompting five of his staffers to resign. The sole House independent, Rep. Jared Golden from Michigan, voted with Democrats in favor of the articles.
The impeachment process will now pass into a trial in the Senate, where a two-thirds majority is needed to convict and remove the president. If the majority is not reached, the president will be acquitted of all crimes for the duration of his term. 
The Senate is composed of a 53-45-2 Republican majority, and the impeachment trial is expected to begin in January. Supreme Court Chief Justice John Roberts will preside over the trial.
Given that a two-thirds majority vote is required to convict and remove the president, Republican leaders as well as political analysts expect that Trump will be acquitted.
"I must warn you, I'm about to say something my Democratic colleagues hate to hear: Donald J. Trump is president of the United States," House Minority Leader Kevin Mccarthy (R-Calif.) said in his floor speech. "He is president today, he'll be president tomorrow, and he will be president when this impeachment is over."
Yesterday, over 600 rallies across the country, organized by the advocacy group MoveOn, demonstrated support in favor of the impeachment vote. Thousands of local residents turned out for pro-impeachment protests across the Bay Area.  
"Our election is coming up, we are running right up against it, and he's [the president is] messing with them. And so we have to say something," said Crystal Carroll, a technical writer from San Jose who participated in a demonstration on the corner of Stevens Creek Boulevard and De Anza Boulevard.