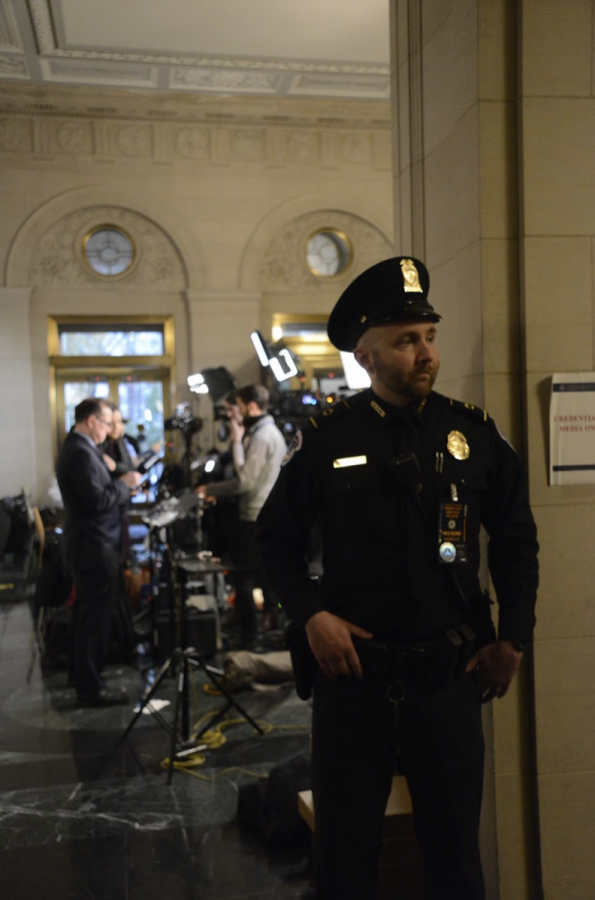 A peek inside the impeachment hearings
WASHINGTON, D.C. – Cars sped past the Longworth Building in Washington D.C. as huddles of people gathered on the front steps. A small radio blared out a mashup edit of President Trump's various speeches while a middle-aged man lifted his protest-adorned umbrella against the dimming sky. The crisp autumn air carried a sense of urgency and tension.
Another protester clutching a sign emblazoned with the word "nanothermite" stepped in front of the man with the umbrella. The two exchanged aggressive brusque comments, neither wanting to give up his position.
Not far from the two men, a security guard kept watch over the doorway leading into the building. The second public testimony of President Trump's impeachment drove members of the Congress and the public to the Longworth Office Building to observe presidential advisor Fiona Hill and ambassador Gordon Sondland's testimonies on Thursday Nov. 21.
Visitors streamed through the wooden double doors and proceeded to toss their belongings into small plastic crates that passed into a heavy metal scanner machine. The queue briskly moved through a metal detector with intermittent pauses.
On the sides of the security setup, broadcasters and videographers stood among an intense tangle of black wires and bulky bags, passing time like wind-up dolls waiting to spring into action. Vigilant uniform-clad security guards observed the mass of people gathering in the right interior hallway.
A boisterous, extensive line of women and men dressed in variegated attire waiting to enter the impeachment hearing dotted the corridor with color. The dark gray tiles distorted the dots of light and the reverb of clacking shoes echoed sharply along the hallway. Flags from different countries lined the edges of the walls, drawing the eye to their vivid color, bold against the pale hue of the wall. Congressmen's plaques stood posted on the outsides of their offices.
Drowsiness and stress swarmed among the crowd. People shuffled about in discomfort, engaging in agitated conversations and reiterating the same question: "How much longer will it take for me to reach the front?"
The slow flow of those leaving the brightly-lit room resulted in a queue that seemed to be stuck in quicksand. From the end of the hallway threshold to the double doors, people waited in hopes of witnessing one of the key moments of the decade. The anticipation permeating throughout the Longworth Building captured the essence of this pivotal moment in history, the suspended feeling of being on the edge of change.