Harker Aquila's guide to tomorrow's House vote on articles of impeachment
The House of Representatives is voting on impeachment tomorrow. What do you need to know?
December 18, 2019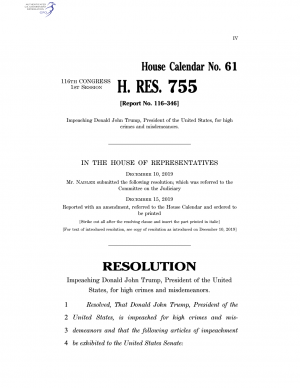 The U.S. House of Representatives will be voting on impeachment tomorrow in the culmination of a historic series of investigations, trials and testimonies. 
Tomorrow, a full House of 233 Democratic, 197 Republican and one independent representatives are expected to vote on two articles of impeachment, abuse of power and obstruction of Congress, against U.S. President Donald Trump.
In anticipation of tomorrow's historic vote, Harker Aquila has prepared a recap of the buildup towards impeachment and guide for what to expect tomorrow.
What's happened so far?
Allegations against Trump first came to the House Intelligence Committee's attention in August, when a whistleblower filed a complaint to the two Congressional intelligence committee chairmen, Rep. Adam Schiff (D-Calif.) and Sen. Richard Burr (R-N.C.), that detailed alleged attempts by Trump to solicit foreign interference in the 2020 presidential election. 
In the complaint, the anonymous whistleblower, who cited information received from other top government officials, described a July 25 phone call between Trump and Ukraine President Volodymyr Zelensky in which Trump asked Zelensky to investigate the leading Democratic presidential candidate, Joe Biden. The whistleblower was not present at this phone call and referred to reports by other officials who were present throughout the complaint.
This complaint was withheld by acting Director of National Intelligence Joseph Maguire from the two Congressional intelligence committees until September, as discovered by Schiff, who then obtained the report and released it. 
Following the revelation of this complaint, House Speaker Nancy Pelosi (D-CA) launched the formal impeachment inquiry with her announcement on Sept. 24.
"This week, the president has admitted to asking the president of Ukraine to take actions which would benefit him politically," Pelosi said in the announcement. "The actions of the Trump presidency revealed dishonorable fact of the president's betrayal of his oath of office, betrayal of national security and betrayal of the integrity of our elections. Therefore, today, I'm announcing the House of Representatives moving forward with an official impeachment inquiry."
Later that day, during a press conference at a bilateral meeting with Iraq President Barham Salih, Trump responded to Pelosi's announcement by calling the impeachment inquiry "the worst witch hunt in political history" and defending his July 25 phone call as "perfect."
Six House committees then began the impeachment process with depositions and closed-door testimonies in October amid criticisms from Republican officials. On Oct. 31, a 232-196 House vote in favor of H.R. 660, the resolution to pursue investigations to determine grounds for impeachment, formally authorized those six committees to continue the impeachment inquiry.
Open hearings began on Nov. 13, with testimonies from key witnesses. Former U.S. ambassador to Ukraine Marie Yovanovitch said on Oct. 10 and Nov. 15 that she felt threatened by Trump's comments about her in the July 25 phone call and that she was the subject of a smear campaign. Former senior advisor to the Secretary of State Michael McKinley, who had resigned on Sept. 30, had previously revealed his concerns about the administration's involvement to advance Trump's political ambitions in a closed-door hearing on Oct. 16. 
U.S. Ambassador to the European Union Gordon Sondland testified on Oct. 17 and Nov. 20 that the events in July were "all about just corruption," and he also defined Trump's relations with Ukraine as a "quid pro quo" in which Trump would only agree to meet with Zelensky if the Ukrainian government agreed to investigate Biden's son, Hunter. This was reiterated by top U.S. diplomat to Ukraine Bill Taylor, who confirmed on Oct. 22 and on Nov. 13 that Trump withheld military aid from Ukraine and refused to grant a coveted White House meeting to Zelensky until Zelensky agreed to publicly announce investigations into the 2016 election and Hunter Biden's involvement in the energy company Burisma Holdings. 
Following these testimonies, Speaker Pelosi instructed the House committee chairmen to begin drafting articles of impeachment on Dec. 5. The House Judiciary Committee then introduced two articles of impeachment on Dec. 10, which charged Trump with abuse of power and obstruction of Congress, with a House Judiciary Committee approval vote along party lines. 
This marks the third time in American history that the House Judiciary Committee has passed articles of impeachment for a House vote.
What happens now?
As outlined in the Constitution, if the House passes the two articles of impeachment via a majority vote, the impeachment process moves into the Senate, which has the constitutional power to put the president facing impeachment on trial, with Supreme Court Chief Justice John Roberts presiding. 
The Senate, which is composed of 53 Republicans, 45 Democrats and 2 independents, has the power to call witnesses and either convict the president by a two-thirds vote or otherwise acquit him.
The House will begin debating the two articles of impeachment at 9 a.m. EST tomorrow morning, with a vote expected to take place in the afternoon.
Check Harker Aquila for updates on the impeachment vote tomorrow.
——
Sources
House Intelligence Committee: Whistleblower complaint
C-SPAN footage of Speaker Nancy Pelosi's impeachment announcement
Whitehouse.gov: Remarks by U.S. President Donald Trump and Iraq President Barham Salih on Sept. 24
House Intelligence Committee: Chairman Adam Schiff's letter to acting Director of National Intelligence Joseph Maguire
House Intelligence Committee: Defend Our Democracy
Speaker Pelosi's press release on Dec. 5 
C-SPAN footage of House Judiciary Committee's vote on articles of impeachment
House Judiciary Committee: Articles of Impeachment