"Together, We Rise": Women's rights, civil rights activists around Bay Area call for change at fourth annual Women's March
January 21, 2020
Upper school students joined the 37,000 demonstrators who filled the streets of San Jose and San Francisco last Saturday for the fourth annual nation-wide series of Women's Marches.
Originally sparked in response to the inauguration of U.S. President Donald Trump, the Women's March movement has since expanded to include a number of social and civil rights issues beyond gender equality, ranging from education reform and indigenous peoples' rights to gun reform and impeachment. 
"I think one of the greatest achievements [of the Women's March] is motivating women to come together to call attention to a number of challenges that we still face as a country," said San Francisco mayor London Breed, who spoke at the San Francisco Women's March, in an interview with Harker Aquila. "That's what this [march] is about and I think it's been impactful because it's brought women from all places alike to fight against those injustices."
The marches occurred against a backdrop of an impending impeachment trial, the third ever in U.S. history, and an upcoming presidential election. Trump's trial in the Senate is set to begin today. 
Four years later, the fight continues
This year's San Francisco Women's March sees smaller turnout, continuing energy
"I do my hair toss / Check my nails / Baby how you feelin'? / Feeling good as h—." 
Vendors lined the streets near the protest, selling goods from feminism flags to caricatures. As Lizzo's hit single "Good as H—" boomed from the loudspeakers, voices across the mass of eager faces, pressed up against the railings, enthusiastically belt out the lyrics to the catchy song. 
A group of high school students from Mercy San Francisco decked in hot pink and poppy red in the front of the crowd danced and jumped along to the beat of the music, inspiring the attendees around them to join their celebration. The excitement of the 30,000 people gathered in the San Francisco Civic Center Plaza swirled in unseen currents beneath the shadows of their posters. A cacophony of applause and cheering, whooping, hollering and clapping buzzed through the air as demonstrators waited for the protest to begin.
"I feel like as a woman in San Francisco we have so much privilege to be able to go to these events and speak out. We just really want to show our support for other places in America and around the world that don't have this freedom of speech and expression," said Kristin, a senior from Mercy High School San Francisco, who was dancing with her friends before the rally.
This year's San Francisco Women's March rally began at around 11:30 a.m. with a native grandmother song performed by Mutsun Ohlone and Chumash Native American activist Kanyon Sayers-Roods from Hollister. In her opening speech, Sayers-Roods acknowledged the Missing and Murdered Indigenous Women coalition, members of which seek to raise awareness about violence against indigenous women and later led the march through the city.
After Sayers-Roods' song, the rally proceeded with remarks from mayor London Breed, Californian Lieutenant Governor and former U.S. ambassador to Hungary Eleni Kounalakis and other notable female political figures and activists. In many of the speeches delivered ran a common message of empowerment and progress through gender equality.
"When we talk about getting to gender parity in this country, we can no longer just say that this is human rights or this is about fairness," Kounalakis said in her rally speech. "This is about a goal of being the best country we can be, because when men and women are working together side by side with respect, in the highest levels and all across, something magical happens. We bring out the best in each other."
The sentiment of empowerment was shared among those gathered in the plaza as well. Enthusiastically waving his "I'm With Her" sign featuring markered blue, purple and gold multi-colored arrows pointing in all directions, Bryant Regalado, 28, was also one of thousands of avid supporters of the march pressed against the railings, along with 28-year-old friend Mary Bourgeois.
"I believe that all women should have the same rights as men, if not more," Bryant said. "My sign says 'I'm With Her' because I'm with everyone here. Anyone who is here to represent and fight for women's rights, I'm with them and I agree with them, all of them. They're all here for the same things that I believe in."
Turnout at the march was smaller than in previous years. According to Martha Shaughnassy, founder of The Key PR, which managed the Women's March press relations this year, about 30,000 people participated in the San Francisco rally, and about 12,000 people marched down Market Street this year. According to Shaughnassy, an estimated 100,000 people marched in the first Women's March in 2017, an estimated 60,000 people marched in 2018 and an estimated 30,000 people marched last year.
Donna Navickas, 68, was still pleasantly surprised at the number of people who took to the streets. Navickas marched with her granddaughter in her arms to "protect her rights as a young woman and her democracy."
"I was afraid that people would get apathetic and stop voicing their opinions because they felt that it was going nowhere, and obviously people do think it's still important to voice their opinions and to let their voices be heard," Navickas said.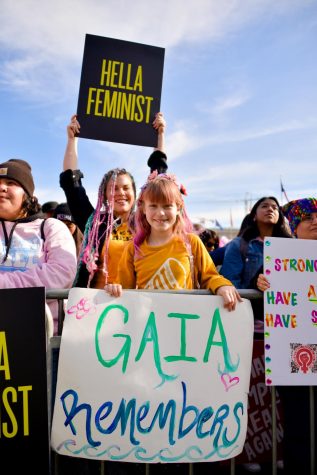 Standing alongside many adult voters and activists were children, some sitting in strollers, many bearing protest signs of their own. Seven-year-old Stella, who brought a hand-made poster that read "Gaia Remembers" in flowing blue and green script, came to the Women's March with her mother for the first time this year.
When asked why she believed the Women's March was important to her, Stella had a simple response that distilled many of the speakers' messages into one sentence. 
"Women need to be respected," she said, drawing a smile from her mother.
Also among the younger generations who took to the streets on Saturday was Alvin Lee, a junior at Mission San Jose High School in Fremont. Alvin, who is the executive director and one of the initial founders of GenUP, a student-led organization that advocates for education, has attended the march since  2017 and is proud to see GenUP leading San Francisco's youth contingent for the very first time, calling their role "crucial."
"It's very important that us as high school students come out and support movements whether its march for education, whether that's marching against gun violence, whether that's marching for feminism," he said. "All of them are intersectional so it's very crucial that we come out and show this older generation that's destroying our futures right now that our voices matter and that our futures do matter."
The intersectionality of the Women's March's cause addresses recent political developments as well, such as the escalation of military tensions with Iran. Barry Thornton, 69, and around half a dozen other protestors brought a banner to the Women's March denouncing the U.S. decision to kill Iranian general Qasem Soleimani, calling for de-escalation instead of further intervention.
"What Trump did was extremely dangerous, and that crisis is not yet over — it could burst out into open war," Barry said. "I'm out here because I think [his] regime represents an existential danger to humanity and the planet. And what we need is millions of people in the streets saying 'no.' That's why we're marching."
While the march sought to represent a diverse set of identities, Tongva-Ajachmem artist and activist L. Frank, 67, believed that indigenous people should have been invited to play a larger role in the march's leadership. She came out to the march "in support of women in general and murdered and missing indigenous women in particular."
"People mentioned the indigenous, but I didn't feel it. We need to be more than a presence, we need to be involved. We become just the next in line of someone who's going to speak," Frank said. "It just needs more work, more conversation. Don't just invite us on the day to show up, invite us on the day you plan the speakers."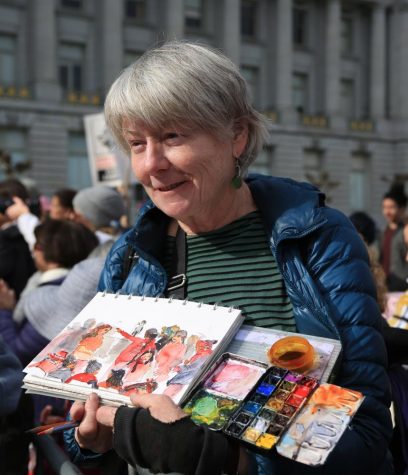 The Women's March, among other recent protests, continues to offer an avenue for people to engage in political activism, exercise their First Amendment rights and voice their opinion on local, national and international issues. Some of the demonstrators in the crowd found alternative mediums of expression, such as San Francisco-based artist Laurie Wigham, who, while listening to rally speakers, was creating a watercolor painting on the sidelines. On her canvas and palette, which were propped against the metal railing, were splashes of red and brown that formed a scene of the indigenous rights activists gathered at the foot of the stage.
Wigham, who has been to every Women's March since 2017, often paints scenes at protests, which, as she describes, offers her "another way of showing what's happening today."
"I'm afraid that the energy will wane for these marches, and I want to make sure that I'm there showing that it's not and that this still matters and that we're still fighting and that we're not just getting discouraged because there's so much craziness happening in Washington and everywhere else," Wigham said.
Striving for social justice
Upper school students join thousands gathered at the San Jose Women's March, tackling a variety of social issues
"Show me what democracy looks like!"
Behind the banner emblazoned with "Women's March 2020," loudspeakers blared from the event's organizers as they led the enthusiastic protestors in a resounding chant. The crowd, spanning all generations, waved cardboard signs, filled the entire breadth of the street and chorused in response: "This is what democracy looks like!"
Over 7,500 protestors turned out last Saturday for the fourth annual Women's March in San Jose, according to the march's organizers. The march started at 11 a.m. at San Jose City Hall and proceeded to Arena Green, with protestors chanting and waving flags along the way. 
Speakers included a member of the Amah Mutsun tribe; Karrington Kenney, a junior at Milpitas High School; students from the Silicon Valley Youth Climate Strike; Veronica Culpepper, a member of the LGBTQ+ community; writer and artist Rosanna Alvarez; author and keynote speaker Shareen Rivera; founder and president of Lean In Latinas Anna Dapelo-Garcia and Diane Fisher, a director at the Jewish Federation of Silicon Valley.
The march consisted of protestors promoting causes from impeachment to climate change yet all united under the umbrella of women's rights. Dressed in purple T-shirts, members of the Service Employees International Union (SEIU), a labor union of around 2 million workers, 70 percent of whom are women, that rallies for economic and racial justice. Peter Eriksson, who has been a member of the SEIU for 25 years and works as a negotiator, promoted wage equity. 
"Some of the [women] are the lowest wagers," said Eriksson. "We need equity; we're here for equity, which means everyone should get a decent wage. Right now, the country is not offering a decent wage."
Nikhita "Niki" Karra (12), who attended the march, was frustrated at the necessity of a march to lobby for women's rights, but appreciated the effort and hopes that equal rights will soon be achieved for all.
"I'm mad, and I think a lot of people here are really, really mad. It's been 100 years since women got the vote, and that's white women, but still, that's insane that we're here in the 21st century and we still have to be doing this. That's messed up," Niki said. "But I think that's the goal—to not be doing these anymore. We shouldn't be having to do these anymore, and I think that's going to be happening pretty soon, at least hopefully."
Karrington, a 16-year old student speaker from Milpitas High School who was inspired to speak out after a blackface incident at her school, underscored the continuing racial bigotry against African American citizens, emphasizing in her speech that "we don't have to be the trouble to be in trouble." 
She pushed for greater recognition of African American people's culture and achievements, such as Frederick Jones, who invented the mobile refrigerator, and Katherine Johnson, Dorothy Vaughan and Mary Jackson, the three female "hidden figures" who were mathematicians and engineers for NASA whose work was critical for launching American astronaut John Glenn into orbit for the first time.
"
I'm mad, and I think a lot of people here are really, really mad. It's been 100 years since women got the vote, and that's white women, but still, that's insane that we're here in the 21st century and we still have to be doing this."
— Niki Karra
"I don't stand for injustice," Karrington said. "It does not have to be against the black community, just against anyone, because I know what it is like to be on the other side of that, so seeing it happen to anyone, I'll be the first one to speak about it."
Besides Karrington, student speakers included members of the Silicon Valley Youth Climate Strike, who led a protest for environmental reform last September.
"Women's rights are a huge part in being intersectional in the fight for climate justice, so when we were given the opportunity to speak up here and be on stage, we really wanted to take advantage of that and also contribute to the conversation about making our power count," Helen Deng, the co-director of Silicon Valley Climate Strike and a junior at Archbishop Mitty High School, said.
Another environment-focused movement present at the rally was Extinction Rebellion South Bay, one of the newer chapters of the Extinction Rebellion movement, members of which Harker Aquila interviewed last November during their hunger strike in House Speaker Nancy Pelosi's Longworth office.
"We really know that this is an intersectional issue—the people most affected by climate change are underserved communities, people of color and women, and indigenous peoples, so [there] is a lot of overlap here," Leah Jay, a member of Extinction Rebellion South Bay from San Jose, said.

Nicholas Kuwada, the Director of the Santa Clara County Office of the Census, was among the speakers and urged women to participate in the decennial survey to make their voice heard. His voice rang out from the stage as an adjacent screen displayed his movements.
"I cannot tell you how strong our community is, how much better our community is, with the women in it. We have so many women in our community — strong women and proud women — and they are our leaders and our trusted messengers," Kuwada said. "Women need to come together and show our federal government that they are important [by filling out the Census.] They deserve to be seen. The Census is the first step—I would say it's even more important than voting."
Advocating for women's rights from a different perspective was speaker Veronica Culpepper, a trans woman from San Jose who represented the LGBTQ+ community and International Trans Fund (ITF). She cited instances of job discrimation against members of the LGBTQ+ community, encouraging the crowd to instead build connections.
"[I am] really trying to encourage people to reach out and find ways to align with alliances to change the story," Culpepper said. "This year we have to push the Senate out, we need to reform the Senate, and we have to push the president out. We got to make those changes."
Aside from the speakers at the center stage, many organizations took the opportunity to promote their causes at nearby booths in the "Call to Action Alley," rows of white tents that ran along the lawn of Arena Green. Each organization was staffed with members who hung out banners and greeted passerby.
Among the organizations present were the American Civil Liberties Union, the Womens' International League for Peace and Freedom and the Santa Clara County Office of Women's Policy. Volunteers at the booths promoted their causes, recruited more volunteers and educated young voters about various issues, including voting and LGBTQ+ rights.
"The best thing I can say [to teenagers] is to know who you're voting for," Kristin Rivers, a teacher for the Santa Clara County Office of Education from the booth for the Enough is Enough Voting Project, said. "Look at the voting record, ask around and if you don't have the time to read everything, then the type of organizations that are endorsing the candidates can tell you a lot."
Many protestors dressed up for the rally as historical figures to bring their own perspectives to the current time period. Los Gatos native David Folker came as former President Abraham Lincoln, "one of the last good Republicans," to draw support for the democracy and encourage others to vote. Jane Beckman from San Jose, who has attended every Women's March since 2017, donned a traditional suffragette costume to recall a crucial turning point in women's rights in 1920, when the 19th Amendment gave women the right to vote.
"We started fighting for women's rights in 1848," Beckman said. "We're still fighting, but it's a hundred years since we got the right to vote, and I honor all my relatives, and the women who came before, by going out and making sure my voice is heard."
Marching amongst other protestors, Nikki Solanki (12) was inspired by the action her community was taking as well as the power behind the moment, bestowing her with hope for the future. 
"I think our generation knows what it takes to make change…it was crazy to see people our age so politically aware," Solanki said. "Just the nature of our generation is so much different than the generations before us, and I think that we want to make a change, and we see that it's time. I definitely think our generation is the one that's going to do it."